The Walton Hop and Operation Ravine. When the Walton Hop opened its doors in the Surrey countryside of 1958 it would scarcely have been described as a 'teen disco' – too few people would have understood the meaning. 'Teenagers' had barely been discovered, indeed the word was first used in the previous year by an American rock idol – Bill Haley – to describe the war babies who had just reached their 'teen years' with more pocket money and freedom to spend on clothes and records than their parents had ever envisaged.
The music business was as fledgling as the dot.com business was in a later decade – and attracted those who were quick off the mark to find a new and exciting way of earning a living. Who wanted to follow their father's footsteps to a life as a clerk in a shipping office when you could wear what you want, get out of bed late and earn money in the music business? Even the Riki Tik club in Windsor, which kick started the career of many famous artists,  was not to open its door for another 4 years.
In 1958, the 'Hop' was probably the first place in the country where you could go and listen to the 'new' music. Scarcely surprising that is should have attracted so many music industry figures, nor so many teenagers – though viewed through the prism of near 60 years hindsight, there must be a lot of people around who reading of the Walton Hop, and alleged sexual attacks on teenagers, imagine that the music industry figures were only attracted to that club because of the teenagers. Truth is, there wasn't anywhere else for either teenagers or music industry employees.
Suddenly we were the most fashionable age group in the world. While once we'd been called war babies and raised on rationing and the Welfare State, overnight we were reclassified by advertisers as that bouncing new modern generation – teenagers.

In the late Fifties, the newspapers were full of us. We were, they said, uncouth, rebellious and sex mad, the clothes we wore were loud, and the raucous music we listened to was certain to lead us into something called "moral turpitude".
The music industry attracted a lot of individuals who were homosexual; like the fashion business, hairdressing, the theatre – it allowed you to express your personality and not force yourself into the standard 'short back and sides' and John Collier suit that the shipping office required. Kenny Everett, Chris Denning, Paul Gambaccini, Tam Paton, Brian Epstein, Jonathan King. Being homosexual doesn't equate to being a paedophile. Nor does having a flamboyant personality and long hair in more conservative times (1960) equate to being homosexual. The Rolling Stones, The Beatles, John Mansfield of the Rikki Tik club. It does make you an object of some concern to the deeply conservative forces of law and order.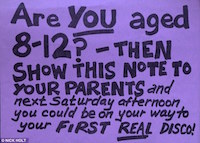 So it was that in 2000, 40 years after the Walton Hop first opened its doors, that Surrey Police launched Operation Arundel to look closely at some of the relationships that had been formed between teenagers above the age of consent at the time, and assaults against those who may have been below the age of consent – though where homosexual activity had taken place, there was no age of consent in 1960, homosexual acts were strictly illegal – therefore absolutely no point in worrying about the age of your partner.
The first arrests Surrey Police made in 2000 were of Paul Weller and Mick Hucknall. Neither involved children, nor homosexual activity. So much for Operation Arundel investigating a 'gay paedophile ring'. Both men were exonerated, and released with no charge, though not before their reputations had been trashed by their arrest being leaked by Surrey Police to the world wide media.
It was to prove the beginning of Surrey Police's 'Stars in their Eyes' panto season.
By 2003, they had marched into a Birmingham theatre – and with positively 'theatrical' flourish – had arrested 'national treasure' Matthew Kelly playing Captain Hook in Peter Pan. On the uncorroborated 'evidence' of one man who claimed Matthew had molested him 30 years beforehand. The media loved it; sadly all that publicity only damaged Matthew's career – the police were unable to find anyone to corroborate their 'victim's' allegation.  Matthew only had to wait five weeks to be exonerated and released without charge – current victims of the various 'Operations' would be grateful for a mere five months.
However, the five weeks was long enough for 'senior officers' to 'act on a tip off from a British journalist' and fly to Sri Lanka, to Kelly's holiday home, and there to seize 54 videos and one o' they new fangled computers… the videos proved to be of such degenerate viewing as "Mary Poppins" and "the Hunchback of Notre Dame". Did Police Officers receive suitable counselling after having to trawl through this material?
They arrested Jimmy Pursey for 'forcibly kissing a 16 year old girl' in a Weybridge newsagent. Not even underage, and a girl to boot – Pursey accepted a police caution for the act, but even so, rumours of paedophilia have haunted him ever since from those who have never bothered to look up the original charge.
Finally a 'big fish', Chris Denning, and amongst media leaks that he had been seen at the Walton Hop, there was excitement that perhaps the 'gay paedophile ring' had been busted. It had, in a way, but in Czechoslovakia rather than humble Walton.
Life continued to get embarrassing for Chief Inspector Brian Marjoram, in charge of Operation Arundel – he was moved to the Milly Dowler inquiry as a reward for his 'performance' on Arundel. Sadly, officers on the Surrey force, under Marjoram's directions, called on Levi Bellfield on several occasions – but gave up when he failed to answer the door. Whilst the Surrey squad were pursuing their interest in gay celebrities, Bellfield murdered two further girls, Marsha McDonnell and Amelie Delagrange, and Kate Sheedy narrowly escaped the same fate. It was not until Chief Inspector Colin Sutton, from the Metropolitan Police, not Surrey, took over the squad that Bellfield was finally arrested – he would have been charged with the attempted abduction of 11 year old Rachel Cowles, but 'leaks from Surrey Police to the media' had resulted in prejudicial material being published and those charges had to be dropped. 
One of the most oft quoted 'successes' of Operation Arundel, was the arrest and conviction of Jonathan King in 2001. King was certainly convicted of homosexual acts with young men under the varied ages of consent. He certainly visited the Walton Hop on many occasions.  The curious thing is that he was acquitted of all the charges relating to boys claiming that they had been groomed and assaulted by King as a result of attending the Walton Hop – the charges he was found guilty of had nothing to do with the place.
For all the noise and column inches generated by Operation Arundel – it only resulted in three charges and convictions for 'serious sexual offences'. It is not clear whether this statement relates to King's convictions, which of course were not 'Walton Hop' offences, or whether there were others unreported, because they were not news worthy.
As a result of Operation Yewtree, which also netted a number of 'I was assaulted at Walton Hop' allegations, Merseyside Police opened an investigation into whether Surrey Police had correctly investigated Walton Hop in the first place.
This in turn has led to the setting up of Operation Ravine which is following up intelligence received but not acted upon regarding Operation Arundel. It remains to be seen whether such intelligence will amount to anything or not. The media so obfuscate every report, that it is impossible to tell at present if the intelligence turned out to be an anonymous letter saying 'Ere, there's loads of poofters and nonces at that Walton Hop' which may be a heartfelt opinion, but is scarcely evidence likely to lead to a conviction.
Last December, Chris Denning was jailed for 13 years at Southwark Crown Court, for sexually assaulting 24 boys – some as young as 10 years old – between 1967 and 1987.
Prosecutor Neil Moore said at the 73-year-old's sentencing that some victims claimed they were abused up to 60 times, and that Denning found them at skateparks, youth centres and discos such as the Walton Hop.
…and at disco's such as the Walton Hop…between 1967 and 1987, when such a thing as an age of consent for homosexual behaviour first came into being.
Denning is obviously a prolific offender with a particular interest in young boys – young boys, even ones who manage to find themselves abused by the same man 60 times and wait 40 years before complaining, do deserve to be protected from predatory sex offenders. They are still children, no matter that they may have appeared to be enthusiastically assaulted. It is for adults to restrain themselves, not children, to obey the law.
Without having sight of the full case transcript, it is impossible to tell whether any of the charges in respect of which Denning was convicted actually relate to offences carried out at the Walton Hop – or whether the word itself is being used as shorthand to conjure up a picture of a mythical predatory paedophile gang of homosexual monsters for the benefit of the media.
Much as the one known occasion when Ray Teret drove Savile's motor caravan to Jersey for him came to be shortened to the ubiquitous 'Savile's chauffeur' and used to ensure that Teret's conviction became the proxy conviction for all Savile's alleged crimes.
Curiously, there are so many ex-teenagers with happy memories of the Walton Hop, over 1,000 of them, that they still have an annual reunion to this day. Next one is January 23rd next year.