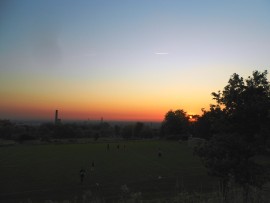 "The world has changed.
I feel in the water.
I feel it in the earth.
I smell it in the air."
Thus spoke Arwen, the "Evenstar" as she was also referred to in the book, in the prologue to the first Lord of the Rings movie, The Fellowship of the Ring. I share those sentiments. Today (I am writing this on Saturday) seemed to me to be the first day of autumn proper. I awoke and performed my allotted ritual of creeping downstairs, turning off the alarm and opening the back door into the little porch that leads to where Old Cat sleeps in his lined box, with his wall heater and special slow release of heat disk thingamajig to make sure he is snug. I was a bit late this morning and he had gone off to forage or whatever, but he popped back in through the cat flap as soon as he heard the radio come on. Then I put on the coffee, and Old Cat gets a good and thorough petting before I tempt him with various offers of breakfast. He likes variety. Raw egg was popular this week, but not today. He settled for some packet chicken in gravy in the end, but only after I had sprinkled it with crunchy cat treats called, obviously "Crunch". For a once-starving stray who has been taken in, he's a fussy bugger.
And then to the study with a second cup of coffee to start the day. I peered out over the top of my computer screen through the window to a distinctly gloomy half-light, with fog and grey skies. This was in marked contrast to the rather beautiful weather that I have been enjoying over the past week or so. Thursday was particularly beautiful, with an astonishing sunset that blazed red-gold in a cloudless sky, yet whilst the air remained cool, still, and fresh. Sadly I didn't have my camera with me to catch the moment, and on a more prosaic note I was driving to the supermarket at the time so I couldn't record the sight. I decided to try and put that right, and took some shots (one of which appears above).
It seems to me that the seasons have changed a little. I mentioned this Zara. She's a smart young lady from Poland who works in a café near the library I go to, and which provides me with half decent coffee and very good WiFi and an advantageous sight for people watching. She's training to be deputy manager of something. She has a sharp face, not at all in an unkind way, simply rather chiselled, coupled with bright-as-a-button eyes and a work ethic. She's one of those people you know as soon as you meet that they are pretty smart and also hard-working. For some reason we were talking about the weather and how remarkably sunny it was, and I put forward my suggestion that the seasons had changed. She looked at me as though I was a child who had just offered some simple fact as an earth-shattering discovery. Of course they have, she said.
What seems to have happened is that summer has got a bit duller and wetter – not always I grant you, but this is an overall thing – but that in late September and October we have a pattern of what we used to call "Indian Summers". More traditional autumn weather is then shunted into November and December, and winter kicks-in in January-February. I first noticed this a few years ago when my beloved and dearest friend Dr. Firenza Pesta came over from the USA to visit me in early October. One day we took a walk round a local "beauty spot", a series of reservoirs in the low Pennines (Dovestones, near Saddleworth Moor in the low Pennines, if you want to know):
 https://en.wikipedia.org/wiki/Dovestone_Reservoir
I have known the place since I was a child, and had always thought of it as a perfectly adequate but functional spot for getting a bit of air and maybe going for a run or a walk, but no great shakes. But this day the land and positively glowed in the distinctly golden light, it was if it had been suddenly crowned with beauty. It felt like a different place. The hills, rocks and moorland seemed to glow with an extraordinary luminary quality. The same light persisted as we enjoyed a glorious day in York.
I have been struggling to describe the quality of the light I am trying to describe. Molten gold might do, but not quite. It is gentler than the glare of a July day, a softer light tinged with shades of amber and red, depending on the time of day. I do not remember this as a boy. Perhaps it is just my memory. But I have a theory that as well as a shift in the pattern of the seasons, the light – at least around here – has improved because we no longer have the smoke from the coal fires and factories that I remember as a lad. Indeed, the "pea souper" fogs that I can remember have gone too. Of course, for many, Autumn is the most beautiful of seasons. The red and gold and brown of the leaves and the relative gentleness of the climate make it very attractive. There is something else, which I can't quite put my finger on. It is almost a sense of excitement, of something impending on the way. That seems odd, because what is on the way is winter. Maybe it is like a surge of adrenalin you might get as a diver, up on the highest board, about to take the long plunge.
Maybe it is because the colour of the leaves remind me of my first love's glorious auburn hair. Dr Pesta, who knows me better than anyone, once told me she learned more about me and my background from a few blogs than she had from twenty-five years of friendship. I can see her point. I had gone up to University in the aftermath of a heady and ultimately disastrous first love affair at 18. It was a white-hot furnace of a relationship, and the disaster part was largely down to me. I was damaged goods, with a very deeply wounded soul (yes, I think that is the right word) and I had the shutters up, or down, as you will, but in any case very firmly. It was a wound which never properly healed, and was to have a permanent impact on my life in many ways, most of it unwelcome and often red-headed too. It was also a wound which was to be ripped wide apart again in my late 30's, and it nearly destroyed me, but that is another matter.
I feel I shall do something brave this afternoon. I have already done my statutory hour at the gym, but I shall go for a walk, down by the river where I used to walk with that love, and near the hotel where we once stayed and we made love. For many, many years I have avoided such places. The guilt and loss were too great. But the idea has come into my head. I have taken a course in "Nordic Walking". It's a long-term strategy to balance gym work with some good old-fashioned fresh air without doing in my knees and hips by running. So I shall take my walking poles and do the walk, revisiting the steps we used to call "cardio hill". And then I shall return, sip my Pinotage and watch the rugby. It was never my game, and I can't pretend any great knowledge, but I admire the physicality and intensity of it, as well as the strategy. And then I shall fix Old Cat some supper.
I was having a chat with our landlord Petunia this week. As I said to him, my life has gone in many unexpected and sometimes painful directions. But a thought popped into my heard one day. What if all that had been necessary to bring me to this place and time, in this state of mind, so I could find and look after a struggling, frightened and abandoned cat, and give him a home. Would that not be, in its own way, a magnificent purpose? I think it would.
To end, there are of course many autumn songs which invoke that season to suggest melancholy and love's losses. Probably the most famous is the very beautiful "Forever Autumn" by Justin Hayward, taken from Jeff Wayne's "War of the Worlds." https://www.youtube.com/watch?v=hsCdlX-5UjE
But, beautiful, evocative and heartbreaking as it is, there is one outstanding song. I won't listen to it gain, it is too poignant, and I would only cry – the late, great Eva Cassidy, singing "Autumn Leaves."
https://www.youtube.com/watch?v=xXBNlApwh0c
I am off for my walk. Wish me well, and have a lovely autumn day. Gildas The Monk