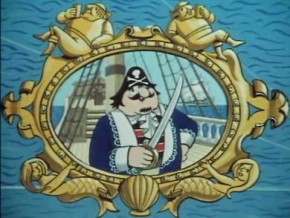 So many nautical terms are open to misinterpretation by landlubbers that anyone poised to set sail really needs to know a gash fanny from a cunt splice; failure to do so could result in kissing the gunner's daughter. I've no doubt our esteemed landlady has done her usual thorough research beforehand, and today all that research will be put to the test as she embarks upon a week-long voyage on board a vessel named after England's greatest naval hero.
For those of you capable of casting back your minds a couple of months, you may recall Ms Raccoon announcing her intentions to sit at the captain's table in this post, and circumstances have happily conspired to render her fit and well enough to be in a position to splice the main brace. I, like most of you, am extremely excited for our landlady and just a tad envious. There is something special about a sailing ship. It's hard to see one in all its glory and not hear the theme tune from 'The Onedin Line' swelling up from the seabed – or, alternately, the theme tune from 'Captain Pugwash'.
I guess it's in the genes. An island nation we are, and for the majority of our civilised existence, crossing the ocean had been the only method by which we were able to make contact with residents of greater landmasses. Our all-conquering Imperial past would have been impossible without assembling a navy that had complete command of the seas for the best part of a century, and even if we find ourselves marooned in the middle of Britain and are geographically distanced from the coast, there is an impulsive urge in all of us to go there as often as we can, if only to stare at those rolling waves. Boarding a ship is the next stage in this instinctive inheritance. Its allure and romance remains undimmed by our diminished place in the world or even a changing climate that prevents Captain Birdseye from serving endless fish-fingers to a crew of children anymore.
Shorn of the on-board brutality that once accompanied any voyage from these shores, the journey 'er upstairs will be beginning today is courtesy of the Jubilee Sailing Trust, who no doubt keep encounters with the captain's daughter to a minimum. Another advantage today's sailors have over their put-upon predecessors is the ability of those they left behind to follow their adventures via satellite tracking, and the magic of modern technology gives us the opportunity to check the progress of the voyage over the coming week.
So, let us raise a flagon of grog to The Lord Nelson and all who sail in her, especially one whose recollections of her escapades on the seven seas are destined to keep us entertained through every gale warning and squally shower for the next few months.
Petunia Winegum