I shall dine on Mince and slices of Quince…
For Ms Raccoon is putting to sea in a pea-green boat. Or maybe it's not the boat that will be pea-green but Ms Raccoon. We shall see.
I have thrown caution to the wind, and signed up to crew on the Lord Nelson, a 55 metre square rigged 'tall ship', that has just returned from the 'Norton Rose Sail the World Challenge' where she circumnavigated the world with a crew composed of severely disabled people who are paired off with complete lemons like me to learn the art of splicing the mainbrace and tying three sheets to the wind. Mr G says a lemon comes in very handy when the order comes in to 'splice the wottsit' but not to bank on ice? I've obviously got to learn a whole new language…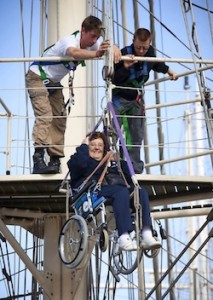 I've no idea who I shall be paired off with yet, but whatever they want to do, it will be my job to help them do it – please God it doesn't involve the crow's nest, though I would not put anything past this ship – they even manage to get people in wheelchairs up to the crow's nest (probably the only way they will get me up there, actually – let's call it a mental disability rather than physical in my case).
It is a fantastic opportunity and I'm really looking forward to it. Mr G spent all last week wagging his finger at me, telling me I couldn't possibly go 'now', but he has relented and the Jubilee Sailing Trust have had a long talk with the Doctors, and all are agreed, that so long as I stay as I currently am – I can go. So, all set for August 30th.
The Lord Nelson and her sister ship the Tenacious are the only two tall ships in the world purpose-designed and built to enable a crew of mixed physical abilities to sail side by side on equal terms. So far, they tell me, they have taken some 11,000 people who were were physically disabled and 4,200 wheelchair users.
I think it is utterly brilliant. So that is Ms Raccoon's next goal. Scan on 28th July; Consultant on 16th August – and then we are off! Only British coastal waters sadly, can't frighten Mr G too much in one hit – though I have my eye on one of the Antarctica trips…
I feel as though I should be 'doing summit' with this opportunity, but am not particularly in favour of charities as you know, so fund raising not so appropriate – anybody got any ideas as to how I can put this opportunity to better use than just enjoying it?
Suggestions welcome.
Anna Raccoon


June 21, 2015 at 10:00 am

FrankH


June 21, 2015 at 4:26 pm

Anna Raccoon


June 21, 2015 at 5:25 pm

Gloria Smudd


June 22, 2015 at 1:01 pm

Petunia Winegum


June 22, 2015 at 3:06 pm

Anna Raccoon


June 21, 2015 at 11:14 am

The Blocked Dwarf


June 21, 2015 at 11:59 am

The Blocked Dwarf


June 21, 2015 at 4:15 pm

Robert Edwards


June 21, 2015 at 6:53 pm

Paul Widdecombe


June 23, 2015 at 1:02 am

Engineer


June 22, 2015 at 8:34 am