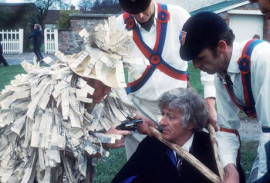 I watched a film called "Rush" a while ago. It tells the story of the rivalry between James Hunt and Niki Lauda. Since I am not a petrol head I did not really know the story. I found it fascinating, and an excellent film. But we have a different kind of "Rush" round here. Each year a local village holds what is called the Rush Cart Festival. It is a peculiar affair which lasts over the weekend. I was tweeting about this, and an American friend of mine asked: what on earth is a Rush Cart? It is a good question. My knowledge of matters agricultural is fairly basic, but from what I understand a Rush Cart is an old-fashioned hay-wain, piled high with a sort of beehive of reeds or rushes, about ten feet high. I am told the whole affair weighs about two tons.
On the Saturday morning of the Festival weekend the Rush Cart arrives in the village to a starting point in what passes for the village square in front of The Commercial Pub. It is drawn by teams of local men from I believe the Saddleworth Morris Dancers wearing the traditional garb of hats decorated with flowers, white shirts and gaudy red and white waistcoats, black pantaloons and white stockings with heavy clogs. The outfits are usually garlanded with bells. A band of drums, fiddles accordions and pipes accompanies the procession. At the allotted time the drums strike up, the band joins in and procession moves off. The Rush Cart is then hauled around to other local hamlets. This is no easy feat on the often steep and winding roads of the low Pennines. As the Cart is paraded through each hamlet the band plays and the Morris Men in their weird and colourful garb raise a sort of triumphal salute with staves and the drums thump a marching beat and the fiddles, accordions and pipes play a marching tune. This is hard to explain but a picture paints a thousand words. Therefore, here is a link to the Saddleworth Morris Dancers doing an opening dance for the Festival before processing the Rush Cart itself…
https://www.youtube.com/watch?v=6UIr39fuTDs
And here is a link to a video of the Rush Cart entering the local hamlet or village of Dobcross, taken from the excellent pub (which I can recommend under its new owners) The Swan…
https://www.youtube.com/watch?v=nD3lFFOcYXc
The Festival is held in the environs of a local Church, a dark, towering, Bronte-esque affair, and the neighbouring pub, the aptly named Church Inn. There is as small stream that runs down past the Church, and I remember courting with a girl there back in the day, and she still has a place in my heart, or what's left of it. I climbed the road slowly, because it really is steep. Soon after about 10 minutes or so I began to hear the faint sounds of the Festival; the heavy, rhythmic "boom boom boom" of a heavy bass drum, chanting and the crash of wooden clogs stamping in time, and some chanting and fiddles playing. From time to time these would reach a crescendo and applause and cheers broke out. It still took me another ten or so minutes to reach the site.
Upon arrival, I was greeted by my first site of Morris Men. I believe teams compete, but I do not know the ins and outs of the competition. Generally, people were doing that very English thing, milling about in a polite way. Morris Dancers mixed in amongst them, either having finished (in which case they tended to be drinking beer) or waiting their own turn to dance (in which case they tended to be drinking beer). The pub was doing a roaring trade. The local Bobby had a garland of flowers around his helmet and the Local PSO had a peacock feather stuck on her hat. I am told it is the Notting Hill Carnival this weekend. I have never visited it, nor will I ever do so. It looks like Notting Hell to me. I would rather stick a fork in my eye than attend it, which by the way appears to be just the sort of thing that happens to people who do. Ditto "Glasto". I have often thought that pictures I used to see of the police "getting on down" and joining in with the festivities in Notting Hill looked forced and driven by political correctness while the SPG waited for it all to kick off in their transits round the corner. These just looked at ease.
All the usual accoutrements of a British (or English?) day out were there. The beer in plastic glasses, two ice cream vans (one manned so to speak by a startling pretty girl who, of course, caught my eye), the local WI, or at any rate a local village society, selling tea and home-made cakes and sandwiches and pie and mushy peas, a stall selling burgers and chips, and a little row of port-a-loos. And, of course, there were the dancers themselves, in their traditional and often weird costumes. My favourites are always the ones I call "The Crows", dressed largely in black with blackened faces too, which I am sure someone in London will soon try to ban; but it does not appear to me to have racist connotations. It seems to me that the idea is to imitate a crow, and in the case of other groups such as the "Bacup Nutters", represent the days when people were filthy black from working in a pit or a foundry. Here indeed we have the eponymous Bacup Nutters, doing a dance in front of the pub. This is clearly illegal in my view, because the competition dancing takes place further up by the Church itself and in my view could have interfered with drinking at the Church Inn…
https://www.youtube.com/watch?v=rz_jbcAwpJI
How then was I to explain this event and the weird dancing to my American friend? What does it all mean? The history of rush festivals in some form or other certainly goes back to the Middle Ages. I am not an expert. The rushes seem to have had some significance for making the floors of churches more welcoming, acting like a carpet, or something like that. Perhaps there were ceremonies to have an annual clear out and refreshing. The history of Rush Carts themselves is more uncertain. They seem to be local to North West of England and to have grown up as part of, or perhaps to have been heavily influenced by, the Industrial Revolution – a strange irony given the ancient and very rural essence of themes. They then appear to have died out, only to have been revived back in the 70's. The Festival in question was revived in 1975, and has grown in popularity since. I suppose one can say therefore that it is that oxymoron, a new tradition, with an imaging of days past that never really were. I am not sure that is fair. I like to think I am sensitive to atmospheres and to some things that are not obvious to other people. I often get very strong impressions of the atmospheres of places, whether towns or on a smaller scale. To my sensitivities there is something about the Rush Cart Festival which feels old, and I do mean very old. There is some echo of long gone days here. That Master of Ceremonies chap dressed as a woman – isn't that a Roman thing, or am I perhaps reading too much into it? Modern historians have tended to deride the idea that these Festivals have pagan roots. I am by no means so sure. There is something somehow subtly subversive about the whole thing. Our landlord Petunia mentioned to me that the idea of the Festival reminded him of the classic Dr. Who story 'The Daemons' – one of my favourites ever, as it happens. Well, it does me too.
Be that as it may, there is in my view an important point which I would make to my American friend. In a sense, the whole thing is inexplicable. It is silly, it involves middle-aged men, beer, bellies and flowers and cakes. It is good-natured, semi orderly and yet amateurish and entirely pointless, and thus sums up a part of what cannot be explained: Englishness.
I moved amongst the crowd, taking my photographs as mementoes, stopping for tea and cake (I am strictly teetotal when driving). Although I move in this community I am not really part of it. I have no close friends here. And yet I can feel at home with the spirit, the history, the mood. This is part of my heritage. In truth, although I enjoyed the day my mind was somewhere else, or rather on someone else. But by three of the clock I had returned to the Monk Mobile, a stately old Volvo estate with 160,000 miles on the clock that goes by the name of Tilly. As we pottered the short drive home a further dollop of England occurred – the threatened storm erupted in the form of a monumental downpour of rain so heavy it was hard to see even with the wipers going full tilt. I don't know what effect it would have had at the Festival. But it will all happen again next year. But, I wonder, for how long?
Gildas The Monk
TRACK CAPTAIN RACCOON DAY 2: http://jst.org.uk/track-our-ships/