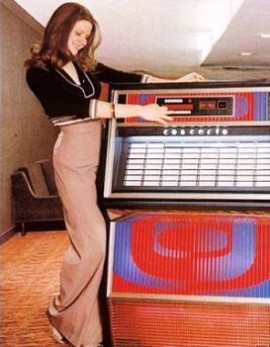 They're coming to take it away ha-ha, hee-hee, boo-hoo. Yes, the Raccoon Arms Jukebox has spun its last scratchy disc. It has expired. It is an ex-jukebox. It has served us well. Many is the time a heated debate has come perilously close to fisticuffs, only for the mood to be abruptly improved by the sudden and shrewd selection of the right tune for the right moment. Remember when Fat Steve and Windsock were having a lively exchange of opinions and some wag stuck their coin in the slot, swiftly followed by Chuck Berry's 'My Ding-A-Ling'? We were all friends again within seconds. Music has the magic to soothe tempers and put the listener in a happier place.
With this in mind, we the management have decided our humble hostelry will not be deprived of what is as crucial an item of furniture as the bar stools and the pool table. As soon as old faithful is unplugged and taken away to that great gin-palace in the sky, we shall be arranging the delivery of a replacement. In time, this new model may indeed come to claim our collective affection, but before that happens, it might be a good idea to nominate whichever tracks you reckon will enable the new Raccoon Arms Jukebox to carry on the good work of its illustrious predecessor.
I shall open the nominations with ten of my own and hope a fine balance is achieved between the generations of patrons…
---
1) ALL DAY AND ALL OF THE NIGHT, The Kinks
A timeless burst of adolescent energy that scythes through the age barrier.
2) GOOD TIMES, Chic
Much imitated and sampled, but the slick original remains the disco groove no one's feet can resist.
3) SHAKIN' ALL OVER, Johnny Kidd and The Pirates
The finest British rock 'n' roll record of the rock 'n' era by far.
4) DANCE TO THE MUSIC, Sly and the Family Stone
Soul + Rock + Psychedelia = One of the great 3½ minutes of the 60s.
5) CIGARETTES AND ALCOHOL, Oasis
A tribute to the traditional pub odours, both of which can still be found here (for those in the know).
6) 20th CENTURY BOY, T. Rex
The greatest Glam Rock riff of all, and you can't beat a bit of Glam!
7)  SOMETHIN' ELSE, The Sex Pistols
Some might opt for the Eddie Cochran original, but the Sid Vicious cover still rocks.
8) THE JEAN GENIE, David Bowie
Another jukebox gem from the Glam era, and another memorable riff.
9) ANY OLD PUB PIANO STANDARD, Mrs Mills
Everyone's susceptible to an old-school singsong when a lock-in is on the cards.
10) THE SUN AIN'T GONNA SHINE ANYMORE, The Walker Brothers
A ballad is always handy for when the drinker reaches that melancholy stage, and this is the best.
So, there are my ten nominees. There's room in the jukebox for more, so let's have yours…
Petunia Winegum