As We Were Saying Earlier…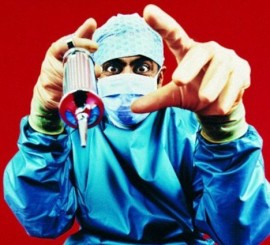 Whilst a Victorian bride was expected to be as white as a Persil bed-sheet hanging from the suburban washing line when she was led up the aisle, her husband was expected to be a little more worldly-wise regarding pleasures of the flesh. Those most masculine of trades, the Army and Navy, catered for his pre-marital urges via the unofficial employment of prostitutes, something that was also intended to turn these urges away from any fetching bottoms belonging to fellow members of his platoon or crew. An inevitable consequence of such behaviour in the days before widely available contraception was that many a soldier and sailor contracted an unwelcome souvenir of their adventures; and this increasing problem eventually led to state regulation of prostitution to ensure the nation's fighting men were no longer hindered from their endeavours by VD. Actually dissuading them from getting their collective legs over whenever not engaged in conflict wasn't given the same importance; the emphasis was very much on the wicked temptresses who exploited their absence of willpower.
The introduction of the Contagious Diseases Acts of the 1860s gave the authorities the right to submit ladies of the night who lingered in ports and around barracks to gruesome and intrusive physical examinations, ones that involved the kind of 'medical equipment' one would expect to see as torture exhibits in the Tower of London. To ensure the ladies in question wouldn't infect the virtuous boys who were keeping peace in the colonies, any signs of infection sighted by doctors hired to root around downstairs would result in the unfortunate girl being banged-up in what were known as Lock Hospitals for a sentence lasting anything from three months up to a full year. Once considered cured, she would then be released back into the world, where she could once again open her legs for Queen and Country.
The Act slowly extended its original remit and was also applied to cities with no connection to either the Army or Navy, attempting to curb the scourge of prostitution by focusing solely on the women involved in it rather than including the men drawn to it. With the exception of a few notable philanthropists and evangelical reform groups, there were few official initiatives to discourage women from the trade; instead, the government invested in the medical examinations, whilst the clientele of the examined were not submitted to the same indignities. Gradually, opposition to the Act swelled into a powerful lobby group, led by vociferous Christian and proto-Feminist Josephine Butler; and as public opinion turned against it, the Act was finally repealed in 1886.
Retrospectively, we tend to view such crude legislation as archetypal of the era and like to imagine we reside in more sophisticated times. How ironic then that we currently find ourselves in the midst of another moral panic centred around women's naughty bits, and calls to introduce examinations not a million miles from those legitimised by the Contagious Diseases Acts are deemed by some as perfectly permissible. The moral panic of 2015 is not about FHM (the upmarket men's magazine) or MGM (the old Hollywood studio with the lion logo), but FGM, AKA Female Genital Mutilation.
Frankly, I still cannot think of a good reason why male circumcision takes place. I remember seeing a drama as a child and asking my dad why a baby was being subjected to what to me seemed unspeakably cruel. He told me it was traditionally part of the Jewish faith, which at least removed the practice from the already-scary list of 'things to look forward to before you grow-up'; but that didn't seem to answer my question as to WHY? Male circumcision is believed to be the world's oldest planned medical procedure, predating Judaism and one of the few traditions shrouded in the mists of time that has crossed otherwise firm religious borders. Secular application of circumcision in countries with no previous culture of it only began to take hold on a small-scale in the late nineteenth century, primarily as a preventative cure for masturbation. The impact on recreational wanking was not recorded, but the western advocates of circumcision's reasons for singing its praises have been echoed a century later by those that believe it to be a beneficial aid in the fight against HIV.
Interestingly, although there are several lobby groups who campaign that infant male circumcision, such as that practiced within Judaism, is unethical in that the baby cannot provide consent, there is no universal opinion amongst international health organisations that male circumcision is abuse of a minor and that it should be outlawed. When it comes to female circumcision, however, the casual acceptance afforded the male equivalent is in short supply. It has even acquired a far more horrific alternative name. If circumcision sounds like a word from the NASA handbook of technical jargon, Genital Mutilation sounds like the name of an unlistenable Death Metal band from the late 80s. You can even envisage the T-shirts.
Without wishing to reunite any of you with your breakfasts, FGM essentially involves the removal of the external elements of female genitalia and is as much a part of many country's cultural and religious traditions as male circumcision. Just as the male version is undertaken by men, the female version is largely in the hands of women, so this can't really be lumped in with man-on-woman crime. Nevertheless, the common perception now is that this is precisely the category it falls into and FGM has consequently been outlawed in most of the countries it remains practiced in, viewed as further male control of female sexuality and removal of personal autonomy. Whilst several campaigners for its abolition have been subjected to FGM, the loudest voices appear to emanate from western countries with no history of it. Is this a case of genuine concern for the subjugation of non-consenting girls to a form of child abuse, or is it looking at strange foreign customs and declaring them to be barbaric in the same way our colonial forefathers did?
The current hysteria over FGM in this country evokes unrealistic images of machete-wielding Muslims who'll settle for a clitoris if they can't aim at the head of an off-duty soldier. The aforementioned proposition that schoolgirls be subjected to medical examination to discern whether or not all remains as God made it has an awful irony attached to it in that physicians poking around the nether regions of nineteenth century prostitutes is seen as primitive and misogynistic, whereas doing so to twenty-first century pre-pubescent girls is seen as somehow furthering the cause of feminism.
Don't misunderstand me – I think circumcision of both boys and girls is unnecessary and horrible; but there are many aspects of cultures alien to western sensibilities I find perplexing and distasteful. Again, we're back to who has the right to impose a ban on a practice that didn't form part of their own upbringing and naturally appears shocking as a result. Am I entitled to march into a synagogue and halt the ritual circumcision of a male baby because I personally find it cruel? No more than I'm entitled to march into an African village and demand a mother desist from performing circumcision on her daughter. If the Fuzzy-Wuzzies don't like it up 'em, surely it's up to them to do something about it.
Petunia Winegum