The Evening Post: Faith and Fur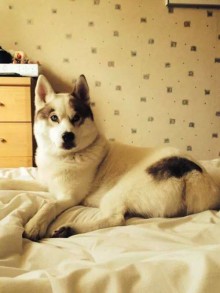 I could, I suppose, have written a diatribe about the inhuman piece of excrement that is "Jihadi John" or whatever his real name is, and also the deluded, ghastly and fanatical apologists for murder that is a group called C.A.G.E. After all, they have been all over the media this week. But I can't be bothered. You will have your views already, and these people simply need to be consigned to the cess pit of history. That won't be easy. Evil is always cunning, and grips horribly hard to the life it would seek to deprive others of (sorry for the bad grammar). That will be for another day.
Instead I want to write about hope, faith, and humanity.
You may well have followed the story of Murphy, a dog that went missing in Bradford in early December last year. Murphy is, or was, a distinctive white and brown Siberian husky. He slipped his lead and was lost one evening and it is likely that he was later stolen. I say you may well have followed or at least heard of the story, because his heartbroken owners Andy Smith and his partner weren't going to give up on him and launched one of the most effective social media campaigns around to "Get Murphy Home". 40, 000 plus followers on Facebook, and endless tweets under the "GetMurphyHome" hash tag, which is probably how the campaign came to my attention. There was even a question raised at PMQ's about Murphy and what seems to be a worrying raise in dog theft; what lies behind that I don't like to speculate about.
Murphy's owners have, I think, two other dogs, and huskies are big dogs that need a lot of attention. That might in other circumstances ring a bell with my instincts that there was a bit of chaotic inadequacy going on, but I should say that they appear to me to be clearly loving and caring people who simply love their animals and care for them very well. Murphy, for example, like all the others had been properly "chipped" and was in very good condition. All the dogs seem happy and playful.
I was worried about Murphy. Why? What business was it of mine what happened to a dog that I had never met, owned by a couple whom I had never met either? Why did I find myself fearing for his safety? There are many tragedies in the world; there is a world full of hunger, want and cruelty. What, in the great scheme of things, did a lost dog mean anything to me? Why was it that last Wednesday found me driving round a local area after a Facebook rumour that Murphy had been seen in the vicinity?
You could make out a pretty decent case for mere sentimentality. All I can say is that my belief is that everyone of good character comes into the world with a certain skill set or instincts which lock on to whatever is appropriate for them, and for "life" at any given time. With me, for example, it was just appropriate to look after and care for my once feral Cat, just because it "felt" what I was supposed to do. I strongly believe in acting on a sense of moral impulsion. Note I said impulsion, there not compulsion – just an inner instinct that it is necessary to "do the right thing". I don't think it is necessary to over think it, or try to intellectually deconstruct it. For example, you could analyse falling in love in terms of a useful psychological process the natural world uses as a tool to ensure the continuation of the species and that may be true; but it doesn't mean that it is also just falling in love.
I have a theory that it is not necessary or desirable for everyone to worry about everything and everyone. All that is necessary is for each of us to take care of the business that comes our own personal way. If everyone did that, the world would be a much better place. There would be more than enough compassion to go around.
Anyway, I feared for Murphy. But his owner is a wiser man than me, perhaps (that wouldn't be difficult). His posts were always positive, optimistic, determined and focused on the result he wanted: a lesson in life?
On Friday morning I logged onto my "social media" sites to see the remarkable news that Murphy had been found, safe and well. He was in the care of the RSPCA in Manchester, although by what means he had got there and what had been going on in the meantime remains unclear. He has now been re-united with his owners and his other dogs.
Against all the odds, Murphy is home, apparently none the worse for whatever had been going on and seemingly rather unfazed. I don't mind admitting I shed a few tears of joy. As a story, it has a happy ending. I wonder whether it might have some wider significance about faith in the face of dark times: staying positive, doing what you can do, never giving up; and doing the "right" thing, however little, just because you can. Now the work must go on. Other dogs to be traced, and missing persons too. Other causes. Other good deeds. Making a tiny difference every day.
Gildas the Monk