Confessions of a Crying Wolf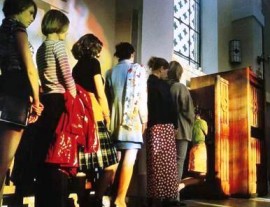 Confess! Confess! Confess! Hell, the Spanish Inquisition would have a far easier time of it today; back in the fifteenth century, they had to torture in order to grind out confessions; these days, people are queuing up to confess, particularly those in the public eye. It's as much an element of the modern PR machine as doing something for charity whenever Comic Relief comes around or visiting the local children's ward at Christmas.
Princess Diana's famous 1995 counselling session with Martin Bashir, from which I shall not quote the most tediously overused line, was perhaps a first for British television; in the States, Oprah Winfrey had built a considerable personal fortune by presenting the public confessional as entertainment, and though she was not the first US TV personality to utilise it, she was the first whose show received widespread network coverage in this country. The popularity of Oprah's brand of contrition in Britain created the climate in which a member of the Royal Family was able to give such an unprecedented interview. Neither Princess Margaret nor Lord Snowdon spoke of their own marital breakdown and divorce, for example; they not only seemed above such tawdry tactics, but the traditional British aversion to washing dirty linen in public wouldn't have regarded that kind of approach as remotely dignified.
Dignity? In the wake of Diana's legitimisation of the public confessional, famous faces were falling over themselves to view the viewer as a secular priest. Whenever they put a foot wrong, there they suddenly were, not hiding in shame, but brazenly hogging our screens and begging for forgiveness – in some cases, virtually demanding it. Michael Barrymore, Frank Bough, Ron Davies, George Michael and numerous others involved in embarrassing private scenarios saw fit to salvage the wreckage of their careers by attempting to make the public feel sorry for them. They wanted our pity. So much for dignity.
When Kate Moss was caught out snorting coke in a tabloid sting around ten years ago, the fact that she absolutely refused to publicly apologise for something she thought she was indulging in far from the telescopic lens provoked bemusement and surprise. What – she won't go on 'Tonight with Trevor MacDonald' and confess? I remember Max Clifford advocating she follow this path, which suggested he may well have been one of the architects behind the practice. There was no law in place to compel Kate Moss to confess, however, despite the impression given by the media that it was somehow the fallen celebrity's duty. The tabloid 'exclusive' usually accompanies the television confession, just to ensure all bases are covered; and Kate Moss had the bare-faced cheek to not play that game as well.
The Big Brother House became a fresh conduit for the confessional when it started opening its doors to the famous and the almost-famous; Les Dennis bordered on a breakdown when he was a housemate, but the precedent had been set to make such an intensely private moment perfectly acceptable to be carried out in public; it was evidently regarded by many as a good career move, and Les Dennis's career has certainly picked up a bit since he poured his heart out to a group of largely ambivalent chickens; he is currently recycling his Mavis impersonation on 'Coronation Street'.
In this atmosphere, a celebrity comes to see the confessional as a convenient tool for another front page. After all, wannabe celebrities desperate to be loved during a singing contest can't wait to publicise the pain of carrying a dying comrade on their backs when they were under-fire from the Taliban; Karen Matthews picked up on the fact that missing kids made a name for their parents and organised a fake kidnapping to get her face on the telly and have all the public sympathy that comes with it; and how many stories have emerged of those claiming to be dying of some incurable disease, going so far as to start their own charity and organise fund-raising events, before eventually revealing the only sickness was in their heads? Stupid people respond to such stimuli if it's presented to them as the key to being popular. Therefore, those who have already reached the Promised Land have realised that by speaking of past pain – and emphasising that it continues to cast a shadow over the present – both popularity and sympathy can go hand-in-hand.
'It's my view and also that of my therapist,' said Karen Danczuk this weekend; that telling sample of a statement from the queen of the cleavage selfie formed part of her child abuse claims, which themselves form part of a wider publicity juggernaut the Rochdale councillor has been engineering for the past few months. I'm not in a position, either morally or legally, to question these claims, but a therapist is a crucial element when it comes to encouraging adults to recall certain past events that will inspire sympathy. The client/therapist relationship is supposed to encompass a private conference between two individuals that belongs behind closed doors. Of course, the client has no confidentiality clauses to break; they are in a position to go public should they choose to do so, whereas the therapist has to maintain professional silence. But why go public? What will the client gain other than sympathy? The reward is a hug, a few vicarious tears, a collective 'poor you' and the label of Survivor, a label that defines that person in the public eye. He is a shoemaker; she is a secretary; he is a salesman; she is a Survivor. As job descriptions go, it's not one that radiates much in the way of self-esteem.
The compulsion to discuss private affairs in the open is perhaps something that has also arisen from the narcissistic belief that everyone has something to say and that everyone has a right to be heard. This extends to sharing the moribund minutiae of life on Facebook or Twitter, as well as exposing strangers to a conversation conducted on a mobile in a supermarket queue, with the person conducting the conversation in possession of an utter lack of awareness that a dozen fellow shoppers might feel uncomfortable at hearing an inane litany of profanities. The inability of such people to modify their language regardless of company is testament to their arrogant perception that the world revolves around them. I can eff and blind like a navvy, but only when in the company of other navvies; I exhibit self-censorship if children or senior citizens are present, or merely do so out of politeness and sensitivity towards those who might not care to hear tap-room slang in Sainsbury's.
However, when a famous face is so quick to 'share their pain' in the hope that it will earn them the public's pity, not everyone responds in the expected way. Overexposure to the celebrity confessional can cause the cynic to come to the conclusion that there is no truth in any such claim, and all sexual abuse is then relegated to the same sceptic's ballpark as global warming. Whenever a tearful spouse or parent attends a press conference to plead for the safe return of their missing loved one, they are scrutinised and their sincerity doubted because there has been the odd occasion in which that same distraught spouse or parent has actually murdered their missing loved one and whose upset has been exposed as a sham; the reaction of some is to then apply this to all cases.
Every time a wolf cries, one more person believes that sexual abuse is a mere figment of the imagination; and while the rest are watching a celebrity shed tears on a sofa, nobody is watching a grubby bedroom in a grubby house on a grubby street that hides a thousand true stories.
Petunia Winegum