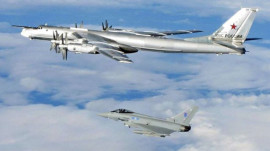 Whilst enjoying watching the occasional Europa Champions League match on TV of late it has not escaped my attention that the competition is sponsored by Gazprom, the Russian gas production company with a majority stake held by the Russian government. It has always struck me as a symbol of Western Europe's strategically insane over-dependence of Russian gas and energy supplies, a product of politicians who think in sound-bites rather than the long-term strategic interests of their countries, and who have no memory or appreciation of history. I found it particularly and deliciously ironic in a week in which once again Soviet (oops) Russian heavy bombers had another foray along the Channel, in an act of old style Cold War menace. Such flights are incredibly irresponsible and dangerous, not necessarily because they risk an altercation, but because the bombers fly without lights or transponders, and as such pose a terrible risk to civil aircraft. Apparently they received an escort from two RAF Typhoon fighter jets. After recent cuts I am amazed we have any working. I wonder if they had any rockets? Perhaps the pilots could hold up home-made placards saying: "Russians Go Home"?!
Because politicians are stupid, they assumed that after the collapse of the Soviet Empire, Russia was either a friend, or economically broken and no longer a threat. But Russia is what it always has been: a powerful entity, with a strong and often aggressive sense of nationalism and imperialism, and without anything more than the most superficial adherence to democratic values. True, economically it was on its knees at the end of the Cold War; but it might have been rather more sensible if the West had in fact taken the time to think this through, and calculate the resentments that it might engender. A more positive engagement might, perhaps, have fostered more trust now. Now Russia's fortunes have been revived to a degree by its wealth in natural resources, allowing its military to recover and rebuild, but at the same time collapsing oil prices, mismanagement, corruption and sanctions have threatened that new-found wealth. That is a recipe for trouble.
Putin comes from a ruthless KGB atmosphere, but whether you look at him as another, slightly better dressed reincarnation of Soviet totalitarian mannequin, or as simply a nationalist and hard man dictator with little interest in the rule of law, it does not matter. What matters is what the end result is. A couple of years ago I watched a documentary on summer camps being organised by the youth wing of Putin's political faction. It was disturbing stuff. All the usual paraphernalia of the dictator were present: the giant portraits of Putin looking glamorously "strong": jaw jutting and eyes blazing; lectures about the injustices of the West; the hair shirt, healthy, outdoor life and exercise. We have seen it all before, somewhere.
NATO and our Dear Leaders need not ponder for too long what Putin wants. I will tell them. He will take what he can get, but first of all he would like a bit of external military adventure to boost popularity at home. Second he wants to re-assert Russian influence over Ukraine to act as a buffer to what he sees as aggressive EU expansion. But in an ideal world, he would redraw the map of Europe by establishing Russian overlordship of Eastern Europe and the Baltic States, back to the Cold War days. This plays well with large sections of the Russian public, who hanker back to the old certainties of the Soviet Days. Life may have been drab, they say, but we had certainty and full employment and we were strong, and respected and feared in the world! The perceived humiliation of the collapse of the Soviet Union and the harsh economic circumstances which followed for many bred deep-seated resentments. Putin taps into this, and feeds off it. Modern Russia was created as a Great Power by Peter the Great, and although he advocated some aspects of the Enlightenment, democratic values were not really on the agenda. He was a totalitarian and ruthlessly suppressed opposition. The soil of Russia has never been deeply sowed with the seeds of democracy.
Putin plays the role much admired by the Russians, and others with no ingrained democratic instincts: the "Strong Man". Men like Putin do not respect standards which we would like to think leaders of a modern industrial state should adhere to. They do things like poisoning opponents in foreign capitals, and arrest awkward lawyers on trumped-up charges. Men like Putin have no problem with external war as a good diversion from economic and political problems at home. He is perfectly willing to ignore the truth and lie, and to ignore that body of liberal convention which we call International Law. He is not, in my book, a mere bully. Bullies are normally physical cowards, and I do not ascribe that description to Putin. But he is a man who willing to bully to get what he wants if he calculates that he can get away with it.
I will cut Putin some slack. The EU's rush to expand eastwards and fill in the void left by the Soviet Union was in many ways naïve and insensitive. In particular, wooing the Ukraine with such vigour was highly unwise. From the Russian point of view it would be easy to form a picture of an expanding economic empire with NATO as its armed wing. An incorrect assessment at least in terms of NATO's role, but it can be seen how that perception can come about. It was a ghastly diplomatic miscalculation. You may not want to attack the bear, but it is a bad idea to walk in the woods without a gun and then shit right outside its cave. Ukraine is not, of course, a member of NATO. The Baltic States, Estonia, Latvia and Lithuania are, and Putin would like them back under the Russian sphere of influence, just as they were in Soviet days. NATO's military and diplomatic creed and obligation is clear: an attack on one is an attack on all, and must be responded to with overwhelming military force. NATO must hold to that doctrine. If it was abandoned NATO would collapse, and chaos would inevitably ensue as states were picked off, one by one. War would follow anyway, but on the aggressor's terms.
There are signs that NATO and our politicians have at last woken up to the danger that Putin and Russia pose. Perhaps a bit late, but there we go. I understand attempts are being made to cut back the dependency on Russian gas. Good luck with that, but it was a foolish, almost criminally foolish, miscalculation in the first place. In the short-term, NATO's military posture must be made significantly but subtly stronger in the east, particularly in and around the Baltic States. I am not advocating a wholesale arms race, but a proportionate and clear state of intent. This is our red line. At the same time, further economic sanctions must be considered. This is a delicate area, because I can see the argument that it might force a beleaguered Russia into yet more precipitate actions if sanctions bit deep. Well, that is true, but there needs to be a significant statement of intent that the annexation of parts of the Ukraine will not go without consequences.
These are dangerous times. Europe faces threats on at least two fronts: the chaos on the Middle East, creating monstrous and aggressive groups like Islamic State; and the ever ominous rumblings from Russia. Possibly three, if you count the threat from terrorism at home. Political mismanagement – and political correctness – has helped to spawn all of these. Europe is going to have to up its game; and the endless cuts in defence are going to have to be looked at. As one general recently observed, David Cameron has achieved the exact opposite of the Roosevelt' old aphorism, speak softly, but carry a big stick. He is a man who shouts a lot but carries a pea shooter. For the safety of Europe, it must be made quite clear that interference by Russia in the Baltic States will not be tolerated. Putin will smell any weakness, lack of resolve or indecision. Putin knows that it comes to all out war, he faces defeat. Extortion and destabilization are more the name of the game.
Beyond this, it still seems a shame to me that we are in this position. As I have written before, it in my view if you take a step back, both Western Europe and Russia have much more interests in working together, with differences but with mutual cooperation, than eying each other up along the barrel of a gun. In particular it seems to me that the rise of radical and aggressive Islam is a matter where there is a common security interest. I would rather we were working together to suffocate this ghastly agenda.
NATO is still a powerful organization, but it needs to display new resolve, new commitment. At the same time, there has to be diplomacy, conducted by those who understand Russia and its history, not place men from the EU who appear to be concerned only with the size of their empire and pensions. But most of all, we need some more tanks and planes.
Gildas the Monk