On Bankruptcy and Miracles
This is a very personal post.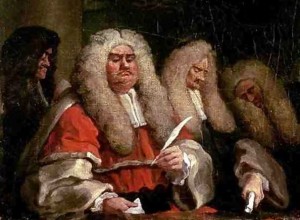 So trust me that although I have changed certain salient details for various reasons, the essential crux of the facts are true. In fact, the full story is a bit more dramatic and unhappy than needs to be told. This week I chose to go bankrupt. Or rather, I didn't bother defending the bankruptcy petition. This post is about how I got to here, and finding the good in it.
First, my chosen profession is legal, and specifically the conduct of civil and commercial litigation. It can be a good profession, and well paid, but it can also be and often is a demanding profession which takes a toll and it is not always well paid. Sometimes difficult cases are not valuable cases, and vice versa. Second, by inclination I am neither a risk taker nor a spendthrift. I was of the old school 'don't buy it until you can afford to buy it' type. I don't like fast cars, or need fancy goods. I don't gamble or do drugs. In fact I had an aversion to debt born of my observations at work. Until the events described below I never had an overdraft or a credit card. There was a time when I was well off, with a gorgeous house and a flat for convenience at work during the week. Then in 1999 I sold my house, against my better judgment, and for reasons of extensive travel. I put the money in the bank and intended to save up and put a deposit on a new one. It was a strategic disaster. The next year house prices went through the roof. There is more back story to this, but it doesn't matter.
In 2002 I suffered bereavement. I lost someone I loved very, very much. I fell apart with grief, barely able to function. So I know about grief, and it didn't seem to shift. I have no doubt that I had a breakdown, and the fall was far and the ground was hard. There was no one to help cushion the blow. Foolishly I kept working. I should have taken a sabbatical, but there was no one to give me that advice. I don't want to go into details, but on the personal front I was also ill-used by someone I trusted. A person got me involved in subsidising their business ventures and persuaded me of the huge benefit of what were with hindsight hugely stupid decisions which I trustingly and naively underwrote, and being locked into those is the essential cause of my present position. Soon I was cleaned out. We had a new regime at work and again I also was at the receiving end of some "Office Politics" (not my game) which saw me being marginalised on the work and income front. Add in a recession which has hit my chosen profession as badly as any other, and you have the perfect storm
I began to wake up. I remember looking at my bank statements and realising for the first time how the money had been bled away, but I still slow on the uptake. The flat had gone; sold to fund some damaging project on promises of repayment which were, as ever, not fulfilled. That person has moved on to cause more distress elsewhere. I was effectively homeless and debt ridden. In my late 40's I was obliged to move in with my now very elderly parents, which was I suppose a blessing but not ideal. From a back study I moved on to a new place of work and started over, this time with an anchor of debt round me. I went into what is known as an Individual Voluntary Arrangement, a compact with creditors but I also had the added burden of a mortgage on a vandalised house (I did tell you, the full story is horrible) to try to keep up. It has been a dark place at times. I spent a lot of time pondering: why me? I'm a good guy, by and large. Were my sins so bad as to deserve this? I read far and wide, looking for answers. Some have come, some palatable, some not so.
I think I understand now. I think the psychological wound of the bereavement left me highly vulnerable, and desperate for some security which someone seemed to offer, and less interested in my career than I should have been. I still berate myself sometimes, and I am not trying to avoid responsibility, but I can understand it. I was very isolated – it is partly the nature of my job. I discovered diversion in the internet a diversion. By a series of coincidences I was prompted to adopt the identity of Gildas the Monk. It seemed appropriate; an isolated, monastic figure, railing at the iniquities of the world. By another series of coincidences I discovered this site, and our landlady extended a hand of friendship. I found an outlet in writing. It gave me an outlet and a challenge. Thanks, Boss. Then I was rediscovered by my friend, of whom I have often written, Dr F. We had lost contract so many years ago. She and her husband have offered me unconditional love and financial support too. I struggled on and on, paying off as much as I could. I have done quite well, but "post" recession (post??!!) is tough. In the end, I was exhausted. I thought: stuff this. More accurately, I think I was worn out. So, I stopped paying and awaiting the results.
Here's the thing. There is a work called "A Course in Miracles" which I have mentioned before. Again as I have mentioned, it is not a course about angels intervening and people levitating; it is a work which fuses spirituality and psychology with the goal of obtaining peace of mind. In this context a "miracle" is often something like a change of perception; a change of perception about a situation which in turn can allow for a change in circumstances to take place; not deleting a problem by Celestial Intervention from on high, than allowing a change in how to think about the problem. On the other hand…
I found myself in Manchester a few weeks ago. I was particularly low and anxious, and decided I would go to lunchtime Mass at the beautiful city centre church of St Mary's, known locally as "the Hidden Gem". I never made it. I bumped into a kindly colleague, a chance meeting which is highly unusual. Even more unusually she had time for a coffee, and we talked. I told her about my present woes. She gave me good advice. Don't worry, she said. This may be a good thing. Take some time off, and rest. Re-assess your career, and whether you want to do it. Don't live for the opinions of others. Maybe take a holiday. Maybe take the time for a complete change, or find more fulfilling work. All advice I could have given myself, but needed to hear from someone else. I felt lighter. Such wisdom and common sense was what I really needed, just then. Chance? I was very down, but I feel funny now. I feel tired physically tired, but there is something else. Relief? Perhaps, but it's weird. It's almost…excitement? I had forgotten what that felt like. I began to see the positives in this. Free from endlessly paying. And some unpleasant people who were hounding me get to lose out; I don't have to deal with my former colleagues who were still demanding contributions to a place where I haven't set foot in 5 years. Screw you. You have the problem now. Another thing was I have learned who my real friends are.
Other ideas have come crowding in. Do I enjoy my job anymore? I've been doing it for more than 25 years. Well no, not very much. Changes to the legal system, cranky judges, greedy clients squabbling over money…I know very few of my comrades who handle the work a day drudge of legal work that are not stressed and unhappy. Do I really want to keep doing this? Maybe not. Maybe I could do something different, make a change. Maybe this was a signal to re-asses completely and make a fresh start. Maybe I could be…..happy? There is a concept developed by the psychologist Carl Jung called the wounded healer. It inspired this, which I came across on Twitter, or some such. I hope I am not being arrogant, but somehow it struck a chord with me. My needs are few. A little house to rent, a radio to listen to the news and footie, maybe some homemade wine and a few treats. Maybe for the good of my health I can do more walking? I could recharge my batteries for a while. Maybe find a job with more meaning, or fall back in love with my profession? Maybe write a novel? Maybe start a business and become a millionaire? Maybe I could have a future unlike the past? So, oddly, I feel very good. My instincts are usually good. I think good change is on the way. It is odd.
Tonight I shall head off to a little spa hotel in the part of town I used to love living in. Nothing fancy, you understand, just a gym, pool and a steam room. And from thence to the friendly old pub. Therein I shall drink some wine, and ponder the miracle there could be in this. Finally, all of you who have been kind to my various efforts over the years. Thank you. God Bless. I shall raise a glass to you.
Gildas the Monk