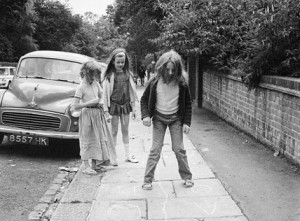 What would you say the main differences were between your average British street today and its equivalent of 30-40-50 years ago? Well, there's probably more traffic on the roads, that's a fair bet; and the air's perhaps a little cleaner now there aren't so many chimneys pumping toxic aromas into the atmosphere; stray dogs aren't as prevalent anymore and neither is that curious cream shade of the calling-card they used to leave behind for the unsuspecting Cuban heel. But to see the key change in the Great British street scene over the past half-century, simply watch any location footage from a TV drama or sitcom filmed in the 1970s, or alternately, watch any Ealing movie from the 1950s; it really is quite blatant: there are always un-chaperoned children in shot.
Scruffy ragamuffins crawling over bombsites are something of a cliché when it comes to immediate post-war British cinema, and whilst it's possible directors inserted these snotty-nosed urchins in there because that's what the audience expected from a street scene, the routine whimsy one associates with Ealing certainly isn't present in the likes of 1949's 'The Blue Lamp', a landmark crime drama rooted in the wartime documentary realism school and therefore attempting to reflect reality as it was. A key moment pointing towards the plot resolution concerns the discovery of a murder weapon by a little girl who belongs to a pre-pubescent mob running wild through the flattened landscape of Paddington. But one doesn't have to travel back as far as Ealing; as recent as the turn-of-the 80s, an episode of that brilliantly hilarious testosterone-manifesto, 'The Professionals', will occasionally feature Bodie or Doyle encountering Chopper-riding latchkey kids with nary a parent in sight. So, at what point did children without shackles vanish from our streets? If you don't have children (and I don't), perhaps it's not really an issue one takes much notice of; it only ever becomes something one notices when the aforementioned portals to the past are breached.
I was a child from the beginning of the 1970s to the end; my dad, being of the 'Ealing generation', would often drone on about how he would disappear at the dawn of each day in the school summer holidays and his mother would have no notion of his whereabouts until he reappeared when she called out to inform him his dinner was ready. But with the benefit of hindsight, I now realise my summer holiday experience was remarkably similar. The great lost sound of neighbourhoods up and down the country is the sound of mothers calling their children in for dinner, reaching out across the rooftops like an oral umbilical cord; it was as though mothers then, denied the technological advances that now enable them to track their offspring with such precision that the kids may as well be wearing tags designed for criminals, possessed an inbuilt radar system that provided them with the knowledge their message would reach its intended target, however far from home that target wandered. And it – I – would often wander very far from home indeed.
My first two-wheeled bike was the great liberation; motorists regularly refer to their inaugural car as such, but I've never owned a car, and for me that role was filled by my bike. Suddenly, my geographical horizons expanded tenfold; me and the boy-next-door would wait until the credits rolled on the daily instalment of 'Robinson Crusoe' and then we'd be away, whizzing through our manor like a couple of infantile Hell's Angels, daring each other to nick a comic from the bag the local paper-girl had slung over her shoulder (I once managed it as well!). We'd skirt the very fringes of our territory, so far from our respective homes that it would have taken our mothers the best part of half-an-hour to track us down on foot. We'd blitz the shops (much to the chagrin of the unsmiling proprietors-in-cardigans who hardly welcomed our custom), transform local woods and waste-ground into our own private scrambling track, sometimes join a bunch of other kids we half-recognised from school in a 'jumpers-for-goalposts' game of football, climb (and fall) from trees, run riot around empty building sites, clambering over the huge diggers, shinning down scaffolding holding up half-completed houses or simply leap from the first floor windows into a sandpit; equally, we'd explore the other end of the housing market, turning one of the many terraced estates in the process of demolition surrounding us into a WWII-themed adventure playground. And we couldn't have had so much unbridled bloody fun if a) we hadn't had our own personal transport and b) our mothers hadn't accepted their children had the right to roam.
Naturally, we had the 'don't talk to strangers' mantra drilled into us, but we would routinely engage in conversation with adults we didn't know because they would innocently engage us in conversation. They weren't scared of doing so. I remember moving house aged seven and forgetting my way home from school during my first week; I asked an old man for directions and he practically walked me to the end of my street. I had no idea who he was and he never touched me inappropriately. Anyway, other kids were far more terrifying than adults, forever challenging me to a fight as a means of introduction, making the turning of any corner a potential stroll into an amateur boxing ring; I wasn't the sort of little boy who actively sought fisticuffs, but I always seemed to encounter them. Yet, funnily enough, I don't recall any public information films warning me about the casual violence of my contemporaries. Regular punch-ups seemed to be the only price of childhood freedom, but we paid it gladly.
However, at some point towards the end of the 2oth century, the shedding of traditional English reserve and the sudden willingness to discuss everything in the open via the imported Oprah Winfrey fashion turned the comparatively rare crime of child abduction – hardly a newfangled fad – into an apparently omnipotent threat, not only diverting police resources away from more commonplace criminal acts, but elevating the local neighbourhood pervert (one every parent had always sensibly advised their children to steer clear of) to virtual celebrity status – hiding in plain sight, as they say. Paedogeddon was underway as Fleet St and the mainstream media convinced the families of Britain that their towns harboured a Terracotta Army of clandestine deviants, ones who had lain in suspended animation for centuries before being stirred into life by the electronic impulses transmitted from the internet. And the most visible, not to say saddest, legacy of this moral panic has been the disappearance of un-chaperoned children from our streets, their right to roam revoked by parents who had once enjoyed that right themselves but are prepared to deny it to their own children because the 'popularity' of paedophilia has rendered every stranger a potential child-catcher. Children have become victims of a twenty-four hour curfew.
Of course, high-visibility parent-free children can still be seen in working-class neighbourhoods, usually in packs and clad in school uniforms at home-time; but the anxious drivers of the 4×4 family taxi have conspired to turn their children into bizarre beings that are both delicate china dolls wrapped in cotton wool and conceited little kings and queens who believe the world revolves around their every whim, wielding unchallenged emotional and legal superiority over parents, teachers and strangers alike, secure in the knowledge that nobody can lay a finger on them. Ironically, the only right they have no access to is the only one that really should be theirs for the duration of their childhoods, the right to roam. Yes, we all know there are a few perverts out there and children need to be made aware of this; but equally, parents need to invest their offspring with some intelligence and common sense. Otherwise, we will end up with a generation of socially inept teenagers incapable of progressing beyond puberty and…oh, I forgot. We're already there.