Gap-year journalism bringing you gap-year jihadism.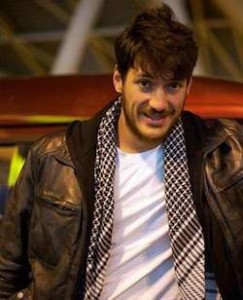 Austin Tice 2012
The lexicon of corporate life has affected the dead tree press in ways more subtle than the arrest of 63 journalists for offences uncovered by the investigation of the so-called 'hacking' investigation, or even the Leveson Inquiry.
Whilst the 'hacking' investigation put paid to finding front page stories of sexually incontinent celebrities by dint of listening to their phone messages, the CPS – now known as the Celebrity Persecution Service – filled the gap neatly by providing regular updates on priapic crooners with far more titivating detail than their Vodophone ever disgorged.
That took care of the Sex angle – but the media still needed to fill the 'if it bleeds, it leads' slot. There they were handicapped by the ubiquitous 'legal team'. The lawyers were unwilling to allow their corporate bosses to put anyone to whom they might have 'vicarious liability' in any danger of bleeding along with their front page story.
By 2010, 20 major news corporations had closed their 'Foreign Bureaux' – another 100 had withdrawn even their lone foreign correspondents. The death of Sunday Times journalist Marie Colvin in 2012, whilst on 'active service' in Syria was the last straw. The era of the linen suited, Panama hatted correspondent whiling away their days in shady cafes, attended by exotic waiters – alternately filing the copy for London and writing their seminal novel was over. Covering bloody uprisings was just too expensive for the insurers in these days of strict liability for negligence torts.
Whilst the headlines have been full of the gap-year jihadists we have failed to notice who has been bringing us those stories to add a frisson of excitement and/or outrage to our morning Starbucks.
A new breed of young men eager to 'feel more alive' than small town life could give them has risen to feed the media with the required blood stained images.  40 years ago they would have been leaving hand written messages on the wall in the Pudding Club in Istanbul – 'Sheila! Missed you in Katmandu, see you at Tony's gaff in Goa' – today they use Twitter to send back messages like this.
I am embedded w #FSA. Newsworthy stuff going on daily. If someone wanted to hire me that would be great. Student loans don't pay themselves.

— Austin Tice (@Austin_Tice) May 21, 2012
Austin Tice is a Georgetown Law student. He's not a journalist in the old fashioned sense. Had his interest been in another subject, he might have been described by established journalists as a 'spotty faced blogger' – but since he crawled under a wire fence into Syria he has been graced with the term 'freelance journalist'. Since May 2012, around the time that Marie-Colvin was killed, he has been listed as a 'kidnapped freelance journalist'.
The reason for that, the sole reason for that, is money. Corporate money.
Austin is one of the army of young men in search of excitement and a career, armed only with a camera and a pen and notebook, who are feeding our front pages the requisite bloody images at the moment.
There is no media outfit behind them; they have no medical insurance if they fall victim to Ebola whilst in Sierra Leone; there is no insurance policy to support them if their left leg is blown off in Syria; there is no support network of high level contacts to negotiate their release if they are kidnapped in Iraq. They are, quite literally, out there on their own, hoping to capture the image of the disfigured child, or the interview with the rebel commander that Sky or Murdoch would be prepared to pay them for.
67 Journalists, the vast majority 'freelance' have been killed in Syria since the conflict began. We scarcely know their names, until, like James Foley, they become headline news for all the wrong reasons. Many do not even have body armour or a helmet while very few are equipped with satellite phones…
"We also generally lack cash" said Spanish freelancer Mayte Carrasco. $1,000, if you are lucky, for having tracked down that rebel commander and filed something of interest to a major news network.
63 journalists have been arrested over the News of the World debacle – most are household names.
We know the names of the anchormen and women, in their flak jackets and tin helmets, on the balconies of safe hotels, who will fly in and take the credit for getting the 'big stories' when it quietens down a bit.
The Rory Peck Trust is the only organisation taking an interest in the so-called 'freelance journalists' – outside of their families. Families that used to merely worry that their wandering sons would catch something nasty from 'Sheila' if they managed to meet up with her in Goa – now worry that he will catch a bullet or a jihadist's axe in their search for excitement.
Meanwhile, the main stream media get their 'bleeding front pages' on the cheap, and reputations are built by the army of armchair commentators on fat salaries who fill their opinion columns pontificating on the moral issues involved in war.
Gap-year journalism bringing you gap-year jihadism.
guthrie


August 25, 2014 at 7:25 pm

Matt Wardman


August 26, 2014 at 10:44 am

eric hardcastle


August 26, 2014 at 12:02 pm

eric hardcastle


August 26, 2014 at 12:07 pm