It must be August Bank Holiday – London's most affluent neighbourhood has been forced to board up its windows, board out the cat and the dog, send the children off to Rock in Cornwall – whose residents have similarly boarded up their properties – and prepare for the annual 'distraction robbery' extravaganza that is the Notting Hill Carnival.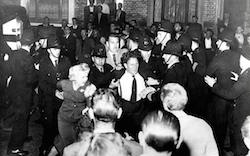 Back in 1958, Majbritt Morrison, a Swedish 'prostitute', (as they were called in those days, though the Guardian calls her 'the young, Swedish bride' and the Independent a 'sex worker') was having a flaming row with her Jamaican husband and some of his Jamaican friends, outside a Notting Hill Gate tube station.  Nobody knows what the row was about – but a group of white youths intervened. The next day they saw her again, during the course of their conversation, one of the white youths referred to her as a 'black man's trollop'. She was hit in the back with an iron bar – the Police ordered her to return inside – she refused and was arrested – the ensuing fracas was the origin of the 1958 'Race Riots'.
This event has been 'celebrated' every year since as the Notting Hill Carnival by millions of people who have no idea what they are 'celebrating'. Or even, since a 'carnival' should properly be held immediately before Lent, that they are around six months late each year…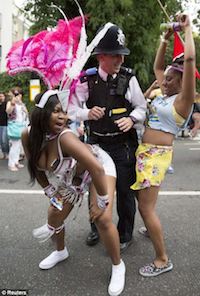 Every year, the contents of Brixton empties out of Notting Hill tube station, and sets out their drug stalls, sharpens their knives, flexes their pick pocketing fingers and prepares for the annual influx of 'hip' Londoners keen to celebrate cultural diversity, multi-cultural tolerance, and a chance to watch our long suffering police force smiling as over-weight Jamaican women grind their pubis' against plod's left leg in time honoured fashion, almost identical fashion to the groin grinding they would have endured when they were bussed up to Manchester the previous week-end  to ensure that Gay Pride had a happy time twerking the local plod – selfies of this strange sexual practice are a staple of local newspaper coverage of such events.
Every year, the Chief Constable is rolled out of his normal parking place to assure the baffled crowd that this year 'the event was relatively peaceful' despite the fact that half of them are missing their wallets, some are still queueing for attention in the local Accident and Emergency department, and 250 of the drug dealers are noisily hammering on their cell door claiming that their arrest was 'racist' and demanding the attendance of the IPCC. One such dealer was relieved of two machine guns and a handgun, crack cocaine and around £78,000 in cash.
The 'entertainment' laid on to distract the various comedically dressed local politicians – (it is a given that in order to obtain favourable media coverage that you dress as a total moron and practice your 'Dad dancing'), race relations advisors, and other 'down wiv' da youf' media types whilst they are parted from their cash – occasionally in return for jerk chicken cooked under conditions they wouldn't accept for their dog's dinner, occasionally in return for their life, has improved marginally over the years. Children dressed and painted as Mau-mau warriors jig along to a variety of oil drums hammered enthusiastically by retired London Bus drivers who came over on the Windrush whilst their sons and grandsons continue their light fingered work.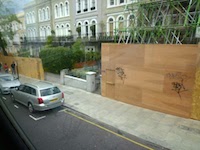 In 2000, the Met Police did take their courage in one hand, if not both, and hold an inquiry which timidly declared that this annual remembrance ceremony of Majbritt being called a 'black man's trollop' was the 'the scene of extreme and unacceptable levels of crime and violence and unacceptable disruption to the life of the local community'. Complaints from residents include 'excessive volume resulting in migraines, having to relocate pets because of the bass, damage to property, urination on property, broken glass etc, congestion of people traffic and impact on public safety, crime and disorder.'
One of the more curious aspects of the 'carnival' is that it is the Police who pay to clean up the blood and vomit from the streets (and themselves) – presumably to pacify the owners of the multi-million pound mansions forced to welcome this crowd to their neighbourhood – and it is you, the tax payer, right across London, who pays for the annual jamboree. Football clubs have to pay for their own policing.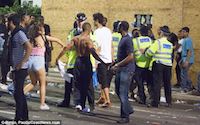 This year there were 7,000 policemen, helicopters in the sky, armed intervention units, and it cost around £7,000,000. 
Chief Superintendent Robyn Williams, asked about the planning that goes into the police operation, she said: "Let me put it this way: on Tuesday morning we'll begin planning Notting Hill Carnival 2015." 
Boris Johnson, the London mayor, said: "Carnival is a wonderful celebration and highlights what the Caribbean community does for London.
Sheesh! Why not hold it in Brixton next year? In the name of diversity, invite the BNP to blast their homes with 'Jerusalem and Rule Britannia' for three days, revellers dressed as eighteenth century soldiers in the Africa Corp can dance in the streets whilst the EDP nip round the back and beat up a few 'innocent citizens'. Someone must be up for manning a stall selling half cooked horse-meat burgers?
It's about time London ratepayers were given the chance to highlight what they do for the Caribbean community.
You can kick start this event by calling me a white man's trollop if you like.
Anna Raccoon


August 26, 2014 at 1:17 pm

Norman Brand


August 26, 2014 at 9:56 pm

GildasTheMonk


August 26, 2014 at 3:01 pm

Roderick


August 26, 2014 at 7:38 pm

Anna Raccoon


August 26, 2014 at 7:40 pm

Anna Raccoon


August 26, 2014 at 5:00 pm

Duncan Disorderly


August 26, 2014 at 4:44 pm

GildasTheMonk


August 26, 2014 at 5:36 pm

Mudplugger


August 26, 2014 at 10:09 pm

EyesWideShut


August 26, 2014 at 10:28 pm

Anna Raccoon


August 27, 2014 at 10:01 am