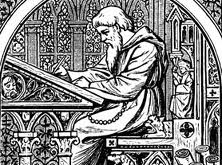 This was the headline in an article in The Times – rather appropriate, I thought, in the light of the present pleasantries being visited on the Middle East by the nascent Islamic State.
Earlier in the week I set out why I believe the Islamic State has an obsession with methods of execution and punishment/torture which revisit the worst excesses of mankind's bloody and torture ridden past, notably slicing of hands and feet, crucifixion and beheading.
I believe the answer lies in what many call a literal interpretation of parts of the Quran, plus the assumption that the Prophet Mohammed sanctioned the beheading of more than 500 men of a particular Jewish clan during the so called Battle of The Trench (further research suggests that he did not, as such: he may have left their fate to an arbitrator) and the reasoning that since he was perfect in all ways it is holy to mimic his behaviour. To this add the reasoning of a closed system of thought which believes that it is divinely revealed and trumps all other systems of thought, philosophy or religion, and you get your result.
It occurred to me that I might be being a complete hypocrite. In my conclusion I opined.
"…the acts of these groups are evil, and by whatever means they must be annihilated."
With some irony I have been reflecting that this might, ironically, be construed as exactly the kind of hard core, sectarian, ruthless and cold blooded ideology as advanced by IS itself.
So one has to grapple with the nature of evil. What is "evil"? Does it exist? If it does, how is it to be confronted, or should it be? Was I evil?
Evil is a loaded word, because it comes with preconceptions of moral hierarchies which are of course debatable. Take, as an example, the Ebola virus. The virus is cruel and deadly, but I don't think it would be correct to call it evil. It is doing what a virus does, and in fact there has been some sort of unfortunate event, because a virus which kills its host is killing itself. It is a dreadful state of affairs but it is not an evil thing. Or to take another example – a rabid dog. If it was necessary for me to do so I would shoot the dog, which is suffering and may well spread the disease. I would not hate the dog, I would do so out of compassion for it and others.
Compassion is an important word. I believe in God. I have been best helped in my spiritual understandings by the works of Marianne Williamson, or more particularly her discussions of something called "A Course in Miracles", and Neale Donald Walsch. Neither as far as I am aware is aligned to a particular denomination. Both might be regarded by some "orthodox" Christians as heresy, in that they view Jesus Christ as a teacher and an older brother rather than as God. But in short they have both, in their diverse ways lead me to the conclusion that the nature of God is the nature of loving thought that conceived the Universe, and is the love within us. Not a Sky Pixie.
You will have heard it said that "God is love", and I accept it can appear a trite aphorism in the words of some "Happy Clappy" clean cut evangelist. I am not a "Happy Clappy" clean cut evangelist; far from it. I do not propose to dwell further on it for time and space are against me, but when you get it, you get it.
What is evil?
Many years ago, whilst I was at school, I studied E.M. Forster's novel "A Passage to India." There was a particular line given to (as I recall) a Brahmin wise man called Professor Godbole.
"Evil is the absence of My Lord," said Professor Godbole. It stayed with me.
When we talk about God and holiness we are – at least in part – talking about psychological conditions equivalent to, or which are aspects of, love. Some people have a problem with such a namby pamby word. It is too simple. I prefer to express it in terms of compassion. Kindness, compassion, caring, forgiveness, generosity – these are the conditions of God, which is Good.
Their absence creates a void which is akin to darkness. Darkness is merely the absence of light. It exists and can be defined only by the absence of light. In emotional terms it is expressed by fear, reflected in the hate, attack, violence and war, as well as addiction and depression and despair.
Heaven and Hell are not provinces of an afterlife. They are descriptions of our personal realities. I know this profoundly, having dwelt often and long in my own personal Hells.
The person who did me the most evil I ever encountered was evil. He or she was very nice, very charming, but turned out to be a moral vacuum, with no conscience or sense of right or wrong other than their own perceived interests. A sociopath, if you like. If you think about great evil in the world, it is called by the absence of love and good conscience. Take the Nazis. They had no compassion; and they acted accordingly. And yes, the death camps can rightly be regarded as evil. The warriors of Isis are devoid of love or compassion for their fellow man, unless they conform to their own opinions. That is or manifests itself as a truly wicked act. The closed mind set takes away the humanity – literally de-humanizes. Another dangerous concept, but I will say it.
I have nothing to say about the practicalities of how the situation is to be dealt with. But the Islamic State is an evil institution, and I have learned from bitter experience that evil does not need a reason to attack.
I have no great desire to introduce more war into the world. I don't really know how IS is to be dealt with. The Middle East is a messy cauldron at the moment, who knows what the consequences of intervention might be. But evil left unchecked will spread. I do not think it is possible to reason with or deal with it. I have seen and experienced such evil.
I would not grieve the utter destruction of the Islamic State and its soldiers. I would welcome it in the name of compassion for my fellow man, like the Kurds and hapless Yazidis. Call me a hypocrite if you like.
Gildas the Monk