The Return of the Bionic Raccoon.
Done it! Done it! Done it! Been there; got the t-shirt; everything is behind me now – literally!
It was far from 'the breeze' that I expected it to be – probably the most testing week I've had so far. As can be reliably expected of La Raccoon, I have developed every known complication that can occur in what should have been relatively straight forward surgery.  It all helps to keep the interns on their toes; they think I'm the 'mystery shopper'.
Without a doubt the lowest point was when the dreaded gastric pump was wheeled into view; I am terrified of it. No, I have a well rehearsed 60 year old phobia about the damn thing, and I was ready to give up at that moment. I burst into tears. I was fortunate to be blessed with a male nurse of such empathy and humanity – he knelt beside me and cupped my face in his hands, fixed his eyes on mine, and – I can only describe it as a cross between hypnotism and horse whispering – he convinced me  that he and I were going to get through this ordeal together. I found myself nodding my agreement! I still can't believe it! There are some extraordinary people in this world, and 'Manu' is one of them. I will never forget him.
The Bergonie has a curious atmosphere; there are only 80 overnight beds spread over four floors, mostly occupied by those unfortunate souls for whom all treatment has failed and for whom the Bergonie is licensed to prescribe treatment that is not yet on the national register. 'Last chance saloon' you could call  it. There are only a handful of people like me who are there purely because they have a rare cancer for which there is not yet a 'regular' treatment. Consequently there are not a huge amount of 'success stories'. It is a difficult atmosphere to live in – and it must be a desperately difficult atmosphere to work in without turning yourself into an emotionless automaton.
Yet they don't. As I turned the corner on day 7 and started to come back to normal life again, their joy was palpable. Everyone knew that I was 'going to be OK', and as I started to walk around again, down to the petit jardin, to the cafe, I was greeted with beaming smiles everywhere; the porters, the cleaners, it mattered not who – they all knew me, and everywhere I went there was a cheery 'Ça va, Madame? Très bien, très bien!' I have been in our local hospital on a couple of occasions, and whilst they have brilliant staff, there is a difference in the Bergonie. Difficult to put your finger on, but everyone, no matter what their job, is involved. Even the maintenance man who came to fix the safe in my room, on hearing me wince as I moved, stopped what he was doing straight away and asked if I was in pain, should he call the nurse? Tackle a step, lifting the ubiquitous IV drip trolley, and someone will step forward offering help. Nobody is a 'jobsworth'.
It has been one Hell of a journey; it will be three years this Bastille Day. In that time they have steered me from this: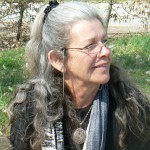 Through this: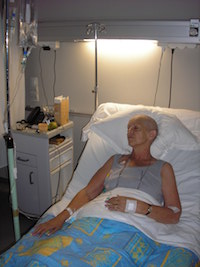 and back to this: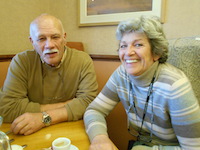 My hair will grow again; I shall rebuild the site once more – there are nearly 4,000 posts and 60,000 comments to put back up, so if there is any one that you particularly want to see back again, let me know. It's going to be a slow process on both counts!
In the meantime, I haven't seen a TV or a newspaper in the last ten days – so would someone let me know what is happening? What has been happening; what you are talking about?
As from tomorrow morning, life round here will be back to normal and no more will be said on the subject. I will be insufferably smug though – you do know that?
Anna Raccoon


April 21, 2014 at 9:31 am

Mudplugger


April 21, 2014 at 11:05 am

Wigner's Friend


April 21, 2014 at 12:12 pm

Anna Raccoon


April 21, 2014 at 2:27 pm

Anna Raccoon


April 23, 2014 at 3:49 pm