Wales to ban E-cigarettes?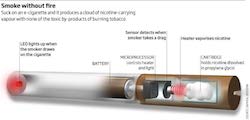 Dear Professor Mark Drakeford,
For your information, 'smoking in public' has never been made unacceptable – what you mean is, 'smoking indoors in public spaces'.
Smokers have continued to smoke in public, more 'in public' than they have ever been. They are now hugely visible in every doorway, sheltering from the unchanging climate in Wales – force nine gales and constant downpours. There they are on view as an entertaining spectacle to a generation of children going to and fro school.
And you are concerned that those children will be led into the evil ways of 'smoking' by adults using e-cigarettes – sitting inside premises, like public houses, out of view of the children? Nobody would choose to use an e-cigarette out in the open.
As the Minister in charge of public health in Wales, are you not more concerned at the snail-like pace those children are taking past the miserable bands of gale lashed smokers? Snail-like because they are hugely obese, and their fat little legs are chaffing as they wheeze their way between Mum's mobility scooter and  the school gates.
As the Minister in charge of public health in Wales, are you not more concerned that your children face a wait of 26 weeks or more to have their non-smoking related asthma seen in a clinic?
Even in strictly Muslim countries, they do not try to ban alcohol free beer on the grounds that it might 'normalise conventional beer drinking'.
Congratulations though – you have wrought a change of mind amongst millions of smokers – we were of the opinion that there was nothing Deborah Arnott would not wish to ban, and we were under the impression that 'evidence' was of no interest to her. We were wrong on both counts.
"There is growing evidence that they are effective in helping smokers quit and this is to be welcomed.

We're pleased that the Welsh government is consulting on whether to ban their use in enclosed public places as it is important to take account of the evidence before going ahead."
woodsy42


April 2, 2014 at 8:38 pm