Hollande and the Dutchman, Willy Wonka and the Wily Winker.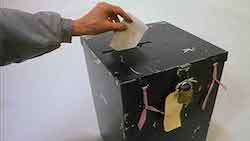 Elections are confusing times, locally we have been trying to make sure we know the difference between M. Castagner and M. Castanier. You have to listen closely – it makes the life or death difference between yet another car park being carved out of the verdant fields or the Banège river bank getting its triennial manicure….elsewhere the stakes are higher.
In industrial towns all over France, the traditional socialist party supporters, the men who do the filthy jobs, who work in furnaces, slurry pits, driving road trains across miles of unrelenting motor-way, and who have no further interest in politics than their current 'place' on the social housing list, or their 'place' in society as decent God fearing married men who support their families, have also been facing decisions.
They couldn't care less what name the candidate goes by – they want to know what he stands for. Unfortunately for M. Hollande, he and his party have come to stand for 'gay marriage' and finding yourself further down the social housing list on account of unbridled immigration. Cameron must feel some sympathy for him this morning.
That those potential 'socialist' voters have been told that a) they are homophobic for not supporting gay marriage, a stance which they are told that despite the apparent millions of them marching in protest is an isolated one, and that in fact 'the entire country' – apart from them – is wholeheartedly in favour of, and then been told that they are racist for objecting to giving that nice new apartment in the banlieue to an asylum-seeker who arrived in France last week telling the authorities that an article they wrote in Outer Mongolia in 1965 about their homosexual leanings is now responsible for a credible threat to their life which will leave them unable to work for the next ten years – has left them in a filthy temper.
A filthy temper which nearly matches that last observed amongst the populace in 1789. If they could have taken M. Hollande's head off they would cheerfully have done so – instead they have taken his legs off, and voted in massive numbers for the Front National.
Hollande might have escaped their anger, had he been able to admit that actually none of this was his doing – it was the work of the 'Dutchman', Herman Van Rompuy – who is of course Belgian, but French lorry drivers seems to prefer the association of Hollande and Holland, it amuses them when explaining French politics to English inquirers, and I have grown tired of pointing out their mistake.  Belgian, Dutch, it is all the same to them. 'Foreigners' interfering in their life.
But what, I would oft enquire, would have been their reaction if Hollande had admitted that both the 'free movement in the EU' and 'Gay marriage' had been forced upon him by the EU, and were not his idea. 'Then he shouldn't be running the country' is the inevitable response. Either way, Hollande could not win, as Cameron is finding out. Voters are incredibly attached to the idea of someone running the country who will look after their interests and not 'every other fu*kers'.
The move to support UKIP in Britain is no different to the move to support the National Front – it is not a move from left to right, nor a move from right to left, nor a sign of racism or homophobia – it is a move that transcends those labels and looks to elect a party that will look after those here and now, not aspire to lofty ideals on behalf of minorities, many who have yet to arrive. It is primarily a shift in voting allegiance from those at the bottom of the pile, those with the toughest jobs, in the filthiest environments – and given that France has more immigrants, many fighting their way up from the bottom of said pile, than any other country, analysis will show eventually that many of those who have voted against uncontrolled immigration share a marked physical resemblance to the very people they are objecting to accommodating more of…
Over in the Ukraine, specifically Kiev, fresh elections are also pending. The choice is between Willy Wonka, Petro Poroshenko, a billionaire who made his money out of chocolate bars, and stepped into the vacuum left by perestroika to gain control of 5 Kanal, an 'independent' television channel that gained fame with its relentless criticism of  Viktor Yanukovych, the duly elected president – and the Wily Winker, Yulia Tymoshenko, the re-fashioned billionaire 'peasant' who flutters her eyelashes at potential voters. Both 'shenko's' made their billions out of Russian support for their commercial activities – both now seek to be seen as 'the man on the clapham omnibus' who will free the working man from tyrannical Russian shackles by tying him to the European Union…
It doesn't matter which of them the Ukrainian's elect – they will be similarly disappointed when they discover that the new umbilical cord to the EU doesn't just shovel money their way – it silently sucks far more back to finance 'worthy' projects of little interest to those at the bottom of the pile. It is planning to take 50% of Ukrainian pensions, and treble the price of energy supplies. The Ukrainian's will be thrilled to discover that they are now supporting such worthy enterprises as the role of crustacean zooplankton on prokaryotic community composition in the mesopelagic ocean – it all helps to feed the kids and put a roof over your head, or at least it does – if you are a university educated, middle class, metro man with liberal instincts and an abiding interest in crustacean zooplankton.
I do wonder whether they will be as civilised and refined as French voters these days, when they discover that the man, or woman they have elected can no more make decisions in their favour than Hollande can – or will they just go straight for the 'take off his head' option?
Moor Larkin


April 1, 2014 at 1:12 pm

binao


April 2, 2014 at 7:50 am

Anna Raccoon


April 1, 2014 at 2:30 pm

Mudplugger


April 1, 2014 at 3:21 pm

Fat Steve


April 1, 2014 at 4:13 pm