Top Tories in Grooming Scandal – Cameron urged to e-Jockulate.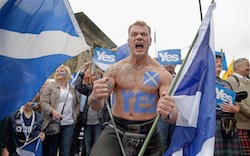 e·jock·u·la·tion [ih-jok-yuh-ley-shuh n]  noun.
1.an abrupt, exclusion of Scottish MPs.
2.the act or process of ejockulating, especially the discharge of Salmond supporters by Westminster parliaments.
Origin: 1706–1707; ejockulate + -ion
It is the frequently repeated manta of 'no taxation without representation'  that is quoted to explain why, if Alex Salmond wins his referendum in September to dissolve the Union and let Scotland become an independent country, that the 59 Scottish constituencies should continue to have an MP representing them in Westminster. The one and a half million Britons that Cameron tells us are now living outside the UK don't have such representation, and they are still subject to UK taxation, so I see no reason why the same should not apply to those Britons living in a Scotland that is in the process of becoming a 'foreign country'.
Neither do a bevy of Westminster MPs, who yesterday brought the matter up in Parliament. In a debate in the Common yesterday, Angus MacNeil, the SNP MP, called for clarity on what would happen in such circumstances. Last month Mark Reckless, Nigel Mills and Nick de Bois, all Tory MPs, voted for the Scottish MPs to be trafficked back north of the border. They lost the vote because large numbers of Labour MPs voted to allow the Scottish MPs to stay on –  and many Tory MPs abstained – where they would be part of the 'British contingent' negotiating the division of national assets – and debts – between Britain and their fellow countrymen.
Labour hold 41 Scottish seats, the Lib Dems 11, the SNP 6 and the Tories just the one. Excluding Scottish MPs from the 2015 election would make a vas deferens to both Labour and the Lib Dems.
Senior Tories, or 'Top Tory Politicians' as the tabloids would have it, are now grooming Cameron, whispering sweet nothings in his ears, as to how orgasmic a Conservative win he could have, were he to declare in September that since Scotland would be leaving the Union in 2016, no Scottish constituencies would be allowed to field a candidate in 2015.
Currently the position is that Scottish MPs would be asked to honourably resign their lucrative tax payer funded Westminster lifestyle in 2016 on the date of the dissolution. On past record I cannot see that happening. We are likely to see some unseemly struggles as they are parted from their expenses sheets.
On the other hand, constitutionally, they have every right to represent their constituents right up to the moment of dissolution. Including those endless committees where it will be decided how much debt and how many assets are passed between the two countries.
That seems to me to be a far more profound issue that requires clarification than whether they keep the pound, drive on the left, or any of the other daft issues that have been raised.
What think you – and your solution?
Moor Larkin


April 3, 2014 at 10:46 am

Moor Larkin


April 4, 2014 at 12:52 pm