As most of Nato, the Warsaw pact and China join forces to search the Indian ocean, forsooth they find the odd body part that may have fallen from the sky, if it didn't land in North Korea, or go into orbit…..we receive strange news from deepest Dorset.
Through the gloom of a sub-Saharan sand storm which like many a sub-Saharan, has managed to land in southern Britain in 'one hop', bypassing France, Italy and other places it could have sought sanctuary –  that most British of specimens, the week-day, cut price, municipal golfer discovered a new hazard at the infamous ninth hole. A dog running round with an arm in its mouth, rather than the usual golf ball.
It barely put them off their stroke. Had the arm been holding a golf ball it might have contravened regulations.
A passing dog walker commented that it was strange, but just that week he had found two human legs and taken them home with him, as you do. Knowing how busy the police are these days sorting out the Facebook hair-pulling twixt Sharon and Jason's ex paramour, and deciding whether sharing a bed with the deputy speaker of the House of Commons constitutes 'abuse', he hadn't troubled them with this discovery.
Now that policemen were littering the golf course, as a service to dedicated golfers everywhere, he would nip back home and fetch them. He duly handed them over, in a Tesco 'bag for life'. Or what passes for life when you are a severed limb. Further investigation produced a head, high up in one of the trees. The Police cordoned off the ninth hole…
Consulting regulations once more, our phlegmatic British golfers learned that in these extenuating circumstances, the game could continue. And it did.
Anybody hoping that the British might one day rise up in a revolution, underestimates true British grit. Nothing puts them off their stroke.
Sheesh!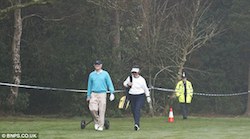 Anna Raccoon


April 2, 2014 at 9:05 am

Moor Larkin


April 2, 2014 at 9:34 am

Anna Raccoon


April 2, 2014 at 10:51 am

Anna Raccoon


April 2, 2014 at 4:22 pm