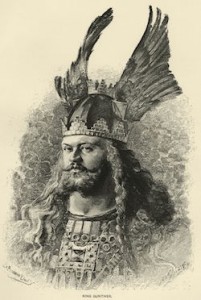 End of the world predictions are always fun – especially the day after. Who can forget the 'Rapture' predicted by Harold Camping in 2011? The rapture appeared mostly on Camping's face as he contemplated the mighty donations to his web site…
Such predictions have an impeccable pedigree. Practically annual events. From King Otto digging up Charlemagne's body on Pentecost through Mary Bateman, an enterprising Leeds lass possessed of a 'magic hen' which laid eggs giving the date of the apocalypse – just so long as she  spent her free time forcing a pre-written egg back up the orifice from which it was due to emerge (an early Yew-turn oeuvre?) – to the Jehovah's Witness' who so far have predicted the end of the world will occur in 1914, 1918, 1920, 1925, 1941, 1975 and 1994. Like a stopped watch(tower) they will congratulate themselves on being right one day.
Now we have the Viking Ragnarok. Having watched far too many episodes of Game of Thrones, they firmly believe that 'Winter is Coming' –
"A vast winter shall come, not a single winter but three rolled into one unyielding cold."
And lo! As three storms roll in from the Atlantic this week, they are ready and waiting to celebrate the end of the world. You too can celebrate the end of the world this week-end by calling into the on-line shop and purchasing a Micklegate thimble. No, I haven't got a clue either, precisely what use a Micklegate thimble would be to you when the world has ended, maybe you are supposed to darn the hole the nuclear explosion left? Still, someone, somewhere is gainfully employed producing these things – perhaps ask them?
Apocalypses, they're like No 16 buses, miss one and another will be along soon.
If you are a true believer in Jorvik and/or possess a medieval monk's outfit (Hello Gildas! *waves*) suitable for the occasion – head to York this week-end, where you can listen to the apocalyptic ramblings of the wise woman….I'll see you back here after the week-end.
(Is it just me or she Lix Dux's doppelganger?)
Indeed it is, Madam. Monday 24th February to be precise.