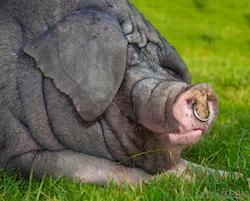 The Lord High Chancellor of Great Britain knows a thing or two about the law. Whilst other Minster's were gaily 'troughing' to the fury of tax payers forced to fund their excesses, he managed to skate elegantly round the rules and prove that having a constituency home within 17 miles of parliament, not to mention a couple of buy-to-let apartments, was no reason for the tax payer not to legitimately fund yet another home in Pimlico for those essential late nights at the bar.
Not that sort of bar, for Chris Grayling – it is he – is not a barrister, nor a solicitor; heavens, nor even took a law degree. He was a BBC producer with a mediocre history degree. The ideal qualification to sit in judgment on our historic judicial system? The Prime Minister obviously thought so – and why not? We've had vegetarian ministers in charge of our meat industry before now, and look how well that worked.
Grayling has been in office for 18 months – and what have we here? Barristers going on strike for the first time since the fifteenth century? For the first time ever, in their entire history? The disastrous Derry Irvine as Lord Chancellor didn't manage to lodge himself quite so effectively in the collective legal nostril (not for want of trying). Grayling has done it by displaying a quack ignorance of the way in which the Criminal Bar operates. A nostrum up the legal nostril, you might say.
Grayling was asked by the Treasury to cut the Ministry of Justice budget by 1%. That amounted to £142 million. The man who had already switched parties to ensure his speedy progress up the political ladder responded by offering to cut £220 million. Has any other Minister volunteered to cut 50% more than he was asked to?
The Ministry of Justice has a wide remit. It had a budget of some £9 billion. It covers everything from the Crown Prosecution Service's expensive pursuit of elderly comedians and disc jockeys, through paying for wheelchair access to ageing prison stock, to paying the lowly rates of legal aid barristers who defend those on the wrong end of the CPS's charging decisions. It is that last item which has enraged the Barristers.
Whilst the popular image of the legal profession is one honed by TV productions portraying claret-fuelled glossy 'silks' who live in Georgian mansions, and media stories of 'million pound a year QCs' – it might surprise you to learn that many legal aid barristers are eligible for Income Support, and that one of the few categories of individuals who will be eligible for 'legal aid' in the future would be two junior barristers sharing the same household, married to each other or not.
Nobody goes into the 'legal aid' end of the Criminal Bar for the money. They do it because they honestly believe that somebody has to be prepared to pay their own travel expenses to arrive at a far flung Crown Court and say something on behalf of an individual that the Ministry of Justice is funding the CPS to persecute prosecute with the aid of an £570 an hour senior counsel. Initial hearings in a Magistrates Court will attract the magnificent sum of £80 – from which the barrister on legal aid rates must pay his own expenses to get there. If for any reason the case is delayed, or 'a wasted attendance' in MOJ parlance, they propose to reimburse the legal aid 'fat cat' all of £48.
You couldn't get a humble history graduate with a mediocre degree to work for £48 a day, you certainly wouldn't find a BBC Producer or Member of Parliament agreeing to do so – in fact it would be illegal. It has been amusingly pointed out that a Barista, those jockeys of the Gaggia machines, has to be paid £50.56 a day – by law.
Iain Morley QC said the Government had been misleading the public about the state of barristers' finances to such an extent that it could be argued Mr Grayling was furthering his career by making allegedly false statements in contravention of section 2 of the Fraud Act 2006.
The Ministry of Justice has already saved itself the cost of reimbursing your 'reasonable legal expenses' should its prosecution of you prove to have been ill-founded – something that has rightfully been described as a 'tax on innocence'.
Now it wants to drive legal aid criminal law barristers out of business, so that the only people who can afford to defend their reputation are the exceedingly wealthy, those who have disposable assets in excess of £250,000.
The justification for this is said to be the 'high cost' of legal aid. Part of the reason for the 'high cost' of legal aid is the sheer number of new ways in which you might find yourself in the dock thus requiring the services of a barrister.
If the parliamentarians stopped tinkering with the law –  327 new criminal offences created between  2011 and 2012 alone – a 12% increase on the previous year, then they would be doing something far more productive to cut costs in the Ministry of Justice than bankrupting junior barristers.
Anna Raccoon


February 16, 2014 at 12:50 pm

Carol42


February 16, 2014 at 6:31 pm

Anna Raccoon


February 16, 2014 at 1:03 pm

Anna Raccoon


February 16, 2014 at 2:15 pm

Anna Raccoon


February 16, 2014 at 3:00 pm

Mick Anderson


February 16, 2014 at 5:10 pm

Major Bonkers


February 18, 2014 at 11:28 am

Anna Raccoon


February 18, 2014 at 11:48 am

Anna Raccoon


February 16, 2014 at 3:03 pm

Frankie


February 16, 2014 at 11:19 pm

Anna Raccoon


February 16, 2014 at 3:50 pm

Eyes Wide Shut


February 16, 2014 at 4:16 pm

Jonathan Mason


February 16, 2014 at 4:55 pm

Eyes Wide Shut


February 16, 2014 at 4:55 pm

Eyes Wide Shut


February 16, 2014 at 5:01 pm

Anna Raccoon


February 16, 2014 at 5:49 pm

Eyes Wide Shut


February 16, 2014 at 5:57 pm

Anna Raccoon


February 16, 2014 at 6:57 pm

Eyes Wide Shut


February 16, 2014 at 7:13 pm

The Blocked Dwarf


February 16, 2014 at 7:49 pm

Talwin


February 17, 2014 at 8:57 am

Dominic Carman


February 20, 2014 at 1:14 pm

Mudplugger


February 16, 2014 at 9:33 pm

Eyes Wide Shut


February 16, 2014 at 10:13 pm

Jonathan Mason


February 16, 2014 at 10:23 pm

Eyes Wide Shut


February 16, 2014 at 10:39 pm

Mudplugger


February 17, 2014 at 9:05 am

Jonathan Mason


February 17, 2014 at 1:33 pm

Ian Reid


February 17, 2014 at 3:44 pm

Jonathan Mason


February 17, 2014 at 5:19 pm

Mudplugger


February 17, 2014 at 8:08 pm

Morris


February 17, 2014 at 7:44 am

Fat Steve


February 17, 2014 at 2:07 pm