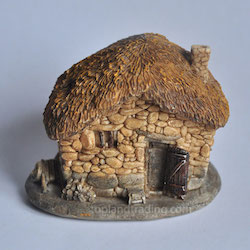 So much to tell you – so little time!
My little troll who pops up from time to time to ask whether 'I am dead yet' has reminded me that I still have a stack of e-mails from you all asking how I am – in more delicate words! I thought I would explain why they languish unanswered. …
Not only am I very much not dead, I am actually doing rather well. I have finished the month of radiotherapy, and now have to wait for a couple of months to see whether it has been successful and I can have the reconstruction surgery I should have had at Christmas. In fact, as of this morning I have finally dispensed with the nurses who arrived every day to change the dressings. I shall be feeling very grown up tomorrow as I make my own decision – for the first time in three months – as to what time I get up in the morning and whether I can have a shower that day. Gosh! They, on the other hand, are looking very worried and anxious – she told me this morning that it felt like the first time she left her baby with a child minder! I have spent the past week 'beating them to it' – doing all their work before they arrived – so they merely had to check me over, and they have now agreed that I could be trusted to look after myself. Just as well, because what they don't know is that I am planning to not only escape from their clutches, but temporarily escape from the clutches of the French health service all together….(only temporarily!) Whoa! steady on Maisie!
I have long promised myself a trip to England just as soon as they cut the umbilical cord. Yes, I do know the place is two foot under water, racked by hurricane winds, and the NHS is in crisis. I don't care. I am still having a week in England. We can do this! My wellie boots are packed, and my bucket and spade for filling sandbags. There is a very good reason for wanting to come to England so badly.
Back last summer, Mr G and I were finishing six months of lengthy conversations 'about the future'. Not the sort of conversations anybody wants to have really, but my being so ill the year before had made us realise that one day there would only be the one of us, and that this house and all its land was not the best place for one person to live alone. We needed to start thinking about a smaller property. That conversation kept us house hunting for a while –  and neatly avoided the elephant in the room which was that it was most likely to be Mr G who would be living alone one day.
Now G has lived in France for nigh on 30 years – he loves the country; as do I now, though I was dragged here kicking and screaming. Young, fit, single, and really rather tasty – the fact that he never did get round to learning French had never been a problem. English is the universal language amongst the yachting fraternity, and there was always a line of willing mademoiselles only too happy to help out if he needed to tangle with French speaking bureaucracy. When he returned to France with me, things had changed. I put paid to the line of willing mademoiselles for a start.
G can cut down a tree in the morning and turn it into a house full of furniture by dusk – but present him with a French tax return or the need to phone a hospital consultant and make an appointment to deal with your arthritic hip or whatever you get at 85 and he would be more stumped than the tree. Besides which, the term 'computer illiterate' doesn't begin to adequately describe his digital talents; not ideal in the modern world.  The more we talked about it, the more we reluctantly came to the decision that what we needed to do was buy somewhere smaller, somewhere English speaking, that either of us, probably G, could flee to should the need arise. But it wouldn't, we were sure, be for, ooh, another 20 years or so – so why not buy something needing restoration that we could occupy ourselves with in the meantime. A useful hobby?
So we did. Last July. A (potentially!) lovely little 300 year-old cottage in England, manageable garden, workshop for G, mooring at the bottom of the garden for G to have a 'put-put'; ticked all our boxes and we love it to bits. We planned to spend the rest of the summer going back and forth in our camper van turning it into our ultimate retirement home and meantime holiday home.
3 weeks after we completed the purchase, my cancer returned. Sheesh! Timing! Within days I was in surgery and could neither leave home nor could G leave me.
I've had to grapple with the delights of on-line planning applications, listing building consent, finding a thatcher, buying water reed, producing drawings of a building I have only ever seen for an hour or so, (and only had photos of two sides of it) and ensuring that a waterside property was in suitable shape to survive the extreme weather the UK has had (and no, it is in no danger of flooding so far!)  – all from a lap top in the middle of France. Lighted match theory works – doesn't half take your mind off other matters.
Meanwhile – back at the 'Savile ranch'; I have been in intense negotiations with a university for the past year over a project they are undertaking to look at the original 'Savile' allegations and take possession of the mass of material I have acquired that has never been published for various reasons  – with academic peer reviewed rigour. These are real criminologists. Real child protection experts. Real experts in residential care of many varieties.
I have been painfully aware for some time that, should I peg it, all the material that people have entrusted me with over the past couple of years would be lost for ever.
I needed to hand it over to an archive that would examine it and keep it safe – one day a future generation will wonder how it was that 'similar facts' came to have the same force as 'similar allegations' which in turn left the serious subject of sexual abuse as fodder for light entertainment and jury by an agenda driven media.
The University will be making a formal announcement very shortly, but not before I have e-mailed everybody who has given me information to ask their permission to hand it over. I am very aware of my responsibilities, both legally vis a vis the Data Protection Act, and also morally, to protect those who have come forward.
There are also a number of court cases with hearing dates this month, and I have been working closely with the people involved. Day after day there have been a raft of e-mails and phone calls. I can't tell you any more at the moment; I have long since since cut my tongue out, rolled it up tightly, sliced it into carpaccio wafers and swallowed them…..your patience will be rewarded. The Ides of March will be riveting.
In the odd spare moment, I have done penance for deleting the blog last November, and am slowly reconstructing it. There is nothing mysterious about 'missing posts' as some have claimed – it is just that the only person with the wit to take copies of the blog (including me!) was dear Gildas, who did so laboriously over five days, onto word documents. He is working his way through all 3,500 of them, sending them to me one at a time by e-mail. Some of the posts have 300+ comments on them, each with an avatar; if I just copy and paste the post, 300+ avatars download onto my desktop as 'attached pictures' – which take longer to get rid of than the laborious method I am using to restore the posts! I will get there, but it might have been quicker to read 'War and Peace'.
The 'Savile' saga has turned all sorts of peoples lives upside down – not least mine. I had no idea that a thick file of notes regarding my childhood were now in the possession of Barnardo's. Curiosity led me to request a copy. A curate's egg. I learnt things about my family from before I was old enough to have memories. A painful journey, and one I chose to share with my siblings. Siblings that I have never lived with or got the chance to know. Since we have been in contact, it is fair to say that they have kept me at a respectful arm's length. They felt, reasonably enough, that my parents must have had some good reason for keeping me as the 'family dark secret' – since I had no idea why I had lived apart from my parents virtually all my life, I had no way of countering the suspicion that even at three years old, I might have done something so terrible that they needed to be protected from me. I will never forget the pain of spending the one and only night I have slept in my brother's house, only to have his wife tell me in the morning that 'she hadn't shut her eyes all night' – listening for the sound of my footsteps in case I was creeping dangerously towards her sleeping children. Sheesh!
The Barnardo's file showed that I went into care when I was a few weeks old, for reasons entirely unconnected with me, or anything about me. I sent the whole file to my brother. He phoned me a few days later, close to tears. He could barely speak, he told me, so distressed was he to learn of 'his' parents problems. The file 'had changed his whole belief system', and he would speak to me again a few days later. I've never heard from him again, nor my other brother. Since he is aware of my health problems, you can imagine how I feel about that – and eventually, after much soul searching, I made the decision to cut myself off from my new found family. At least that way it is my decision, not theirs.
People who cannot deal with truth and honesty and prefer to hang onto fondly held beliefs are anathema to me. You cannot go forward when you are blind to the truth. That is why I fight so hard for the truth of the Savile affair. Whatever the truth is, it needs to be the truth, not a miasma of middle-aged women's allegations being wrapped up in rape culture mythology and accepted as fact on the basis of 'children don't lie'.
Anyway, that was all by way of an apology for not answering all your e-mails. Accepted?
So, the delights of Ryanair on February 26th! I can't wait. The thatcher has finished! The blog will be closed for a week.
"Don't stop me now -I'm having a good time!"
Anna Raccoon


February 15, 2014 at 12:48 pm

Anna Raccoon


February 15, 2014 at 1:16 pm

Mudplugger


February 15, 2014 at 2:33 pm

Anna Raccoon


February 15, 2014 at 1:07 pm

Anna Raccoon


February 15, 2014 at 1:30 pm

Anna Raccoon


February 15, 2014 at 3:52 pm

Mudplugger


February 15, 2014 at 9:26 pm

Carol42


February 15, 2014 at 9:36 pm

Anna Raccoon


February 16, 2014 at 3:04 pm

Johnny Monroe


February 16, 2014 at 3:20 pm

Frankie


February 16, 2014 at 11:07 pm

sally stevens


February 17, 2014 at 1:19 am

sally stevens


February 17, 2014 at 1:22 am

Anna Raccoon


February 17, 2014 at 9:38 pm