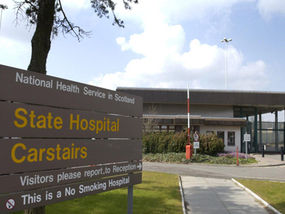 Such an interesting dance being performed up in the Scottish State Health Board! A regular Highland jiggery-pokery.
The Scottish State Health Board is in charge of the State Mental Hospital at Carstairs. They have the responsibility of caring for a large number of people who are considered 'a danger to the public' by virtue of their poor mental health. Back in 2011 they were building a spanking new hospital to house these poor souls. It was to be their 'home' in social work parlance – for many years, life for some of them.
Naturally they were keen to ensure that this new 'home' was as, er, homely as possible – many of their charges were to be forced to live in this manner through no fault of their own. So the first thing they did was enlist the views of the patients – and the staff, and carers, who outnumbered the patients – as to what it should be like.
86% of the patients, 84% of the carers and 54% of the staff said 'no smoking in the building'.
The powers that be were very proud of the way in which 84% of people knew their own mind, despite their poor mental health, and were keen to ensure that their wishes were respected – in this new 'home' you would only be able to smoke in the spacious garden. Just like your own home really, n'est ce pas?
The only problem was, the 14% of patients who did smoke and wished to continue to smoke, in their own home as it were, were not all the sort of people that one could cheerfully unlock the door for and usher out into the grounds unaccompanied. Every time one of them wanted a cigarette – which could be up to 3 times an hour for some of them, a member of staff would have to stop what they were doing, unlock the dangerous possessions cabinet, extract their cigarettes and lighter, sign them out of the building, and go for a walk in the grounds with JC or Napoleon or whoever. Notorious inmates have included Thomas McCulloch who was detained at the State Hospital in 1970 after trying to kill two hotel workers because he claimed they didn't put enough butter on his roll. In 1976, McCulloch and fellow Carstairs inmate Robert Mone – who shot dead a woman teacher – infamously broke out of the high security institution. The pair, who had become lovers, butchered a male nurse, a fellow patient and a policeman who had six children during their bloodbath escape, before being recaptured.
Going for a walk every 20 minutes with such company was all becoming a bit of a fag…
So the staff decided that unlike the 86% of patients whose views and personal preferences they had been so proud of upholding, the 14% were vulnerable patients who couldn't possibly know their own mind and whose views had to be ignored in favour of their 'best interests'. Nothing to do with the convenience of the staff, you understand, just the patients 'best interests'.
Which was the point at which Charles McCann finally lost his cool. Charles suffers from Schizophrenia, and is considered to be such a danger to the public that he has been forced to call Carstairs 'home' for the past 18 years and is likely to remain there for the foreseeable future. He liked to smoke an occasional cigarette – now he was to be banned from doing so. Ever.
He took the Scottish State Health Board to court and challenged the legitimacy of their decision that he could never smoke again.
"B-b-but 86% of our patients know their own mind and we are upholding their choices" they cried – "and so do the other 14%, uphold theirs too" said the Judge!
Oh, the Judge made the usual placatory noises about "I'm not saying there is a human right right to smoke" – but he still ruled that the hospital's 'blanket ban' on smoking was unlawful.
Lord Stewart said if McCann was of sound mind or his condition was such he could be treated in the community he would be able to smoke at home and in other places. If he were a prisoner he could smoke in jail.
The judge said: "I infer that the smoke-free policy has been imposed on mental health detainees and not on penal detainees simply because the latter are in a better position to defend their smoking habit whereas the former are not."
He said: "I have no difficulty with the idea the petitioner has been deprived of one of his few pleasures, that he dwells on his inability to smoke and feels frustrated and aggrieved and so on.
Unfortunately, he then went on to spoil his judgment by ruling that he couldn't have the £3,000 compensation he had asked for – on the grounds that he had saved at least £8,000 whilst being deprived of his ability to consume cigarettes.
I look forward to the first 'wrongful arrest' claim that is denied compensation on the grounds of all the money they have saved whilst deprived of their liberty…
September 2, 2013 at 16:10







September 2, 2013 at 15:06




September 2, 2013 at 11:37




September 1, 2013 at 10:47










September 1, 2013 at 13:43










September 1, 2013 at 21:52







September 1, 2013 at 23:01







August 31, 2013 at 14:08










August 31, 2013 at 14:26







August 31, 2013 at 00:55










August 31, 2013 at 11:51










August 31, 2013 at 12:19







August 31, 2013 at 12:56







August 31, 2013 at 13:17




August 31, 2013 at 13:45




August 31, 2013 at 15:01




August 31, 2013 at 16:11







August 31, 2013 at 00:52







August 31, 2013 at 00:51










August 31, 2013 at 00:54







August 31, 2013 at 00:50







August 31, 2013 at 00:48







August 31, 2013 at 00:13




August 30, 2013 at 13:31







August 30, 2013 at 11:58




August 30, 2013 at 08:40










August 30, 2013 at 11:26




August 30, 2013 at 08:36







August 29, 2013 at 20:41










August 29, 2013 at 18:52




August 29, 2013 at 18:27







August 29, 2013 at 20:00




August 29, 2013 at 13:42










August 29, 2013 at 18:16







August 29, 2013 at 20:05




August 29, 2013 at 13:40




August 29, 2013 at 13:35










August 29, 2013 at 13:48







August 29, 2013 at 15:37




August 29, 2013 at 10:15










August 29, 2013 at 11:43







August 29, 2013 at 13:38







August 29, 2013 at 13:00







August 29, 2013 at 13:43










August 29, 2013 at 18:07







August 29, 2013 at 19:25




August 29, 2013 at 20:47







August 29, 2013 at 07:52







August 28, 2013 at 20:38




August 28, 2013 at 15:48










August 28, 2013 at 16:05







August 28, 2013 at 14:56










August 28, 2013 at 15:38







August 28, 2013 at 16:57







August 28, 2013 at 17:17







August 28, 2013 at 17:34







August 28, 2013 at 18:00







August 28, 2013 at 18:51

August 28, 2013 at 18:54




August 28, 2013 at 19:26







August 28, 2013 at 17:50







August 28, 2013 at 18:00




August 28, 2013 at 19:00







August 29, 2013 at 14:53







August 29, 2013 at 16:36







August 28, 2013 at 14:19







August 28, 2013 at 12:49










August 28, 2013 at 12:43







August 28, 2013 at 12:28







August 28, 2013 at 10:16










August 28, 2013 at 11:40







August 28, 2013 at 12:41







August 28, 2013 at 09:41










August 28, 2013 at 09:50




August 28, 2013 at 09:40










August 28, 2013 at 09:26







August 28, 2013 at 09:16










August 28, 2013 at 09:09







August 28, 2013 at 09:45







August 28, 2013 at 11:56







August 28, 2013 at 12:00







August
29, 2013 at 09:13





August 29, 2013 at 10:41




August 28, 2013 at 13:47







August 28, 2013 at 14:28