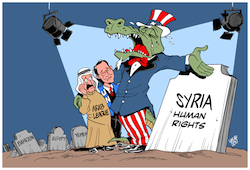 650 MPs, who have argued for 50 years as to whether they want to be in or out of the European Union, are badgering to be allowed to decide whether to be in out of Syria. They demand a debate, this is the 'civilised' method of deciding whether to join the US in bombing Syria back to 'democracy'. It can't just be left up to the Prime Minster to decide.
Some of them will come to the debating chamber armed with eloquent speeches that their wives have sat up through the night polishing, full of beautifully pronounced facts on the Ba'ath party; they will fling Salah Jadid's name around with familiarity; they will be chock full of facts and figures provided by that bastion of truth, the BBC. Others will bob up and down at regular intervals like Meerkats on steroids, anxious to refute everything and anything they say. It will be a wasted effort; enough hot air to set climate change back by years – for the real debate will be over a cup of tea in true British fashion.
In the Westminster Tea Room, MP number 63 will sit at a table armed with a clipboard. MP number 142 will sidle up to him sideways. 'You still planning to vote against the provision of 7,000 public sector jobs in Lower Piddlington?' he'll say. 'I could be persuaded by the strength of your argument', number 142 will reply. '6,500 jobs with reduced pensions do you'? says number 63. 'You're on' says MP 142 'up to 150,000 civilian deaths, 3 wedding parties bombed by mistake, and four of our finest soldiers on murder charges, and I'll vote regime change with you all the way – the things I do for my constituency!'
This is moral superiority in action. Throw in an agreement that ATOS will only call for an inspection on those with less than one leg, and you have democracy in all its hypocritical glory.
It will make no difference to the hapless civilians in Syria whether they are dead as a result of chemical weapons hurled by the Brotherhood of Muslims, Al Qaeda, President Assad, or bombs dropped by the US or UK. They will still be dead. Apparently it makes a difference to our parliamentarians – or it does in the sound bites.
Our methods of killing them are infinitely and effortlessly philosophically superior to other methods. We proved that in Iraq, in Libya, in Serbia. Time and again, our bullets delivered peace, calm, tranquillity and an enhanced 'shopping experience' as the local market – and their five year old son – exploded in front of their very eyes.
The Chinese manage to have a vibrant arms industry without frying the nearest Arab, so do the Russians. Why is it that the US and the UK feel the need to stage live demonstrations of their bullets every few years?
Why doesn't Hague take out a couple of dozen of our fine British soldiers, tie their hands behind their backs with a copy of the Human Rights legislation – and shoot them himself?
He could have a real bloody-hands-on experience of warfare, save the country a fortune not shipping what is left of our military out to Syria, not leave behind several thousand automatic rifles to arm the next ballot box dispute, and the rest of the military could stay home and watch x-factor.
The end result will be just the same. A couple of hundred thousand dead Syrians, and a good few dozen dead sons of England.
Think of the brownie points from the Treasury, BillieBoy!
August 29, 2013 at 09:56







August 29, 2013 at 01:31




August 28, 2013 at 13:49







August 28, 2013 at 10:01




August 27, 2013 at 22:45




August 27, 2013 at 21:38










August 27, 2013 at 21:58










August 27, 2013 at 23:07







August 27, 2013 at 21:30




August 27, 2013 at 21:27







August 28, 2013 at 09:45




August 27, 2013 at 20:17










August 27, 2013 at 21:13







August 29, 2013 at
14:20





August 27, 2013 at 18:49










August 27, 2013 at 18:21




August 27, 2013 at 17:24







August 27, 2013 at 17:11




August 27, 2013 at 17:09




August 27, 2013 at 15:43




August 27, 2013 at 15:26




August 27, 2013 at 13:59







August 27, 2013 at 12:48







August 27, 2013 at 12:46




August 27, 2013 at 12:25












August 27, 2013 at 11:08










August 27, 2013 at 10:34







August 27, 2013 at 10:13