Syria:Humanitarian Intervention, International Law, and the Blair legacy.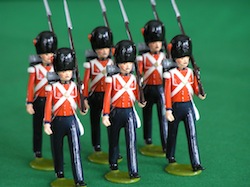 Last night I listened via my radio to Parliament debating late into the evening as to what, if anything, might be done about becoming involved in military action in Syria.
I was surprised at the eventual result. I am perfectly aware of all the politicking and manoeuvres. I suspect that I and most of the population are less concerned by political oneupmanship than by the result. But one matter concerned me: 'legality' and what this meant.
Many years ago I had the privilege of attending one of England's two oldest Universities, and there for a while I studied 'International Law'. It is a very complicated topic, although I did do rather well at it, and even won some prizes. Now I remember almost nothing about it. But I learnt two invaluable and fundamental lessons about 'International Law' which will always stay with me, and that is actually what a good education should achieve.
The first is the story of a long running dispute about the border between two countries separated by a small sea. The dispute about where the border ran had been running on under international arbitration for months or even years, as is the way with disputes like that. There are hugely complex arguments that lawyers can deploy in cases like that; arguments about who colonised which island first, traditional fishing rights, the shape of the coast, the shape of the sea bed, and goodness knows what. Anyway, in the end an internationally renowned Professor of International Law was giving his expert evidence about what the law on all these doctrines was. It was going on for days, with all these impossibly cerebral arguments being canvassed and explored and with plenty of 'on the one hand this' and 'on the other hand that'.
Eventually the exasperated judge put his pen down, weary with all the caveats and qualifications and so forth. "But, do you actually have an opinion as to where the proper border is", he asked. "Oh yes", said the Professor. "That is abundantly clear, beyond any doubt". The judge was amazed! "Well, where is it", he asked incredulously, "can you show me?" "Of course", replied the Professor. And having asked for a ruler and a pencil, he took these to the map of the disputed area on the wall. He carefully measured the closest mid-point in the sea between the countries, and drew a simple, straight line between the two. "That's the border", he said.
The second thing that I remember is my tutor questioning me on the nature of international law. He was a truly brilliant man, and he had a sense of humour too. He also smoked his pipe in the supervisions, back in the happy day, and sometimes I and my fellow students would sip sherry as we talked. Nobody died. He was also an advisor to the Foreign Office on many matters, official and not so official.
He used to fix me with a grin and pose this rhetorical question:
"Now, Gildas, young fellow, International Law! What is it? Is it a Woozle? Or is it a Wizzle".
And usually before I could answer he would cut me off and just cheerfully assert:
"We just don't know!"
This strange little allegory comes from Winnie the Pooh, Chapter III. Now to cut to the chase, what he was saying is that International Law is neither one thing nor another. It is not the type of jurisprudence which we normally recognise as 'law', and which involves the governance of the citizen by the sovereign state, whether democratic or not. Instead it is a collection of prescriptions, principles, conventions, practices and established norms, usually I have to say rooted in Western, Romano-Christian and Humanist traditions which are not actually regarded as the settled norms in large parts of the world. Which is a problem.
On the other hand it is a sort of 'law', as that word is commonly used by the man in the street, or it can be, sometimes. It is neither one thing, nor another, and if you are familiar with the story of Winnie and the Woozles and Wizzles, and follow the allegory through, one may conclude that further analysis is fruitless.
International law can be, then, what you need it to be. And yes, sometimes, or perhaps always, law is made by the victor.
I listened to some of the debates about the proposed involvement in Syria. And whilst doing do, I pondered the issue of legality.
Time and again I heard a justification for intervention which went like this:
Assad is a very bad man. It is beyond reasonable doubt that he or his regime has used poison gas against his civilian population in the past, and there was a major recent event in which nearly 400 people have died.
Use of the poison gas in this way or perhaps at all is a war crime and against civilised norms of behaviour as recognised in various treaties and protocols, dating back to what is referred to in short hand as the Geneva Protocol of 1925, and carried through in subsequent international Protocols.
Intervention would be justified under International Law with the consent of the Security Council of the UN, but that will not be forthcoming.
Intervention is justified under International Law on the grounds of what is sometimes called Humanitarian Intervention.
The Attorney General has advised the government that the grounds for humanitarian intervention are satisfied in this case.
Unless action is taken Assad will go unpunished for a war crime, be encouraged to use the weapons again, and so will other dictators across the region and the planet. This will result in the proliferation of chemical weapons, and more humanitarian disasters and war crimes, and must be stopped.
It is a powerful argument, even a noble one. I suspect, however, that it is technically incorrect when it comes to understanding what "International Law" has to say. The Attorney-General, Dominic Grieve, has set out his advice in a one and a quarter page document. He correctly summarises the preconditions of the doctrine of Humanitarian Intervention as follows in paragraph 4:
(i) There must be convincing evidence, generally accepted by the international community as a whole, of extreme humanitarian distress on a large scale, requiring immediate and urgent relief;
(ii) it must be objectively clear that there is no practicable alternative to the use of force if lives are to be saved; and
(iii) the proposed use of force must be necessary and proportionate to the aim of relief of humanitarian need and must be strictly limited in time and scope to this aim (i.e. the minimum necessary to achieve that end and for no other purpose).
He concludes at paragraph 5
5. All three conditions would clearly be met in this case.
He then sets out his reasons for that in three short sub paragraphs.
However, I have to say that I am by no means as clear as the Attorney-General on whether the test is met. Consider these circumstances. British troops are stationed near Rwanda. A civil war breaks out and one tribe is beginning to massacre the other tribe. Thousands are dead and thousands more will die. The Security Council is, for whatever, reason not able to convene or will be deadlocked. Intervention is needed at once, and in those circumstances in my opinion it would clearly be 'legal' under 'International Law' for British troops to move in at once, impose a curfew and intervene in whatever manner was appropriate to halt the genocide.
I am not, however, as sure as the Attorney General that the doctrine of Humanitarian Intervention is in fact, fully satisfied in the case of Syria. I will leave aside issue of proof as to who is in fact responsible and assume that the government is right about that. My reasons are:
The fact that there has been a 'war crime' is not of itself justification. It is reason to pursue the persons responsible in some form of International Tribunal, but not reason of itself for intervention.
There is no evidence that further attacks are intended or will happen. There is the surmise that it is likely that they will. But it is not possible to say whether they are, or are not intended. If the Assad regime was in the process of continued gas attacks against proportions of the population here and now, or, for example, was observed in the process of preparation for further attacks, that would, in my opinion, justify the intervention. But Humanitarian Intervention is an "emergency doctrine", to restrain imminent carnage; not a punishment for past acts or deterrence for possible future one.
Attacks are not occurring at the moment. Diplomatic efforts of many types, whether via the UN or other means, have not been exhausted.
Proliferation or presumed proliferation or sending messages to Assad or some other unknown party is not part of the doctrine.
For all these reasons, and more, I would suggest that the 'legality' of the proposed action under 'International Law' is a great deal more flimsy than the government would have us believe. Whether one regards that as satisfactory is of course a matter of debate. But there are downsides to intervention. Imagine if every one started to do it. But of course it is the Attorney General's job to say that an armed response is lawful if the government is proposing to do. It would be highly inconvenient if he were to say otherwise.
There are, of course, other dimensions. As soon as Radio 4's Tonight programme had reported on the vote in the Commons, it ran a piece on the school hit by napalm or the even more frightening sounding 'Thermite' and the plight of the children and teenagers, deeply burned, charred and melted. It appalled me.
Was this too, a war crime? And how can a civilised nation respond? Can we wash our hands? As the poet John Donne wrote, no man is an island. And yet with many, if not the great majority of the population, I am extremely resistant to yet another foreign adventure. I have no answers. Wouldn't it be ironic if the lasting legacy of Blair would be poison in the wellspring of public support for using arms, as and when it is appropriate, to do the right thing?
Gildas the Monk
(i) The Syrian regime has been killing its people for two years, with many reported deaths.



September 1, 2013 at 20:17




August 31, 2013 at 18:36







August 31, 2013 at 16:51







August 31, 2013 at 02:15










August 30, 2013 at 23:50










August 31, 2013 at 13:04







August 31, 2013 at 13:22







August 31, 2013 at 13:32







August 31, 2013 at 16:07




August 31, 2013 at 16:22




August 31, 2013 at 16:26




August 31, 2013 at 16:36




August 31, 2013 at 14:00







August 30, 2013 at 23:43




August 30, 2013 at 20:11







August 31, 2013 at 15:16







September 1, 2013 at
00:00





September 1, 2013 at 08:12




August 30, 2013 at 19:56







August 30, 2013 at 17:05







August 30, 2013 at 16:13







August 30, 2013 at 14:34







August 30, 2013 at 14:09










August 30, 2013 at 14:08







August 30, 2013 at 21:08




August 30, 2013 at 13:54




August 30, 2013 at 13:47







August 30, 2013 at 12:32







August 30, 2013 at 13:10










August 30, 2013 at 13:24




August 30, 2013 at 20:49




August 30, 2013 at 12:32




August 30, 2013 at 12:30







August 31, 2013 at 19:24




August 30, 2013 at 12:19