"Savile the Beast – the inside story of the greatest scandal in TV history".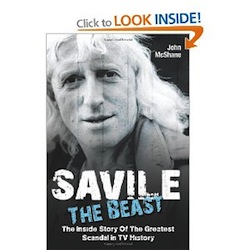 Seven words jumped out near the start of the second chapter of this book. 'But the truth had to emerge eventually' – fifteen chapters later the truth had still not put in an appearance.
I'm glad I did not buy this when it first appeared for sale in April this year. Then it was £7.99 – I saved £7.10 with my kindle version. Had I waited another 24 hours I could have saved another 13 pence, perhaps if you wait a few weeks longer the publisher will pay you to read it.
The authors starts as he means to go on, using other people's words instead of his own. A title, no doubt inspired by graffiti scrawled outside two of Jimmy Savile's homes, followed by 17 chapters of stories lifted straight from British newspapers and magazines from January 2012 onwards. Other Amazon reviewers complain that he repeats the same stories, surprising given the hundreds more he could have found had he made that little bit more effort.
Here is the author's interpretation of a tale included in Jimmy's 1974 autobiography – "As it Happens". The story involves a girl , a night club and a lady police officer.
'If she comes in I'll bring her back tomorrow but I'll keep her all night first as my reward' he wrote of his meeting with a woman police officer. Sure enough, that evening the young girl came in. Savile claimed that he took her into his office and told her : 'Run now if you want, but you can't run all your life' The girl stayed at the dance and then overnighted at Savile's before he took her to the police station the next morning.'
'He went on : 'The lady policewoman was dissuaded from bringing charges against me by her colleagues, for it was well known that were I to go I would probably take half the station with me'
Here is what Jimmy Savile OBE wrote from Page 51 of his own book – "As it happens" Jimmy Savile 1974
'A high ranking lady police officer came in one night and showed me a picture of an attractive girl who had run away from a remand home. 'Ah' says I all serious, 'if she comes in I'll bring her back tomorrow but I'll keep her all night first as my reward'. The law lady, new to the area was nonplussed. Back at the station she asked 'Is he serious?'
It is God's truth that the absconder came in that night. Taking her into the office I said 'run now if you want to but you can't run for the rest of your life' She listened to the alternative and agreed that I hand her over if she could stay at the dance, come home with me and that I would promise to see her when they let her out. At 11.30 the next morning she was willingly presented to the astounded lady of the law. The officer was dissuaded from bringing charges against me by her colleagues for it was well known that were I to go I would probably take half the station with me.
A 'high ranking lady police officer ' in the late 1960's? I'm not sure about that one Jimmy and there's that implication of power and influence that Savile could not really have had, that is, if another story that is, regurgitated in the same chapter is anything to go by.
The author introduces Dennis Lemon who 'acted as Savile's bodyguard' and the 'He's up to court tomorrow – interfering with young girls, he's worried'. No 'taking half the station' with him that time is there ?
The author ends his first chapter disclosing how much Jimmy was paid for each episode of Jim'll Fix it in 1980 (£600) and how much he got in 1990 (£2350) so he obviously saw the press reports about the numerous Freedom Of Information requests made to to the BBC in the wake of the Newsnight fiasco.
In Chapter 2 – 'the story breaks' in the Sunday Mirror in January 2012, closely followed by the Oldie, The Guardian and the Telegraph and despite the fact that 'nothing had seen the light of day in the mainstream media' before Jim's death, within three months every paper in the land printed the story of the brave Newsnight journalists and the film that never was.
The subtitle of this book is 'the inside story of the greatest scandal in TV history'. A more fitting start as it happens, would have been 'the inside job that was done on one of the greatest television stars in the history of television', but that would have been a tad long given the fact that he couldn't even be bothered to write 'television', 'TV' has to do.
The book is actually a compendium rather than a narrative; I hope I got that right. I'm no author but I do know a well researched piece when I see one, and this is certainly not. His first error occurs right at the beginning when he describes Top of the Pops being first aired in 1974….
1974 is certainly an important year in the Savile story as it happens, am I repeating myself enough already?
'Bosses of flagship BBC2 show Newsnight launched the investigation into Sir Jimmy in the days after his death ….. but they were eventually ordered to scrap the report' He goes on quoting the Sunday Mirror : 'the TV journalists discovered that complaints regarding the star were made to police in 2007 …. But the CPS decided to take no action due to insufficient evidence'.
The Sunday Mirror has a 'BBC source' spilling the beans in January 2012 who explains the film maker's honourable intent for starting an investigation that 'by interviewing the 3 women Newsnight hoped to establish the truth of the claims ….. only for BBC executives to halt the investigation'.
When I read the above, I naturally assumed the 'source' to be Meirion Jones, the producer of the ill fated film but McShanes epic continues with 'the insider said' ….. people are up in arms ….. someone somewhere should have realised that a report trying to uncover a dark side of one of the BBC's favourite sons was a silly thing to do. It cost millions …… down the drain'.
The author does get round to mentioning Meirion Jones but not before he introduces us to the hero of the story: Mark Williams–Thomas the eventual presenter of Exposure. The next newspaper stories covered occur in August 2012, seven months after the Mirror 'broke' the story. The author announces that 'his (Jimmy's) victims were tracked down by MWT'; he quotes Thomas' online blog thing the night before 'Exposure' hit our screens, explaining how 'a year earlier, after presenting a programme about child protection, he was approached by someone who asked if he had ever heard about JS being involved in child abuse. He had heard rumours, but JS was still alive at the time and MWT was 'sceptical' as no journalist or publication had ever substantiated such stories. Savile died before the former detective could speak to the source and when he did, although that source had credibility it was a 'lone voice'. 'He had never been on my radar' said Williams-Thomas.
MWT is clearly referring to the Newsnight film broadcast on 6th July 2011. July 2011, three months before Jimmy's death on 29th October 2011. He does not mention this, unless there are footnotes not included in the Kindle version, so I include my own points by way of further information to the serious reader.
'I knew that the key would be to collect credible evidence'. Recounting the 'I ran it like a police operation' boast from Thomas, 'he and L Gardiner (producer of Exposure) were the only ones who knew the identities of the women who chose not to speak on record about Savile'. He was taking a 'big risk' he said but concluded that 'I have no doubt that on the evidence I have gathered, if Savile was still alive I would be banging ON HIS DOOR TO GET HIM NICKED'.
Williams–Thomas is stretching my patience now. I should read the primary source again to see if he actually said that, because if he did then he is deliberately misrepresenting the facts. He did not track down the 'victims' most of them were already available to him eleven months before Exposure aired. It also beggars belief that only he and Lesley Gardiner his ITV producer, were aware of the identities of the anonymous 'victims'. Lesley G is the wife of Alex G, Thomas' producer in the delightfully titled 2009 show 'To catch a paedophile' .
The reader is not told the identity of one of Thomas' early 'credible' witnesses used later in the film but he is described as a 'BBC producer' who 'said he was surprised when Savile invited him to a Chinese restaurant called the Lotus House'. The more interested readers of Anna and Moor's blogs will recognise this as Wilfred De'ath, his story gets a few paragraphs and is followed by another alleged ex BBC employee, one Sue Thompson, her rather important piece gets just one paragraph.
Just a few chapters later, the author describes what he calls 'The BBC in Crisis'. The 'credible' witness is arrested but the author does not appear to have linked this despite the press reporting his being a 'producer of Savile's on the BBC show teen Scene' the very show that De'ath was allegedly meeting Jimmy about when the alleged Chinese Restaurant incident took place.
The reader is then introduced to the following :
Fiona, Charlotte, Angie, Karin (choir girl story Stoke Mandeville), Val and Anna who 'did not take part in the documentary but wrote of her experiences online' and implicated 'two other stars' in an incident alleged to have taken place after a recording of Clunk Click. 'Anna' is presumably Karin Ward then, strange that two 'Karin's' feature in the the same story, but we have to remember that the author is merely presenting press reports, unless these were the names used in the film – answers below please, I really cannot GO THERE again.
A few paragraphs later a four page piece on Colleen Nolan and her experiences on TOTP. I will make no further comment on this, apart from the fact that the Duncroft gals have, up to now shared less than 6 pages in total.
Just hours after Exposure aired Scotland Yard announced it's verdict on Jimmy Savile. The 'recent information would be 'assessed' and the Metropolitan Police would be 'putting victims at the heart of our enquiries' – David Gray. The backlash against all things Savile and the BBC began, and within days his headstone was removed.
By 9th October Commander Peter Spindler 'was quoted as saying' : 'we have formally recorded 8 criminal allegations […] his offending behaviour does appear to be on a national scale'. He goes on to describe '20 potential victims' but 'we believe we will come up with between 20 and 25 victims'. He made it clear that the 'police would only launch investigations into living individuals about whom allegations are made if they get some evidence'. It would be an 'assessment rather than an investigation'. Because Savile was dead, officers were looking at other alleged abusers whose names had now cropped up'.
The Panorama special 'What the BBC knew' is covered next and is interesting because it provides the ONE direct reference to the man who formed such a huge part of the authors 'inside story'. 'Meirion Jones who also worked on the story said 'I was sure the story would come out one way or another and if it did the BBC would be accused of a cover up'. He goes on 'I wrote an email to Peter saying 'the story is strong enough'.
By 19th October the police announced that the JS inquiries have become a 'formal criminal investigation' – in just two weeks '200 potential victims' have been uncovered.
In the 5th chapter, 'The Victims speak out', begins the 'most disturbing of all' the stories to date, that of Jimmy's great niece. His depiction of the family's response speaks volumes: several members of the Savile Clan said ….. 'such remarks brought shame on the entire family'.
Under Chapter 6 entitled 'More Allegations' we are treated once again to Karin Ward's memories of regular visits to BBC TELEVISION CENTRE – 'sometimes going every week to sit in the audience'. She goes on 'The production staff must have known. They were in and out of his dressing room with snacks. We were drinking alcohol and some of them must have seen Jimmy with his hand up someone's top'.
Prior to this we have the Deborah Cogger story and following Karin comes 'Jill' who spoke to the Sun about her experiences in Jimmy's caravan when he suddenly turned up at her mother's B and B. Next we have the anonymous future model, who had to have an abortion after Jimmy raped her when she was just 16. She was so traumatised by these events that she applied to work with Savile on Top of the Pops several years later.
By Chapter Seven – 'Duncroft' it is mid October and 5 ex Duncroft girls are named:
Toni Townsend
Carole Wells 52 years old
Bebe Roberts 62
Frances Jennings 53
Kathleen Webb 55
Chapter 8 is called 'Broadmoor'.
Chapter 9 is 'More Hospital visits' but begins with a story about one Katrina Rose, then a minor incident involving an occupational therapist, then the reader somehow arrives in Glen Coe. 'Savile owned a cottage in Glen Coe and it was feared that as many as 20 victims may have been taken there'. The founder of the mountain Rescue team, Hamish MacInnes who knew Jimmy well, had heard no such allegations indeed he imparts a very interesting piece of information when he says :
'HE DID NOT SEEM TO LIKE TO STAY HERE ON HIS OWN, SOMEONE LOCAL WAS ALWAYS WITH HIM'
I will skip the next few chapters and fast forward to Chapter 14 – 'Charity work and famous connections' for it opens with another interesting snippet that the reader may not have picked up on yet and that is that 'A GREAT MANY PEOPLE DID NOT LIKE JIMMY SAVILE'. Using remarks that could have been lifted straight from Daily Mail readers comments – 'he gives me the creeps' or 'I can't stand that man' but 'he does a lot for charity'. To be fair the author does outline some of Jimmy's efforts in this sphere but soon reverts to form describing an alleged abuse of a 11 year old in Stoke Mandeville's chapel during mass and other horror stories including the account of an ex-nurse who claims to have witnessed Jimmy abusing a patient in a hospital bed in Leeds General Infirmary.
Reading the same awful stories again for the purpose of investigation could certainly dampen the soul of the most fervent Savile supporter, but, just as sure as behind every silver cloud there is a much bigger blacker one you can always rely on someone somewhere in the entertainment industry to provide a little light relief. For me that someone turned out to be Jim Davidson. I laughed out loud at his remarks before and after his arrest in January 2013. "Just pick someone you don't like and say it's them" he says of the 'witch hunt' that is/was the Yewtree police investigation. Of Jimmy: 'as odd as he was, Savile can't defend himself' and of his own arrest, 'I can't remember last week, let alone 25 years ago'. Thank you Mr Davidson, you made my day with that.
Chapter 16 is called 'The Duchess and her family'. This is what the author says about Jimmy and his mum. 'Behind the seemingly innocent childlike devotion to her he so frequently expressed, was there some other secret that was never spoken ?'
McShane finishes his compendium of other people's stories with the release of the findings of the Yewtree 'investigation' wherein an 'assessment' of the claims made against Jimmy Savile have rendered him responsible for 214 'crimes'. The last word is left to Mark Williams –Thomas whose words I will not repeat here save the author's:
'And he (Williams) added, chillingly :'There could be at least double the number of potential victims. It's a mere drop in the ocean'.
All in all, I am glad that I purchased and read through 'Savile the Beast' for one thing it brought to my attention was the fact that Wilfred De'ath's story actually involved the Mascot Hotel in Central London, a rather down market establishment off Baker Street, rather than the eminently more upmarket Ascot Hotel in Mayfair. Myself and several other commentators had discussed this story at length on Moor Larkin's blog. The De'ath story seems even less likely now. Where I could imagine customers having access to a telephone in a posh hotel, and the Ascot, Mayfair is a very posh hotel, I cannot quite see this facility in the Mascot. This finding led to another by Moor Larkin, thorough as ever, to note that De'ath was a regular contributor to the Oldie Magazine whose boss Richard Ingrams edited Private Eye. Strange that Mr Ingrams claims never to have heard anything about Jimmy Savile back in the day?
Anyone who puts pen to paper has a motivation. It is sad that someone would want to merely compile a number of press reports about a tragedy without any thought that the stories might not be true. John McShane's 'home page' on Amazon lists his other works which include books about 'Baby P', Levi Bellfield, Cheryl and Ashley (Love wars) and Heath Ledger, the latter of which attracts the following response in the review section :
The only saving grace was that it is not very long and quick to read but then again that was probably rushing my way through it. I felt the author knew nothing about Heath Ledger other than what he has trawled off the internet and dare I say it threw it together just to cash in on the actor's death.
I couldn't have said it better myself save adding the following conclusion. The initial television investigation into claims made against Jimmy Savile is described here as an attempt to see if those claims had any substance. Whoever made this statement to the press is a liar. In his earliest e mails to his boss, Meirion Jones uses the words 'Jimmy Savile Paedophile'. It's all there in Appendix 12 of the Pollard Report that is mentioned by everyone but read by nobody. This book will appeal to those who are only too willing and happy to believe that Jimmy Savile was indeed a 'beast' rather than 'one of the greatest characters of this city' – Leeds General Infirmary on news of the death of Sir Jimmy Savile.
Addendum
I was in Leeds a few weeks ago as part of my Savile's Travels investigations. I spoke to several people including two mothers outside the lakeside Café to which Jimmy was a regular visitor. They were interested to hear that an alternative view of the story is being investigated and that evidence exists that the stories presented in the television show were untrue. They told me that the main reaction of Leeds folk was one of hurt and betrayal especially given the fantastic send off Jimmy was given. They did not dismiss my idea's out of hand, quite the reverse. The Press and others have perpetuated a huge lie about the Late Jimmy Savile. The general public appear to have swallowed this lie but I believe that their hearts and minds can be recaptured and the record can be set straight. I don't know where I read it but somewhere someone remarked that Jimmy Savile NEVER said a bad word about anyone.
McShane's publisher is no stranger to allegations of falsehood.
After an acrimonious dissolution of the original partnership in March 2002, John Blake went solo. In August 2008 a book which was about to be published by JBP, On Her Majesty's Service under the name of Ronald Evans, a former bodyguard of Sir Salman Rushdie, had a Declaration of Falsity made against it by a Judge in the High Court for the inclusion of 11 "serious falsehoods" defaming Mr Rushdie, after extracts were serialised in The Mail On Sunday. The book was never published.
Jimmy Savile wrote two books during his life, three, if you count 'Love is an uphill thing' which is basically the paperback version of the hardback 'As it Happens' published in 1974 and written in just three weeks in 'longhand' and on 'knocked off – (note) books'. 'As it Happens' is the one most quoted in the main stream media because of the stories involving girls. The second (or third) book Jimmy wrote has been mentioned but largely ignored in the press. It is called 'God'll Fix it' and was commissioned and published in 1978 for Mowbrays Popular Christian Paperbacks. Jimmy was working on a programme called 'Speakeasy' in 1978 a religious talk show. Anyone who wants to know the real Jimmy Savile would do well to read this book. I will quote just a few lines of his chapter 'Why do I think people suffer' because I think that it gives an important insight into Jimmy's thoughts on his efforts for those he saw as less well off than himself and the real motive behind his hospital and charitable efforts.
'For instance, I might have got up at six in the morning to drive to see a kid in hospital. What I have done for the kid is nothing. The kid's example helped me no end, because if nothing else, it made me realise that I was fortunate, blessed, or whatever, and that my body was even now able to enjoy the good things of God and put itself out for the very child that was suffering'.
Join me in Leeds on 29th October in Roundhay park for a walk around the lake. It's not that far and it's a lovely place. Let's show the media what we think of their stories and let's show Jimmy and his family that we can put ourselves out just a little bit for him and them.
August 22, 2013 at 09:24







August 21, 2013 at 22:55










August 22, 2013 at 06:11




August 21, 2013 at 22:02










August 21, 2013 at 18:03







August 21, 2013 at 19:05







August 21, 2013 at 20:55







August 21, 2013 at 21:26




August 21, 2013 at 13:48







August 21, 2013 at 17:15










August 21, 2013 at 17:27




August 19, 2013 at 12:28




August 19, 2013 at 11:22




August 19, 2013 at 10:52







August 19, 2013 at 10:21







August 19, 2013 at 11:22







August 19, 2013 at 01:37







August 21, 2013 at 11:34




August 18, 2013 at 16:27







August 18, 2013 at 14:57




August 18, 2013 at 14:55




August 18, 2013 at 14:24







August 18, 2013 at 11:25










August 18, 2013 at 17:45







August 18, 2013 at 18:52










August 18, 2013 at 19:03







August 18, 2013 at 19:30

August 18, 2013 at 22:44







August 18, 2013 at 23:17







August 18, 2013 at 10:38










August 18, 2013 at 12:56







August 18, 2013 at 13:14










August 18, 2013 at 14:12







August 18, 2013 at 14:24

August 17, 2013 at 19:04










August 17, 2013 at 20:16




August 17, 2013 at 18:35




August 17, 2013 at 17:45










August 17, 2013 at 17:35




August 17, 2013 at 16:22









August 17, 2013 at 17:22




August 17, 2013 at 14:26




August 17, 2013 at 13:25




August 17, 2013 at 13:24




August 17, 2013 at 13:15







August 17, 2013 at 12:27







August 17, 2013 at 11:10










August 17, 2013 at 11:46




August 17, 2013 at 10:34










August 17, 2013 at 10:02









August 20, 2013 at 23:00







August 20, 2013 at 23:08










August 21, 2013 at 07:11