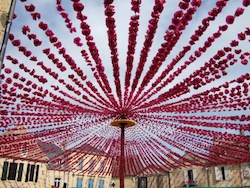 One of the attractions of southern france for tourists are the marchés nocturnes. Not so much a market as a communal dinning experience. Local traders drive their mobile kitchens to their nearest market square, the Mairie provides long tables and benches, and uses the fees for a 'pitch' selling food, to pay for some entertainment. The end result is a convivial evening with good music at very little cost.
You take a basket with your own plates and cutlery, a bottle of wine if you want, and buy the rest of your meal according to your pocket. 2 Euros for a plate of chips and mayonnaise, to as much as 15 euros for a magnificent duck breast barbecued on the spot to perfection, or merely sit and enjoy the spectacle and spend no money whatsoever. It accommodates everyone, from the local hot shot lawyer to a young unmarried Mother on benefits with a tribe of children. I can't think of any social event in England that is quite so 'inclusive' – with the exception of Guy Fawkes night bonfire parties – even those usually involve an entry fee or a personal invitation.
One of the most popular sources of entertainment for a hard-up Mairie, is amongst the troubadours. Unemployment benefit is strictly work record related here. You have to have worked for two years to get anything at all, and after that how long and how much is related to your work record. The message is strictly – if you want money, find something useful to do. For some, those who want to live an alternative lifestyle that doesn't involve regular work, those we would loosely describe as 'new age travellers' in Britain, that involves training as a street entertainer. It does involve training too – not just a matter of saying you are a juggler – you have to prove it to a certain standard to a committee. Once accepted by the committee, you are thereafter 'subsidised' by the government, and on call to any Mairie that is looking for entertainment. A benefits package for want of a better phrase – but one that involves giving something back to the community. You can grow your hair into dreadlocks, paint yourself with blue woad, no restrictions whatsoever – but if you want the taxpayer to support these choices, you give something back in return. Voila! A useful member of the community. Some of the most popular night markets are those held in which ever village is hosting the Félibrée that year, for the simple reason that these villages are always highly decorated. So popular, that many villages get out their félibrée decorations year after year…the entire village will be festooned with literally thousands of hand made flowers. I helped make the flowers for the félibrée in Beaumont-du-Périgord a couple of years ago, and a fascinating experience it was too. Long benches were in the shade of the Mairie, and every afternoon everyone who had nothing to do would gather and join the production line transforming the 'bits' stamped out to form the handles of plastic carrier bags into garlands of wisteria. Wisteria was the chosen flower by virtue of the fact that the local carrier bag manufacturer had switched to purple and green that year…! Earlier years efforts had been in yellow and green, transformed to daffodils, and pink and green – some rather fetching roses. When I say the village was festooned – I mean it. That volunteer production line had made an incredible 155,000 flowers! It is not all hard work – the Mairie provide refreshments, and the gossip is an education in brushing up your vernacular French.
It was through that gossip that I discovered the meaning of the Félibrée. It isn't just a colourful ceremony for the tourists, any more than Guy Fawkes fireworks are – in fact it has a great deal in common with those fireworks. It is a symbolic political rebuke. The Félibrée is named after the Félibrige, a group of intellectuals who sought to revive the southern French Occitan language. 'French', as it is taught in British schools, is a Parisian invention, the language of northern France. It is only for the past 100 years or so that it has been universally imposed – by law – on the whole of what is now known as 'France'. The people of southern France speak Provençal, Auvergnat, Limousin, Languedocian, Gascon and Vivaro-alpine – all dialects of Occitan. So much so, that it is one of the duties of the Mairie to read or write letters if any of the local inhabitants have need to communicate with their political leaders or bureaucrats in Paris!
When it became against the law to promote another language other than Parisian French, the Félibrige movement was forced underground. Only the accoutrements remain – look around you and you will see the Occitan symbol on banners flying from windows; the tradition of flowers decorating the village, even the troubadours joining hands with the locals to dance in a circle, it is all a calculated, if muted, snub to rule from Paris.
Last week as we ate in the marché I listened to an English lady declaring in a loud voice (why do they all have voices that could quell the Sepoy Mutiny?) denouncing one of her guests who had obviously made some political comment – 'Oh God, it is so good to get away from politics for a couple of weeks, do shut up' – and reflected that actually she was surrounded by politics. In fact she was sitting in the middle of a French political demonstration.
A very French political demonstration – that came accompanied by good wine, good food, and the smiling faces of every generation.
Those flowers aren't there just to provide shade. August 24, 2013 at 22:18




August 20, 2013 at 11:34




August 20, 2013 at 09:26




August 19, 2013 at 21:47







August 20, 2013 at 01:02







August 20, 2013 at 08:42




August 19, 2013 at 20:37







August 19, 2013 at 18:42







August 19, 2013 at 18:07




August 19, 2013 at 17:23







August 19, 2013 at 16:40










August 19, 2013 at 16:38







August 19, 2013 at 16:02







August 19, 2013 at 14:35







August 19, 2013 at 12:13




August 19, 2013 at 11:52







August 20, 2013 at 01:04







August 19, 2013 at 11:39







August 19, 2013 at 11:32