Giving Potential Victims a Voice!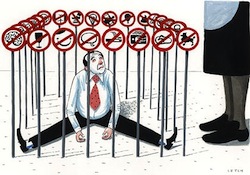 Blimey! You folk have really pi**ed off the authoritarian voice of social services. Congratulations – it does my heart good to see what a difference your voices made.
I was aware before that helping you make your voice heard in a matter that may affect each and every one of you in the future had been an unpopular move, and there had been much hissing and booing in the social services boondocks as a result – I hadn't realised until today that they had taken the matter so much to heart….
Let me recap. Last October I discovered that Social Workers had run a survey (that no one else knew about, naturally!) asking how many social workers would welcome the 'power of entry' to every home in the land – not just the homes of those with diminished mental capacity. Every home. To 'give you health advice'. – "Put that crisp down now!"
Unsurprisingly, when you ask a group of people attracted to a job where they hold control over other people's lives – they voted overwhelmingly to be given such a power. You don't say!
Regrettably for them, we now have a government which clutches to its bosom the entrails of a belief in Libertarian principles. Not many, it's true. But just sufficient to allow them to at least 'ask' the general public what they thought of the idea. In theory. They just didn't tell anyone they were doing so, so the general public had no idea that they had a voice on the matter, still less that such a power was proposed. When this came to my attention, there was just seven days left in which to respond to the 'consultation'.
I asked you to respond to the questionnaire, and retweet the post to anyone you thought might also be interested in responding. This you did in gratifying numbers.
Come May 2013, and the results of the consultation were known. The government was not minded to give social workers such a power, in particular:
We believe it is highly significant that members of the public were far more strongly against the proposal compared to health and social care professionals […] it is clear that some people perceive themselves at greater risk of unwarranted intervention by social workers than of abuse in their home.
Wahay! Loud cheers in Raccoon Towers!
However, today, quite the most offensive piece of authoritarian manipulation has come to light. My attention has been drawn to this 'fisking' of the views of the general public.
'Elder Abuse' has taken the trouble of 'analysing' the responses from the general public – that means you! They have listed the reasons why your views should not have been allowed to sway the government. They pose the question "did these people put forward cogent, reasoned arguments that were to the point and relevant to the questioned asked" and they have come to the conclusion that the answer is "No".
They have taken the trouble of publishing many of your responses to the consultation:
And great delight in pointing out that some of you had made minor spelling errors…
At least one of you had made reference to 'Nazi's'.
At least one of you had made reference to social workers taking children into care through the 'secret' family courts.
They are deeply offended that the response (116) quoted by the Health Minister was not quoted in full, which would have included the phrase "Stalin used article 58 of Lenin's Criminal Code to justify his Stasi's invasion of people homes".
For the above reasons they have concluded that: and therefore your views should not have been given weight….
They have applied no such analysis to the views of the original social workers who wanted these powers. They could have been riddled with spelling mistakes, and made reference to Eugenics for all we know!
It is probably a tad late to respond to garyfitzgerald@elderabuse.org.uk who is responsible for this disgraceful disparaging of the views of the general public – but it is not too late to answer Mithran Samuel at Community Care who poses the disingenuous question "Did anti-social worker sentiment scupper powers of entry in adult protection cases" without disclosing that such a power already exists – what social workers were asking for now was to have the power without the oversight of the courts – an automatic right of entry.
Perhaps Mithran Samuel has 'misunderstood what was proposed'?
Get over there and tell him what you think – perhaps by oversight, the site appears to be hosting negative comments for once…..
Go on – NOW!
and re-tweet if you would be so kind.
August 17, 2013 at 22:13




August 17, 2013 at 19:50




August 17, 2013 at 11:16










August 17, 2013 at 09:43




August 17, 2013 at 09:29







August 17, 2013 at 09:26







August 17, 2013 at 08:19










August 17, 2013 at 06:57




August 16, 2013 at 19:44




August 16, 2013 at 17:00




August 16, 2013 at 16:25







August 16, 2013 at 18:11







August 16, 2013 at 13:58










August 16, 2013 at 13:09










August 16, 2013 at 13:21







August 16, 2013 at 22:26







August 17, 2013 at 21:21










August 16, 2013 at 12:18










August 16, 2013 at 12:11







August 16, 2013 at 12:32







August 19, 2013 at 12:21










August 16, 2013 at 11:52










August 16, 2013 at 12:23







August 16, 2013 at 12:38




August 16, 2013 at 12:43