Outrage at Outage for BlueHost, HostGator, HostMonster.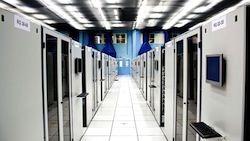 And lo! On the seventh day, was the Techdom of Provo built. They called it Endurance International Group. A perfect, pristine land pulsating with technology. Encased in stainless steel, with na'er a finger print in sight; temperature controlled, its infrastructure an engineer's delight of colour coded connections.
And into this land, the Lord God of Tech on High placed humans; men who wore immaculately ironed chinos, and buttoned down collars; voted for Obama and drank only water and pulverised wheat grass. Many were those who worshipped the kingdom of Tech and dreamt of the day when they would be allowed to enter its hallowed polished stone corridors.
In the meantime the weekly collection plate was passed round and they gave up their small change; some gave more in the hope of inhabiting their own private VPN in paradise.
And it came to pass that a mighty storm visited the Techdom. And the faithful were vanquished. All 3.3 million of them. And their fury was palpable.
Techdom was not infallible after all. One of the chosen few, the perfect ones, discovered that a 'vendor' had supplied a faulty core switch to the very heart of Endurance-land. The Lord God of Tech was not happy with this imperfection in the centre of his paradise and had rent his servers, struck out the faithful into a land of silence and blackness. All 3.3 million of them.
It depends which side of Endurance International that you believe the Lord God of Tech sent his prophet down – some worshipped Bluehost; others claimed this was a Tech of shit straw and adhered to the creed of Hostgator; still others worshipped the server of Hostmonster, iPage, FatCow, Domain.com, iPower, and A Small Orange. So blindly did they follow their profit prophet that they failed to notice that there was but One True Data Centre in Provo, Utah, that all the prophets were beholden to – and he had just spat out his Core Switch.
In the hours of darkness and confusion that followed, the faithful examined their exported CSV files and vowed to worship another. (I was particularly enamoured with the chap who loftily announced to the world that it was going to take him 16 hours to migrate from Bluehost to Hostgator, but it would be worth it! I reckon he must have arrived at Hostgator around 4 hours after the core switch that Hostgator and Bluehost 'share' was repaired – and patted himself on the back. Such technological expertise obviously doesn't leave any time for reading the financial papers…..).
Part of the fury of the faithful was the discovery that when they turned to that archaic instrument, the telephone, to demand that their personal web site be turned back on even if the other 3 million couldn't be, they discovered that Techdom operated a VOIP telephone system – and that was screwed as well. As was the e-mail system. And the help line.
A lone creature in perfectly pressed chinos and button down shirt, sat on the company Twitter feed and made occasional reassuring utterances to the furious mob – until they exhausted their 'daily Tweet limit'. That enraged the faithful further.
"I've got 120 web sites hosted with your company and I'm losing millions of pounds" cried one faithful.
I idly pondered the wisdom of having such a multi-million pound operation based on 120 cheap shared servers – but then what do I know? Others pointed out that WordPress had just sent their latest baby WordPress 3.6 out into the world and at just the moment that the Provo data centre went tits up, millions of WordPress users would have been upgrading (including Ms Raccoon, who did have her heart in her mouth!) – WordPress wasn't the culprit.
Conspiracy theories abounded – hadn't the US just issued a major terrorist attack warning? Was this Al-Quaeda's revenge – disabling thousands of cheap viagra sites? Wrecking the on-line appointments system for the Penis-Extensions-R-Us private clinic? A tad subtle for Al-Quaeda I would have thought, but innovative if true.
Thousands of Bluehost customers paying $5.95 a month are demanding a refund of at least a month's hosting to compensate them for their 12 hours in the wilderness or they will worship at another server. They think the company should have taken manpower off the front line looking for the problem in order to e-mail them personally and keep them informed….
I shan't be.
I've been with Bluehost for years. We are old friends. I went to them as someone who barely knew how to switch on her own computer, never mind 'upload file via ftp'. 'What is ftp' said I? ' 'Er, um', drawled the southern voice, 'its er, um, something I'd better do for you ma'am'. And he did. Talked me through every step of the way. Found the Thesis file when I'd uploaded it and didn't know where I'd put it. Patiently explained the perils of leaving my graphics open to hot linking. Unscrambled my config. file. Worked out how to make my little Raccoon clap hands. Those Bluehost technicians have taught me everything I know – which may be precious little; but always with southern courtesy, endless patience, and a 'You have a nice day now Ma'am' to send me on my way with a perfectly working web site once more.
So what if it didn't work for 12 hours? It's not the end of the world as we know it. It's worked perfectly for the other 43,680 hours I have been plaguing them with stupid questions.
Does anyone know how much a core switch costs? I thought I might get them a spare one for Christmas. August 4, 2013 at 07:56







August 4, 2013 at 00:25




August 3, 2013 at 20:21




August 3, 2013 at 18:19




August 3, 2013 at 15:41







August 3, 2013 at 15:02










August 3, 2013 at 14:51







August 3, 2013 at 11:38




August 3, 2013 at 11:29










August 3, 2013 at 10:51




August 3, 2013 at 10:27




August 3, 2013 at 10:01










August 3, 2013 at 09:24