Chuggers-R-Us – the NSPCC and Daniel Pelka.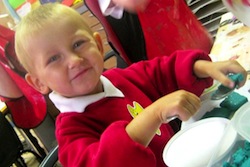 You see them everywhere, representatives of the NSPCC. You hear them on the adverts during afternoon TV; they are on the breakfast sofa's opining on the latest 'terrible outrage'; they are in the side bar advertisements in your newspaper; and for sure you will have met some in your local High Street. Heavens! One of them even lived directly underneath Jimmy Savile's apartment in Scarborough.
But have you noticed something? Every time you've seen one they've either been holding their hand out telling you that 'but for your £2 a week' some poor child would likely be dead by now, or 'how disgusted they are' that 'x', 'y' or 'z' received what was in their opinion was a derisory prison sentence for child abuse.
The NSPCC are superb fund raisers, exceptionally well organised. They work closely to the formula devised by the doyen of charitable fund raising, Marion Alford. A veritable army of supervisors and volunteers fan out across the country with military precision and tactics. They have analysed every step of the process, from suitable 'rewards' for different levels of donation to the necessity of inveigling large private donations before a campaign even starts in order that press releases can go out within a few days expressing surprise 'at the large amount already donated'.
The NSPCC adopted this strategy on an ongoing basis. It has a basic triad of topics that have to be constantly re-presented to capture media interest and successful fundraising. Physical abuse (now with domestic violence) – sexual abuse (now with street grooming) – and neglect (this – the largest category of need has always been the Cinderella of fundraising because it involves the poor and the feckless and generally lacks salacious intensity, though the very rare Munchhauson's Syndrome by Proxy and 'emotional abuse' were vamped up to compensate).
In order to pursue their fundraising aims the NSPCC need victims. Of course these are two a penny but you need a special type of victim to generate success with these being promoted as being 'the tip of the iceberg'. The iceberg comprises the thousands of young children 'trapped in silence' who are to be presumed, but are necessary to generate the emotive appeal for funds. The public victims are 'adult survivors' of gross hidden 'scandals' whose stories are circulated in the media.
Their last big fund raising initiative – the Full Stop campaign – raised a stomping £250 million, but what did they do with it? Of course fund raising on this scale, using the professional services of companies such as MAA is an expensive business, and then there are the headline grabbing celebrities to be recompensed for their time. There are the advertising companies to be paid, and public relations specialists, even the humble social media experts pushing out their message on Twitter. Only the occasional can-rattler is genuinely a volunteer – and then not always.
Their skill at public relations has been honed by the best and most expensive advice over the years into an art form.
But where is the child protection? You've seen all the people above, heard them, witnessed their hard work, but tell me – when did you last see an NSPCC Inspector? You know where to send your donation – but do you know who to call if you come across a child in danger? Where do these elusive child protection workers hang out? What is their phone number? My guess is that you'd probably call the local Social Services outfit or the police. Which begs the question – what is the NSPCC actually doing with your money?
Which child has been protected with your £2 a week? We hear about the children that have been failed – the NSPCC bag a seat on the breakfast sofas faster than a German with a beach towel – ever ready to criticise social services. We hear what they think of derisory prison sentences. We know which head they think should roll. They are quite capable of using suitably anonymised children to plead for more money – where are the suitably anonymised children who have been 'saved'?
The current pre-occupation with punishing child abusers – and it is in full spate this morning following the sentencing of Daniel Pelka's parents for his murder – ignores the bariatricly challenged elephant in the room. In order to punish a perpetrator, first a child must be abused. The entire emphasis is on shutting the stable door and pouring opprobrium on the departing horses head. That may please the mob – and if they are lucky they will claim the scalp of a Director of Social Services, yet again, no doubt to be followed by an expensive claim for unfair dismissal – but somewhere, in Britain, another child is raiding the dustbin. Who is there for them? Where were the NSPCC inspectors when Daniel's teachers were looking for advice on his bruises?
We are told that it was hard for the Polish speaking Daniel to tell teachers of his hunger. What a curious country we are! We can send out gas bills in Welsh perchance someone prefers to read it that way, we can provide on line translators to tell a Swahili mother to 'push' in the last irresistible stages of labour – yet a little Polish boy has no one to help him mouth the words 'I'm starving'?
Take another look at that picture of Daniel. That is not the wan pathetic face of Baby 'P'. That is a picture of a little boy that could have graced any press release telling of the success of nursery education. Smartly dressed, clean and well fed, enjoying his game with Playdo. Yet within months, something happened. That little boy turned into a skeletal figure weighing the same as a one year old child. His school clothes were 'hanging off him'. His arm was broken. His face was bruised. The description is a dramatic difference from that picture – and people did notice the difference…
Social Services will no doubt plead 'government cuts', staff shortages – and they are probably right. They are the people who actually do the work. They are woefully short of man power. The £250 million war chest of the NSPCC would pay a lot of wages. Wages for men and women who would fan out across the country, not to beg for donations on commission – but to be a constant presence that can be talked to when a child deteriorates like that. Someone teachers, neighbours – and the child – know well; trust and like; a familiar face. Not a voice at the end of a helpline.
We can take the money off pensioners to pay for banking losses; why can't we take the £250 million off the NSPCC to pay for child protectors? That, after all, is what it was donated for.
I am sick to death of hearing 'who should be held accountable'. Sick to death of public inquiries and 'lessons learned'. Sick to death of hearing of abusers who should be 'shafted in the prison showers'. Sick to death of the moral posturing of 'almost qualified' criminologists and would-be tv celebrities. Sick to death of awards for exposing hands on bums 40 years ago. Sick to death of hearing of the millions being set aside to compensate middle aged women who snatched a kiss from a long dead celebrity.
I want to see all that energy, all those millions, channelled into providing a friendly face always on call to befriend a lonely little Polish boy who hasn't eaten for days – before he becomes a statistic. It's not rocket science. It's child protection.



August 3, 2013 at 08:21










August 3, 2013 at 00:12










August 2, 2013 at 14:32







August 2, 2013 at 14:10




August 2, 2013 at 13:08




August 2, 2013 at 10:40







August 2, 2013 at 10:34




August 2, 2013 at 10:23




August 1, 2013 at 21:48




August 1, 2013 at 20:44












August 2, 2013 at 03:28




August 1, 2013 at 18:34







August 1, 2013 at 18:17







August 1, 2013 at 18:12




August 1, 2013 at 17:53







August 2, 2013 at 12:19










August 3, 2013 at 01:10




August 1, 2013 at 17:44







August 1, 2013 at 16:47







August 1, 2013 at 16:47




August 1, 2013 at 15:58










August 1, 2013 at 14:54







August 1, 2013 at 15:11










August 1, 2013 at 15:41




August 1, 2013 at 14:18










August 1, 2013 at 14:32










August 1, 2013 at 14:14




August 1, 2013 at 13:56










August 1, 2013 at 13:43










August 1, 2013 at 13:02




August 1, 2013 at 12:40




August 1, 2013 at 12:37







August 1, 2013 at 14:09







August 1, 2013 at 17:50




August 1, 2013 at 12:26







August 1, 2013 at 12:56







August 1, 2013 at 14:04







August 1, 2013 at 14:08




August 1, 2013 at 12:21







August 1, 2013 at 17:48










August 2, 2013 at 11:34