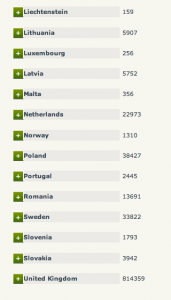 814, 359 employers in Britain are so keen to find employees that they have signed up to a European initiative that pays a bounty of 1000 euros to anybody in another European country who is prepared to get off whatever is the equivalent of a Bulgarian DFS sofa, put down their Stella beer – and take the job! The EU will also pay the employer another 1000 euros to help with the training and language difficulties.
I take Bulgaria as an example because there are only 128 such desperate employers in Bulgaria, so if Britain fills up with Bulgarians as a result of this initiative – you only have yourself to blame.
No other country comes near to the desperation of the British employers keen to fill vacancies. More than 50% of the vacancies are in Britain. Germany is second in the list with 267534 vacancies they cannot fill.
These are not highly skilled jobs that only a select few can fill – take a look down the list – mechanics, welders, care assistants. Ordinary jobs. Some come with an offer of accommodation, even a car.
In the East Midlands alone, there are 62624 vacancies.
There are too many in Britain who would prefer to lie on their sofa carping about how tough their life is under 'Tory austerity measures' – when all over Europe there are people who are also struggling with austerity who are prepared to do whatever it takes to feed themselves and their families.
Quit whining about immigration and 'foreigners taking our jobs' – the jobs are there, but too many Britons are too proud and find life on a combination of welfare and the black market too cushy to want those jobs.
Mathew Hancock, a junior Business Minister says that 'firms have a social duty to employ young Britons' – nobody, but nobody is suggesting that young Britons might have a social duty to take up these vacancies!
Ted Treen put an interesting comment on this blog yesterday – very apposite.
"Everything you receive without working, means that elsewhere, someone is working for it without receiving it".
Na'er a truer word was spoken. The Government has no money to give to anyone, cuts or no cuts. The only money they can hand out comes from those who are working – and not receiving the fruits of their labours.
July 31, 2013 at 16:52




July 30, 2013 at 13:14







July 31, 2013 at 14:13







July 28, 2013 at 22:54







July 28, 2013 at 19:48







July 27, 2013 at 23:27







July 27, 2013 at 23:17




July 27, 2013 at 15:03







July 27, 2013 at 11:12










July 27, 2013 at 11:44




July 27, 2013 at 10:53










July 27, 2013 at 11:45










July 27, 2013 at 22:17




July 27, 2013 at 10:31










July 27, 2013 at 16:28










July 27, 2013 at 16:40







July 27, 2013 at 22:06







July 28, 2013 at 15:28




July 27, 2013 at 10:18










July 27, 2013 at 10:35










July 27, 2013 at 17:26







July 27, 2013 at 10:59




July 27, 2013 at 10:06







July 27, 2013 at 08:54







July 28, 2013 at 15:32










July 27, 2013 at 12:02







July 27, 2013 at 22:57










July 27, 2013 at 22:59







July 27, 2013 at 08:40







July 27, 2013 at 08:37




July 27, 2013 at 08:20










July 27, 2013 at 08:05










July 27, 2013 at 08:25







July 27, 2013 at 21:31