Stuart Hall and that Guilty Plea.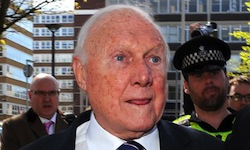 Today, the lord chief justice, Lord Judge, sitting with Justice Rafferty and Justice Macur, will decide whether the 15-month jail term that Stuart Hall received after pleading guilty to 14 counts of indecent assault, on girls as young as nine which includes one girl who was nine at the time.
The armchair moralisers who form their views from forums and newspaper accounts will learn whether three eminent judges, examining the actual evidence, agree with the term set by Preston crown court recorder, Judge Anthony Russell QC.
If Stuart Hal's sentence is not increased, I confidently expect an outcry from the witch hunt followers. They will not be satisfied with mere justice – revenge is what they want.
There has been much speculation as to why Stuart Hall decided to plead guilty. The simplistic answer is because he WAS guilty. Others have pointed out that he was 83 years of age, in poor health, and possibly didn't feel like spending his remaining days with such an odorous charge hanging over his head.
I, as is my contrarian way, have been pondering other reasons why a man should plead guilty. Let me tell you the sad tale of 'Brendan' as I shall call him, his sister 'Sháuna' and his little niece 'Caitlin'. (I have given them false names for obvious reasons).
Brendan was the youngest of a large and dysfunctional Irish family. None too bright at the best of times, he has had treatment for various mental health issues over the years. Now aged 41, he copes with his life by drinking heavily, and living with his sister Sháuna. It is not hard to imagine that he may be a pain in the neck as a permanent house guest.
Caitlin, his little niece, complained to the Gardai via her Mother that 'Uncle Brendan' was a lot more than just a pain in the neck to have around the house – he had raped her when she was 10 years old on a date between 1 September 2004 and 28 February 2005.
That left Brendan with six drink-befuddled months to try to defend himself over. 'Someone' in the family said he would be a lot better off pleading guilty and throwing himself on the mercy of the court rather than trying to account for himself over every minute of six months.
"I knew there were days I could not account for as I had been drinking so much. My memory was never good; it's almost non-existent now," the man said.
Since Brendan was 'overcome by panic' and in a state of near nervous collapse at the thought of going to prison, he agreed to plead guilty. He began the long process of waiting for trial as a self confessed guilty paedophile.
Then a curious thing happened.
His sister, Sháuna, wrote to the Gardai and admitted that she had made her young daughter make these allegations. She said this was done because she suffered from depression and anorexia and wanted her brother out of the house.
"I told her a lot of stuff to say, to blame him and what kind of things he did. It took a lot of time to get her to understand, she didn't want to do it."
Ms Justice Iseult O'Malley has granted the man's application to change his plea, and adjourned the case for mention.
She remanded the man on unconditional bail, removed him from the sex offender's register and excused him from attending court on the next date.
Brendan is incontrovertibly innocent of the charge of rape and paedophilia – this is the first time I have heard any explanation as to why a man would plead guilty to such a charge – but how do you defend yourself on a rape charge 'sometime between 2004 and 2005′ on someone you share a house with? If, for reasons of age or alcohol abuse, your memory is not as it should be, it is an impossible task – better to plead guilty and pray for leniency.
Strange how the main stream media aren't so keen to publicise these cases, isn't it?
Remember that when you consider the reasons why 83 year old Stuart Hall may have pleaded guilty.



July 28, 2013 at 19:25







July 28, 2013 at 13:56







July 27, 2013 at 13:36







July 28, 2013 at 11:32




July 27, 2013 at 10:04







July 27, 2013 at 08:22







July 26, 2013 at 23:59







July 26, 2013 at 23:25







July 26, 2013 at 21:08




July 26, 2013 at 21:01







July 26, 2013 at 21:42




July 26, 2013 at 22:01










July 26, 2013 at 15:43










July 26, 2013 at 13:53







July 26, 2013 at 15:15







July 27, 2013 at 08:25




July 26, 2013 at 13:17













July 26, 2013 at 15:08







July 26, 2013 at 11:15







July 26, 2013 at 11:01







July 26, 2013 at 22:19







July 28, 2013 at 23:24










July 26, 2013 at 11:04




July 26, 2013 at 10:54







July 26, 2013 at 10:44







July 26, 2013 at 10:40







July 26, 2013 at 12:52




July 26, 2013 at 18:21