James Alexander Gordon sadly retires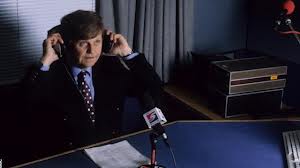 The most poignant news of the week for me was that of the retirement of James Alexander Gordon. Many Raccoonistas have something of an aversion to sport, but Gordon was a man who rose far above mere sport, and became for very many of us, something of a constant, a feature as safe and reassuring as Big Ben or Sailing By, a voice of poetry and an oasis of mellifluous tones that provided a vital and constant part of at least two generations. For those who do not know, let me explain.
As a youngish BBC staff announcer in 1973 Gordon was given the laconic order by a producer to "nip over and do the footie". He had, to use his own words, not the faintest idea what the producer was on about. Over at the sports desk Gordon was given a list. It was the afternoon's football results, and Gordon was totally baffled by what to do with it, all these names and numbers. However, Gordon, who had suffered from very severe polio as a child in Scotland and had a speech problem as well, but had been given a musical training as part of his therapy, and considered that perhaps giving a slight musical intonation and rhythm, might be a good way to read them out.
And so it began, for an almost completely unbroken span of 40 years. Saturday afternoon at 5 pm meant "Sports Report" with its traditional jaunty theme, Out of the Blue, as it still does today.
And then:
"And now the classified football results, read by James Alexander Gordon."
And then followed the mellifluous, honeyed tones, with their hypnotic rhythm and cadence and a rich hint of Scots that would always tell you in advance how your team or arch enemy had done. A rising, optimistic note for "Arsenal, four" and a gentle, consoling descent for "Aston Villa, nil."
James Alexander Gordon's gentle, gentlemanly and slightly old fashioned and educated voice was always there. It has been there for almost all my life. It reminds me of Saturdays as a child, which would begin with two comics – the Beano and The Victor. Then a visit to the model shop to buy an Airfix Spitfire or Panzer Tank, football in the park, followed by wrestling on TV. This was always accompanied by Mr. Kipling cakes. My mother worked on a Saturday, so my father would make what we called "Saturday tea", a roast of beef, sometimes with roast potatoes, sometimes just bread and butter, a hymn to working class aspiration made good. At five there was the aforementioned Sports Report, and then after James Alexander Gordon and the match reports, it was back to the telly, and hopefully Doctor Who. At least, that is how I remember it.
Later as I got older there was walking back from a match in the freezing air with a transistor radio, awaiting the rival's results. Or later being abroad in some foreign hell hole, but hearing a little touch of home on the World Service.
Sadly and ironically, after a fight with throat cancer and an operation, the mellifluous voice is no longer strong enough to carry on and he has been forced to retire. The words "national treasure" and "national institution" are too often used he deserves them. By all accounts he was a total gentleman, a charming and modest man. He was somehow a beacon of civilised, old school values manners, consistency, dedication and diction in a modern world sadly lacking all of these qualities. I don't want to drag him into political matters, but a world with values, and values despised by many in power today. I salute him and bid him well in his retirement, although reluctant, well earned.
James Arthur Gordon video clip