Turned out Sunny Hundal again!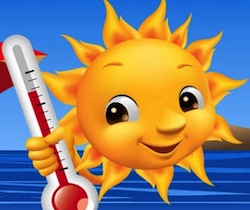 Sunny is on scorching form today; no more hiding his guiding light behind a passing cloud.
He has defined evil for those of us who need re-education.
First, how do I define 'evil'?
My definition is this: if a person of considerable responsibility or power deliberately ignores or cheers on policies that lead to multiple deaths, they are 'evil'.
So who qualifies as evil by Sunny's definition? In a crowded field, the following stand head and shoulders above the throng of left wingers.
Tony Blair for the war on Iraq that so many Britons campaigned against.
Alastair Campbell for providing the laughable 'research' and sound bites that allowed Blair to mislead parliament.
Andy Burnham for presiding over an NHS policy that led to target chasing being more important than patient care – and 13,000 deaths.
Ed Miliband and his 'Green revolution' pouring billions into useless wind farms leaving no spare cash to buy extra faggots for pensioners dying of cold in their hovels.
I'm sure someone will come up for a reason why Gordon Brown should be in there…
Over to you folks – remember by Sunny's definition they must have caused multiple deaths by deliberately ignoring or promoting policies that led to deaths.
Some excellent Foie Gras for the most 'evil' suggestion.
July 23, 2013 at 22:25










July 19, 2013 at 16:58







July 19, 2013 at 18:09







July 19, 2013 at 18:17




July 19, 2013 at 16:51










July 19, 2013 at 17:04




July 20, 2013 at 22:52







July 19, 2013 at 15:32







July 19, 2013 at 11:22







July 19, 2013 at 11:16







July 19, 2013 at 11:14




July 19, 2013 at 11:07




July 19, 2013 at 10:58







July 19, 2013 at 10:42







July 19, 2013 at 08:42




July 18, 2013 at 22:32







July 18, 2013 at 21:51







July 19, 2013 at 18:42







July 18, 2013 at 19:08







July 18, 2013 at 18:39




July 18, 2013 at 16:58







July 18, 2013 at 15:51







July 18, 2013 at 21:32




July 18, 2013 at 15:06










July 18, 2013 at 16:00







July 18, 2013 at 16:36




July 18, 2013 at 14:35







July 18, 2013 at 22:29










July 18, 2013 at 22:37







July 18, 2013 at 14:00







July 18, 2013 at 16:14










July 18, 2013 at 16:25










July 19, 2013 at 18:13




July 18, 2013 at 13:08




July 18, 2013 at 12:52







July 18, 2013 at 12:48







July 18, 2013 at 12:36







July 18, 2013 at 12:30







July 18, 2013 at 14:34







July 18, 2013 at 14:38







July 18, 2013 at 15:10










July 18, 2013 at 11:35







July 18, 2013 at 11:14







July 18, 2013 at 11:13










July 18, 2013 at 10:43




July 18, 2013 at 10:40









July 18, 2013 at 10:06







July 18, 2013 at 09:59







July 18, 2013 at 09:58










July 18, 2013 at 11:11




July 18, 2013 at 09:53







July 18, 2013 at 09:33







July 18, 2013 at 08:54










July 18, 2013 at 09:09







July 18, 2013 at 09:24







July 18, 2013 at 09:32










July 18, 2013 at 09:41




July 18, 2013 at 10:57







July 18, 2013 at 12:02




July 18, 2013 at 13:27







July 19, 2013 at 01:21







July 18, 2013 at 08:51







July 18, 2013 at 11:08




July 18, 2013 at 16:12







July 18, 2013 at 19:26







July 18, 2013 at 08:38




July 18, 2013 at 08:24







July 18, 2013 at 07:35