Cracked Nest-egg Syndrome.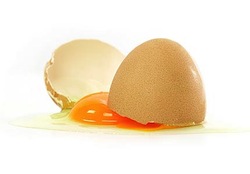 Long ago, Equitable Life had a canny scheme. 'Give us your money now, and we'll give it back to you with a bit extra when you are older'. And lo! many wealthy people with money to spare did just that. It's a long and complicated story that I shan't rehash now, but 30 years later, people found that lo! the money wasn't there, not the bit extra, not even the money they'd saved up in the first place. They'd been had as surely as any bent Christmas club – no turkey on the table for them.
'Blimey, that's a good idea', said Cap'n Bob Maxwell. 'Give us your money now, and we'll give it back to you with a bit extra when you are older'. He didn't of course. It was no longer there, spirited away whilst they were unable to look. No Turkey on the table for them.
'Sheer Genius'! cried Cap'n Gordon, 'now I'm in charge of the leaky vessel, I'll try me hand at this scam'. 'Heave Ho, me hearties, lets be 'avin your pension savings' And he did.
By this time, there weren't many people left with working brain cells prepared to put money voluntarily into a pensions scheme.
"We'll have to make it compulsory. It's not fair, the wealthy and the middle class have had a chance to get ripped off for their savings, why not the working class?"
So was born the National Employment Savings Trust (NEST)with its automatic deduction of 1% of your wages. They preyed on the low paid, the ones who'd taken a job cleaning MacDonald's toilets about two hours before their JSA allowance was due to be stopped. 'Give us your money now, and we'll give it back to you with a bit extra when you are older'.
Soon there were 280,000 of them, and the millions were stacking up nicely in the government's bank account. 280,000 largely because of what NEST politely referred to as 'the ignorance factor' – or 'the people we are preying on are too stupid to realise that they could opt out of having 1% of their wages siphoned off to us'.
Not that the government was actually looking after this money itself – they were paying Tata £600 million to do that for them. You know Tata, the Indian company that was looking after the jobs of all those British steel workers, the ones that are now cleaning toilets in MacDonalds; the same company that the government gave millions to look after the jobs of Jaguar-Land Rover employees – who are now cleaning toilets in MacDonalds? That Tata.
Every week the government would shovel another few million over to Tata and everyone was very happy. Then they got an e-mail supposedly from 'Tata' – "that bank account is full, could you change your bank details to xx-xxx-xxx?" So they did.
They haven't seen the money since.
£1.4 million of it. Tata swear blind they haven't got it. The government haven't got it. The feckless working class busy cleaning toilets who couldn't be trusted to look after their own savings sure as Hell haven't got it. So who has?
"The bad guys" according to the chief executive of NEST, Tim Jones. (Who does he think he's talking to – the Teletubbies?).
He won't be resigning, "My view and the view of others was that I should stay."
Why not? NESTs ultimate ambition is to give the savings of 10 million low paid workers to Tata for safekeeping. Think of the scams you could work with that sort of income.
Say 'Tata' to your pension…
July 20, 2013 at 07:25







July 19, 2013 at 01:07







July 18, 2013 at 12:20







July 18, 2013 at 10:03










July 17, 2013 at 19:49




July 17, 2013 at 18:28




July 17, 2013 at 17:41







July 17, 2013 at 17:53




July 17, 2013 at
18:44


July 17, 2013 at 14:51







July 17, 2013 at 13:06







July 17, 2013 at 19:11







July 17, 2013 at 11:41




July 17, 2013 at 10:05







July 17, 2013 at 20:52




July 17, 2013 at 08:46







July 17, 2013 at 08:33