Tractor Stats and the NHS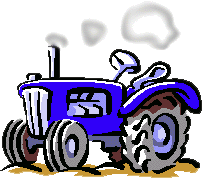 Lately I have been frothing a lot and jiggling about in a most agitated manner. Some have put this down to the hot weather – most unexpected in a summer – coupled with too much excitement about the Ashes.
In fact I know better. I have developed a nasty condition known as Brass Necked Cheek Interview Syndrome. This syndrome has been around for quite a time. My usual symptoms are the aforementioned frothing at the mouth, reddening of the face, am extreme form of Tourette's syndrome, involuntary clenching of the fists and the urge to throw the radio/TV/computer out of the window.
Whilst there is no known cure, my specialist is quite clear about the cause. It is invariably triggered by some politician or quango-apparatchik who, whilst scooping an inappropriate and highly offensive salary and pension will have presided over a gross cock up and failure, such that billions of pounds or hundreds, if not thousands of lives, have been wasted. The symptoms are normally triggered by the omnishambles – monger appearing to "defend their record", say that there were "systemic failures" and that "on the contrary that they are proud of their record" and – most dangerous of all – state the mantra that "lessons have to be learned going forward" and that they will not resign, because they are duty bound to stay in post to correct the ghastly damage they have already inflicted, scooping ever larger amounts of public money into their huge and well lined pockets.
Onset is often triggered by common or garden infestations such as Sir David Nicholson, and former Secretary of State for Health "Andy" Burnham, but Sir Chris Patten is also a singularly toxic agent.
There is also a particularly virulent sub-form of the syndrome called Balls Disease, in which near fatal apoplexy can be induced by who himself appears to be exhibiting a form of late stage rabies repeats the phrase "flat-lining" and "too deep too fast" whilst suffering from total amnesia concerning the scandalous wreckage of public spending he and his ilk left behind.
Today sees the publication of a report into the failings of 14 NHS Trusts. It seems that Mid Staffs was not alone in treating many of its patients, particularly the elderly and vulnerable, as off cuts of meat to be casually discarded and starved of food, care and water.
So for reasons of my own mental and physical well being therefore I kept largely clear of the radio this morning. But I did catch an interview with Professor Sir Brian Jarman, whom I believe has lent a helping hand in compiling the report. He was interviewed on Radio 5Live by Nicky Campbell.
A stout defender of the NHS, he actually sounded quite sensible, balanced and rational. Amazingly, I found my blood pressure lowering, as presenter and guest had a proper, rational, and grown up conversation. Though what Sir Brian had to say was pithy, to the point, but not surprising. I have done my best to transcribe the main points below. In response to sensible questions and points he said this (I do my best to quote):
"I think there has been politics in the NHS for years…
I think Andrew Lansley's attempt in 2010 to get Clinical Commissioning Groups to take responsibility both for the funding they were allocated and also commissioning care according to quality was an attempt really to devolve down from the centre to the CCG's that responsibility…
One of the problems I've had is that the current chief exec of the NHS who used to be chief exec of the [trust] that managed Mid Staffs [i.e Sir David Nicholson] has said that he will have Stalinist control from the centre… And also that he has "seen off" four Secretaries of State and I think that centralised control is just not working and also it's a major problem that neither patients nor clinicians have any significant input. I mean, if a doctor reports a problem they'll be dismissed and they'll have to sign a gagging clause – this has been going on for too long. It is utterly outrageous. [My emphasis]
If a patient makes a complaint…from about 2004 onwards, there were about 13,000 complaints which were not resolved locally with the hospital concerned every year…only 223, less than a third of one per cent were formally investigated. Now that is an outrageous situation we've got into, and I think we need to change that and we need to try to devolve the responsibility down so that at the local level you will have patient groups, clinicians, doctors and nurses involved in improving the quality of care in your local area within the resources that they are allocated. And also, you don't really need to have a situation in which hospitals have to get as many people admitted as possible because if they are working with their local GPs they are going to help to keep people out of hospital, which will end in a lower cost of health care…."
It is no surprise that the brass necked and pension hoarding Sir David wants what the Professor calls Stalinist control; he is a former member of the Communist Party of Great Britain.
In short, what we have is an organisation which, in true New Labour/Stalinist style, has for years been chiefly concerned with that old Socialist obsession, Tractor Stats. As long as the Secretary of State can pour out favourable figures for the number of tractors, or in this case the number of patients fed trough a sausage making, meat grinder of a system, then the politicians are happy. That a great number of them maybe lying de hydrated or festering in their own faeces is an unfortunate, but largely irrelevant detail.
Sunday Time journalist Camilla Cavendish has been writing in recent weeks with deep insight and no little experience about the hugely variable standards of NHS care. In one article she gave her first hand account of care for two relatives who faced their last days in two close but very different London Hospitals. In one, state of the art, all mod cons, doubtless funded by a colossal dollop of public money in some hideously expense PFI scheme, the standard of care and compassion were so low the place was virtually a gulag. In the other, a battered old fashioned hospital a few miles away, a strong and committed nursing team with strong leadership on the ward delivered excellent care and eased their patients' woes.
Writing this weekend the excellent Ms Cavendish, who is both experienced and perspicacious, pointed out that what the culture of many – not all, but many – parts of the NHS lacks is simple human kindness.
The institutionalised carnage that was mid Staffs could not flourish without a culture that had forgotten this simple, basic tenet of medical and nursing care. She cites the example of a lead practice nurse at a hospice who overtly advertises jobs seeking applicants who are "kind". Everything else, she said, can be taught. A medal for that woman.
Indeed, as I write, I am listening on the radio to the account of one relative who witnessed an elderly patient being deprived of all food. The patient was struggling and could not face one cup of rather appalling sounding gunk which passed for tea, but was plainly hungry. When this was reported as a complaint to the nursing sister she was told that the refusal of the cup of tea was deemed a refusal to take any food at all. The witness described what she witnessed on that and other occasions as little short of torture.
My every instinct is that people like Nicholson and Burnham are psychologically incapable of understanding that. They are creatures of statistics, of mission statements, of sound bites, of committees, of plausible denial, of systemic failure, of lack of personal responsibility. Of course there need to be proper staffing levels and so forth. But that is far from the only issue. The NHS needs a cultural shake up, and the dead hand of insensitive bureaucrats like Nicholson. It is the clinicians who must take control. That does not mean a free hand on budgets, but it does mean that care, not tractor stats, is to the fore.
As for Mr. Burnham, he can go on and on with his political points scoring today, manoeuvring, positioning, excusing. He is rather good at it. He does "good interview" with those "man of the people" Scouse tones. But I wouldn't want him to look after me if I was ill, thank you. I don't think I would last long, though doubtless my demise would be trumpeted as having been, statistically speaking, a success. Or the fault of the Tories.
Gildas the Monk
July 18, 2013 at 14:27







July 17, 2013 at 18:04







July 17, 2013 at 17:18




July 17, 2013 at 12:07




July 17, 2013 at 08:33







July 17, 2013 at 00:10










July 17, 2013 at 07:56










July 17, 2013 at 09:53




July 16, 2013 at 23:07




July 16, 2013 at 21:30







July 17, 2013 at 00:14







July 16, 2013 at 18:52







July 16, 2013 at 19:23










July 16, 2013 at 21:10







July 16, 2013 at 23:36










July 17, 2013 at 00:10




July 17, 2013 at 13:16




July 16, 2013 at 18:08




July 16, 2013 at 17:48




July 16, 2013 at 16:53







July 16, 2013 at 23:29




July 16, 2013 at 15:51










July 16, 2013 at 16:03










July 16, 2013 at 19:35







July 16, 2013 at 16:40




July 16, 2013 at 15:14




July 16, 2013 at 14:35










July 17, 2013 at 07:55







July 16, 2013 at 16:32







July 16, 2013 at 14:30







July 16, 2013 at 13:46







July 16, 2013 at 14:17







July 16, 2013 at 16:21







July 16, 2013 at 17:24







July 16, 2013 at 14:37










July 16, 2013 at 16:06




July
16, 2013 at 17:27


July 16, 2013 at 13:38










July 16, 2013 at 16:10




July 16, 2013 at 13:18










July 17, 2013 at 07:54