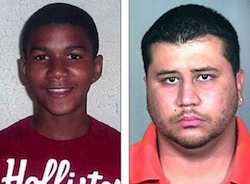 Who knew that Trayvon Martin had morphed from this angelic picture of a 12-year-old into a 6'2″ 17-year-old body builder? Were there no up to date photographs of him to plaster the country with? No matter, he has been immortalised in his cherubic period.
Who knew that the Hispanic George Zimmerman was considerably 'darker' than this photograph taken under the harsh glare of forensic evidence gathering? Were there no smiling photographs of a relaxed George to plaster the country with? No matter, he has been immortalised in his evil almost-white racist period.
Every week since Trayvon Martin was shot, every week, over 100 young black teenagers have been shot dead in the US, 94% of them shot by another young black man.
We don't hear of them. We don't see smiling pictures of their innocent young faces. We don't see grim mug shots of their murderers, man-slaughterers, aggravated assaulters, nor, final insult from a prosecution that seemed unable to make up its mind as to what they were prosecuting – 'felony murderers in the course of child abuse'. Huh, 'Terminal paedophilia with Prejudice' .
There is only one reason why. Racism. The racism that dare not speak its name.
The racism that can live, if not cheerfully, at least uncomplainingly, with most of the 5,942 'children merely walking home with a packet of sweeties in their pocket' who end up with a bullet through the head simply because someone 'had a gun' and 'because they could'; because one of their black brethren thought they'd looked at his girl friend funny, or failed to drop to their knees in obeisance and 'respect' on passing them outside MacDonalds. Occasionally there is a flurry of local outcry as when a stray bullet from all those 'friendly encounters' on street corners fatally lodged itself in 7-year-old Heaven Sutton in Chicago. But then she was female.
The racism that appeals to voters by saying 'if I had a son he would look like Trayvon Martin'.
The racism that allowed Rachel Jeantel to report to the court that Trayvon had told her that a 'creepy-ass cracker' was following him. The origins of the derogatory term 'cracker' are obscure; derived from a description of the whip-cracking drovers who herded livestock and later attributed to slave overseers. There has been little comment on that piece of bigotry, yet the only other mention of race in the evidence was Zimmerman's answer to the dispatcher who asked him whether the 'suspicious person' seen loitering outside homes was 'white, black, or hispanic'. 'He looks black' said Zimmerman, to the later dismay of the racist commentariat who would have loved him to reply along the lines of 'looks like a thieving black'…..
The racism that allows the US Justice Department to say that Zimmerman might be prosecuted again in a civil court for 'civil rights infringements'.
The racism that allows 'civil rights leader' Al Sharpton to say the verdict was a 'slap in the face for the American people'. He doesn't mean all the American people.
The racism that allows a prosecutor to say that Zimmerman has 'not been found innocent, but not guilty'.
The racism that allowed the Orlando police to make preparation for riots if Zimmerman was found not guilty – no apparent preparations were made to contain outrage on the part of the non-black population if Zimmerman had been found guilty – they were expected to calmly accept the verdict of a jury.
Does anybody even care about the finer details of who hit who first, which Mother was right to claim ownership of the cries for help from 'her baby'. Whether Zimmerman, an American 'Norris Cole' by all accounts, was right to challenge the hooded figure he thought was acting suspiciously, or whether the 'angelic Trayvon' was right to beat him to the ground for showing disrespect by challenging him. Was Zimmerman right to shoot a man who was bashing his head on the pavement?
Does anybody care about anything other than the fact that Zimmerman was 'almost white' and Trayvon was honest to goodness 'black'.
Racial bigotry has been whipped up by every news station and every newspaper. It is the new cold war. Politics is no longer the art of debate in the Senate or the House of Commons, but the art of using your chosen media organ to whip up emotive support for 'your side'.
Tomorrow, in Britain, we will see the same process being applied to the NHS report. Not racism in this case, but class warfare.
July 21, 2013 at 03:43







July 18, 2013 at 13:46




July 18, 2013 at 13:16







July 17, 2013 at 20:53




July 17, 2013 at 20:50







July 17, 2013 at 20:50







July 17, 2013 at
21:21








July 17, 2013 at 21:58







July 17, 2013 at 22:09







July 17, 2013 at 22:12




July 17, 2013 at 22:17







July 17, 2013 at 20:05







July 17, 2013 at
20:40


July 18, 2013 at 11:27







July 17, 2013 at 17:27




July 17, 2013 at
12:29





July 17, 2013 at 08:22










July 16, 2013 at 23:50




July 16, 2013 at 20:31







July 16, 2013 at 19:27










July 18, 2013 at 00:13




July 16, 2013 at 17:11







July 16, 2013 at 16:31







July 16, 2013 at 17:16







July 17, 2013 at 15:50







July 17, 2013 at 18:17




July 16, 2013 at 16:29




July 16, 2013 at 16:28










July 16, 2013 at 08:56







July 16, 2013 at 13:04










July 16, 2013 at 15:49







July 16, 2013 at 17:27










July 16, 2013 at 18:05







July 16, 2013 at 08:47







July 16, 2013 at 18:25




July 16, 2013 at 00:25




July 15, 2013 at 23:59




July 15, 2013 at 23:32







July 15, 2013 at 23:29




July 15, 2013 at 23:20




July 15, 2013 at 23:10










July 16, 2013 at 16:48










July 16, 2013 at 17:51




July 15, 2013 at 22:59







July 15, 2013 at 22:58




July 15, 2013 at 22:47




July 15, 2013 at 21:08




July 15, 2013 at 20:41




July 15, 2013 at 20:32




July 15, 2013 at 20:18







July 15, 2013 at 19:58




July 15, 2013 at 19:57




July 15, 2013 at 19:23










July 15, 2013 at 19:57




July 15, 2013 at 19:20







July 15, 2013 at 19:49










July 15, 2013 at 19:57




July 15, 2013 at 20:43










July 15, 2013 at 20:49










July 15, 2013 at 21:13










July 15, 2013 at 21:18







July 15, 2013 at 23:48







July 15, 2013 at 19:16




July 15, 2013 at 19:14




July 15, 2013 at 19:09







July 16, 2013 at 00:17




July 15, 2013 at 19:03




July 15, 2013 at 18:58




July 15, 2013 at 18:37







July 15, 2013 at 18:48




July 15, 2013 at 18:10







July 15, 2013 at 18:23




July 15, 2013 at 19:47










July 15, 2013 at 19:53




July 15, 2013 at 17:51







July 15, 2013 at 17:47




July 15, 2013 at 17:47




July 15, 2013 at 17:07










July 15, 2013 at 19:59










July 15, 2013 at 16:59







July 15, 2013 at 16:59







July 15, 2013 at 16:41







July 15, 2013 at 16:32







July 15, 2013 at 16:06




July 15, 2013 at 15:59







July 15, 2013 at 16:20




July 15, 2013 at 15:34







July 15, 2013 at 14:28







July 15, 2013 at 16:28










July 16, 2013 at 13:48




July 15, 2013 at 13:55







July 15, 2013 at 13:42










July 15, 2013 at 10:57










July 15, 2013 at 10:18