We're all in this together – except for the Labour Party…!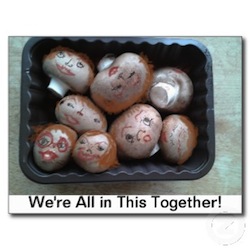 Back in the heady days of July 2009, a mere seven months after the onset of the 'global banking crisis', an event which Gordon Brown frequently reassured us had 'started in America' – and therefore was not really a British problem, those coming up for retirement were looking for a safe place to invest their savings and prepare for the future.
One product stood out head and shoulders against the others. Those of a cynical mind might have queried why the 'utterly ethical' Co-Op bank was offering a 15.29% gross yield on your money – almost double the rate available anywhere else, but then wasn't the Co-Op bank the only bank that was set up to primarily benefit its customers rather than those dastardly bankers? Wasn't it ultra cautious in who it lent money to, restricting itself to yogurt and lentil eating enterprises such as seven human rights areas, five environmental areas, four international development areas and five animal welfare issues – no need to feel guilty watching those cuddly, furry, Siberian Tigers with the big eyes face extinction, the Co-Op bank proudly announced that it had withheld £1 billion of finance from 'unethical' enterprises preferring to support the likes of the Siberian Tiger.
For some reason, they didn't feel the same need to point out that one of the 'ethical enterprises' they were supporting was the wide eyed and nearing extinction, cuddly, furry, Labour Party, to the tune of £3,5 million. A debt that was already ten years old when they made their 15.29% offer, and on which the Labour party had managed to repay a niggardly average £18,000 a year – at no doubt a suitably generous low rate of interest. Since the Labour Party was also simultaneously advertising to its members the magnanimous offer from the Co-Op bank to lend up to £15,000 as an unsecured personal loan at 5.8% – a service which ensured the Labour Party got £75 commission for each supporter who took up this offer, a quick trip round my calculator tells me that if a mere 240 members a year took up the offer, that alone would account for the repayments apparently 'made' by the Labour Party.
Anybody else owing £3.5 million to a bank facing collapse would find their house snatched back, their business in tatters, and carefully planted stories in the media detailing their 'luxurious lifestyle conned out of the bank' – but the media have confined themselves to the 'truthful' statement that the Labour Party and Trade Unions 'bank' with the Co-Op! They do, they do, they keep all their overdrafts with the Co-Op, loyal little customers that they are! No claims of 'conning' the bank out of millions where they are concerned.
Now the new City watchdog, the Prudential Regulation Authority (PRA), has discovered a £1/£1.5 billion (no one is quite sure which yet) black hole in the Co-Op's books, and yet another bank rescue is under way.
Guess who is feeling the pain? Not the Labour Party; not Ed Balls, one of the many MPs proudly sponsored by the Co-Operative Party, the political wing of the Co-Op movement; but the ordinary hard working men and women who invested their money in those PIBs (Permanent Interest Bearing Bonds) at 15.29% to fund their retirement. They cannot demand their money back, can't withdraw their loan to the Co-Op Bank; all they can do is try to flog their bonds to someone else for whatever they can get, a somewhat forlorn hope – since they are about to take a 30% haircut on their savings!
We're all in this together – unless you are the Labour Party.






June 17, 2013 at 12:36




June 17, 2013 at 11:28







June 16, 2013 at 23:41










June 17, 2013 at 09:36




June 16, 2013 at 21:32




June 16, 2013 at 20:18







June 16, 2013 at 19:36




June 16, 2013 at 18:19







June 16, 2013 at 13:01







June 16, 2013 at 12:32




June 16, 2013 at 11:40




June 16, 2013 at 10:18




June 16, 2013 at 10:10




June 16, 2013 at 09:40