Why I Think Edward Snowden is a Hero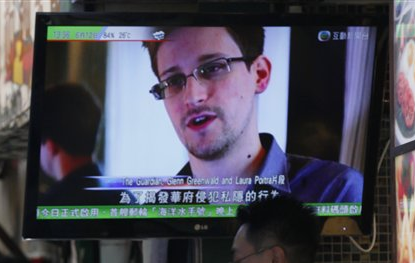 by Kingbingo
This is a guest post by Kingbingo, a long time contributor to this blog.
Life used to be pretty good for Edward Snowden. He had a good income of over $100k from a job he was good at and a slim, attractive girlfriend. However, after last weekend, if agents of the world's greatest superpower are able to get their hands on him (and perhaps they already have), he could possibly spend much of his life in an underground cell, never seeing anyone apart from the man that pushes his food under his cell door. What is all the more remarkable is that Mr Snowden knew that. He also knew that the US getting their hands on him sooner or later was pretty much an inevitability and yet he blew the whistle anyway. It was an act of such remarkable courage that I have no hesitation in saying that I am simply not that brave myself. I doubt many are. Some people win the Victoria Cross when they, with a split-second decision, decide to seriously jeopardise their life for another. Mr Snowden did not jeopardise his life with just a split-second to decide, he had months to reach his conclusion knowing the extreme danger it put him in and with steely determination did it anyway. Quite remarkable.
In Mr Snowden's job working indirectly for the NSA, the huge and powerful US intelligence agency that monitors electronic communications, he realized that this agency was secretly collecting data, not just on people for whom they had a warrant for, nor even on suspected terrorists and foreign government officials, but they were actually collecting all the information they could, all of it, from everyone. That included any telephone call made, stored and logged, any email sent, stored and logged, indeed if you do anything ever online, the chances are the US government is storing and logging that too. But why should you care? As long as you're not a terrorist you have absolutely nothing to fear right?
America asserted its independence from Britain 230 years ago, tired of an arrangement that taxed the many while severing the interests of a select few. The people of America had no say in their government and could be subject to whatever whims a distant autocracy felt it wanted to impose. In the drafting of its Constitution and Bill of Rights, that young nation realised that states abuse their power not as an exception, but as a rule. Powerful passages in the constitution were added to protect the people from their government, including the fourth amendment protecting people from search and seizure without probable cause. But the founding fathers were not paranoid, indeed history has proven such fear of government correct. Over the last century a few thousand died as a result of terrorism, 37 million were killed by war, yet studies show that a staggering 262 million were killed by their own government. And always before the killing and the oppression, came the lists.
Now, do I think the government of the US and the UK are going to start murdering their own people Mao style? No, absolutely not, it won't happen. But what about doubling the taxation from today's already high levels; making the state so powerful that if you don't recycle correctly you're fined a month's income; or if you publicly speak out that you don't believe in climate change you get ordered to attend a 4 week re-education course; or maybe if you have your own mother look after your children for a weekend without getting her CRB checked and pay £400 to the state to facilitate those essential checks then you face prosecution.
Do I believe all of these things could happen in the next 50 years? … yes … yes I do believe all of those could happen if they are not battled against between now and then.
"Ah" you cry, "the state is collecting all this information purely to catch terrorists. Who could possibly be opposed to that?".
Well today, maybe. However another recent US scandal has shown that their tax authority, the IRS, has been targeting people they ideologically disagreed with such as libertarians, and subjecting them to audits and other harassment to make their life unbearable until they just drop their attempts to advocate such heretical notions such as 'taxes should be lower' for example. It is not only likely, but given what we all know about government if we have been paying any attention at all, it is almost a certainty that if the state has the means to crush you, sooner or later it is going to use it. The only thing standing between us and some Orwellian future is if people stand up and make a noise about it. But, what if the state had some way to silence its critics, like the ability to search any online activity and phone call they had ever made and then selectively draw from that data to find some way to discredit that person or incriminate them. Given the amount of laws that exist today we are almost certainly all criminals to some extent. There will be some law somewhere that either we have broken or could be used to make us to look like disgusting perverts or perhaps tax evaders with very selective evidence. It might be only the security services that have this information today, but you wait, one day your local council will have it too, and they will happily use it when you complain that you got fined for not having bought the correct number of recycling permits.
Am I in fear of terrorists blowing up my train as I go home tonight? Yes, perhaps a very little bit I am. But I have a much greater fear that the state will grow and grow until we are all just worker drones being taxed up the rear, working from sunup to beyond sundown, straddled from birth with debt we can never pay off, never able to actually retire and that, if anyone speaks up against the system, they are instantly discredited or discovered to have committed 817 minor offenses throughout the course of their life that the state has suddenly decided to prosecute on and is looking for a custodial sentence. If the state has the power to crush any of us it has the power to silence any of us because we conclude it's not worth speaking out.
Mr Snowden spoke out, he was extremely careful to leak only the information that would not harm any security agents or operations around the world in the way that the indiscriminate Wikileaks did. He only leaked enough information to let us see the broad strokes of what the state was building to use against us in secret . The man is a bloody hero, and we must all resist the state becoming too powerful, even if it does try and scare us with terrorists. Because even if there is a 0.00001% chance that a terrorist will kill me, there is an almost 100% chance that the state will bleed me dry and not tolerate complaint for the rest of my life.
Kingbingo June 17, 2013 at 14:22







June 17, 2013 at 15:49







June 17, 2013 at 14:15







June 16, 2013 at 10:49




June 16, 2013 at 00:27




June 15, 2013 at 20:51










June 16, 2013 at 02:01




June 15, 2013 at 20:28










June 15, 2013 at 21:49







June 15, 2013 at 22:32










June 16, 2013 at 02:12




June 15, 2013 at 19:29







June 15, 2013 at 19:33







June 15, 2013 at 20:00




June 15, 2013 at 20:26




June 16, 2013 at 12:57




June 15, 2013 at 17:13










June 15, 2013 at 18:41







June 15, 2013 at 17:00







June 15, 2013 at 17:45







June 15, 2013 at 12:26












June 15, 2013 at 09:10







June 15, 2013 at 08:43







June 15, 2013 at 17:19




June 15, 2013 at 08:05







June 15, 2013 at 17:16