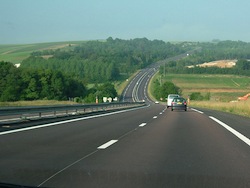 Over the past four days days, Mr G has driven me around 3,000 kilometres (roughly 2,000 miles for the metrically challenged). One of his mad dashes to see something of interest to him! Enough said.
We are fortunate in owning a much loved Volkswagen California. When we get tired, we turn it into a comfortable dinning room, open the freezer, cook dinner, wash up – and if we are still tired, we go to bed in comfort. That isn't the only reason it has been no hardship to travel that sort of distance in a few days.
We only met one brief section of 'cones' – around half a kilometre where the verges were being trimmed. No road works. No potholes. No traffic congestion (though admittedly we did come through Paris at 5am, a joy at that time of the morning). We never travelled more than 30 miles to a suitable calm and peaceful 'lay-by' – well off the road, with picnic tables and chairs so you could eat al fresco if you wished. Usually a shop where you could have excellent coffee and purchase food supplies; good food too, not just a 'pasty', but freshly made salads, a bottle of wine – and a complete change of clothing if necessary! Always a shower – clean and copious hot water.
We have paid for the privilege; a total of €93.70 (just under £80 at todays rates). But then, we don't have to pay an annual road tax here in France – road tax is levied just once, when a vehicle is bought, and from memory it was about €180 for our vehicle. It's on a sliding scale, so the older the vehicle, the less you pay. Ours was only six months old when we bought it – if it changed hands now, the one-off tax would be around €70. In the UK we would pay £215 a year in road tax, every year – and that is a concession especially for the factory built California, all other motor homes are classified as 'conversions' and thus pay a swinging £580 in the first year….
The last time we went to the UK, we thought we had a puncture a few miles from Dover – we didn't, it was the road surface!
Yet whenever Toll roads are suggested for the UK, there is a chorus of disapproval along the lines of 'improving the roads for the rich'. Last year, the Treasury collected more than £5.9 billion in VED and £26.8 billion in fuel tax. In 2010-11, a miserable £8.7 billion was spent on the roads in England. Can anybody explain to me how 'only the rich' are benefiting from the French system?
It seems to me that the repair of roads is a similar argument to the NHS fiasco. An idealogical argument being put forward that 'paying as you go' somehow only benefits 'the rich'. Isn't Fuel Duty 'pay as you go'?
As a matter of interest, originally roads were maintained by the inhabitants of the nearest village – literally so. They were expected to provide their own tools and materials, and turn out for four days a year, armed with pick axe and a pile of stones, and fill in the pot holes, under a medieval Highways Act. Things looked up when – Good heavens! – toll roads were established in 1707. A private landowner could levy a charge on traffic passing through his district and use the money to maintain the road.
Where did we lose the logic of this system, and why? It is strange that a Lib/Con coalition that ought to be committed to liberal economic policies (that enshrine a free market), cannot bite the bullet and put major infrastructure projects in the hands of private business.
Let's have a Poll on this!



June 15, 2013 at 12:07




June 14, 2013 at 22:08




June 14, 2013 at 21:12










June 15, 2013 at 08:53




June 14, 2013 at 17:52




June 14, 2013 at 16:06










June 14, 2013 at 12:12




June 14, 2013 at 12:05









June 14, 2013 at 17:56










June 14, 2013 at 21:14




June 14, 2013 at 11:09







June 14, 2013 at 10:34







June 14, 2013 at 10:18




June 14, 2013 at 10:07




June 14, 2013 at 09:49










June 14, 2013 at 16:19










June 14, 2013 at 12:12