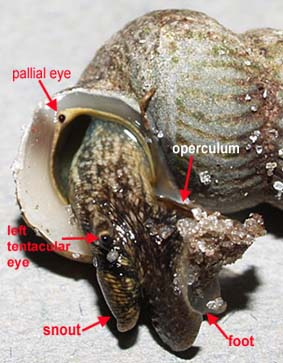 When mollusca trawl their glutinous way across our landscape, they have the evolutionary advantage of a third eye to spot potential predators. It's called the pallial eye.
I thought I'd tell you something interesting pertaining to 'Pallial' before you all dropped dead from the excitement. The North Wales Police 'Operation Pallial' has been trawling our mediascape since last November and has finally come to an expensive decision. Even with added garlic it's scarcely palatable. Chug it down folks, this escargot has already cost you £573,058.
Last November, a man, Steven Messham, founding member of the victimae, that strange sub-species of the human race that roams this once proud land endlessly looking for a compensation payout, found himself left out of the latest sprint to the compo cheque. He had already helped generate an inquiry, The Waterhouse Inquiry, which had sat for 203 expensively lawyer filled days listening to 650 witnesses who had felt unable to call in to their local police station to report their allegations that they had been abused in peace and quiet, but felt reassured by the safety of numbers and the full glare of the media light and the world's listening ear and were thus able to unburden themselves of their hitherto concealed tale of woe.
During the course of that inquiry, Messham leapt out of the witness box and threw punches at a barrister, and was memorably described as 'demonstrably untrue […] some of his allegations are wholly inconsistent with earlier statements made by him to the police. In these circumstances we submit it is plain that his evidence must be approached with care'. He claimed he had been sexually abused by 49 men and women, and physically abused by a further 26.

He has already cost one newspaper £1,375,000 in libel damages after they took his word and published a story that he had been abused by a senior police officer; a story that became considerably embellished during the course of the trial – when this was demonstrated in court, he promptly swallowed a handful of tranquilisers in the witness box and had to be removed to hospital.
Subsequently he was found to have omitted the small detail of £40,000 in his bank account when claiming various benefits, was accused of having misappropriated some £65,000 from the victimae charity that he set up, although this was never proved; and even his own solicitor admitted he 'may have fabricated some of his allegations of abuse over the years'.
I don't think there is a final figure yet for the series of events surrounding 'did he, didn't he' name Lord macAlpine as one of his abusers during the Newsnight debacle.
None of this matters, for what is undoubtedly true, or at least charitably believed by the authorities, is that at some point, less than 5,840 days after his birth, someone inserted a penis into his anus. 5,840 days is an important date. A penis in the anus 5,841 days after your birth can bring you a fulfilled life as a liberated homosexual, a life of elegant soirees, exciting 'gay' cruises'; an entire industry dedicated to helping you enjoy this experience. Beware! The same action a mere 5,839 after your birth will traumatise you for ever, turning you into an inveterate liar, trouble maker, thief, drug addict, drunk – and none of it is ever your fault. Not in your entire lifetime is is your fault. You have become a lifetime member of the victimae.
To be instantly believed, whatever you say; to have the nation's police force jump to attention at the very promise of another whisper from your victimae lips. Thus it was that when Messham sniffed the air and announced that the Waterhouse inquiry hadn't gone anywhere near far enough, there were loads more victims of abuse out there, it was all a cover-up; the conspiracy theory forums nearly wet themselves with excitement, and the North Wales Police jumped to attention. 'Operation Pallial' was born. They can't afford to have anyone thinking they don't take child protection seriously in these days. According to Detective Superintendent Ian Mulcahey, they must 'promote the perception' that offences against children are taken seriously and investigated properly. At the same time, the 'Macur Review' was launched to investigate whether the remit of the Waterhouse Inquiry was to narrow. That review hasn't reported yet.
The remit of Pallial is so wide that it includes anyone living in Wales at the time, in a children's home, who believes that they have ever been abused, by anyone, male or female. Not just Bryn Estyn. The definition of abuse stretches from verbal abuse through to sexual abuse. Blimey.
Within the first two weeks of the operation being announced, the team had received 70 reports, this was to rise to 140 'complainants' eventually. 'Complainants' to the police, for not all claimed to have been abused, some were offering information concerning others – but nonetheless, these have turned into the '140 fresh victims of child abuse' being trumpeted in the media today.
We are not told how many of the 140 claim to have been 'verbally abused' – 'Come here you little Git!'; how many 'physically abused' – 'kick me in the shins one more time and I'll clip you round the ear!' – or what proportion of claimants were relating allegations of matters unconnected with Welsh care homes, which according to the report will have been handed to the Chief Constable of North Wales and not be dealt with under Operation Pallial. Nor can we ascertain how many of the 140 complainants relate to the 'systemic and serious sexual and physical abuse of children whilst in care at 18 North Wales care homes between 1963 and 1992′ aged between 7 and 19. Not that this will stop the media portraying the report as evidence of rafts of 7 year olds held down and forcibly raped by roaming gangs of politicians….
What we do know is that many of the complainants no longer live in North Wales, in fact could be anywhere in the world. They have been divided into:
New complainants who have not made any previous allegations to the police.
Complainants who have previously made disclosures – and now have more to tell.
Complainants who have previously been 'spoken to' by the police, and did not make any allegations at that time, but now wish to make disclosures.
Wherever they are in the world, a team of trained officers will be sent to meet them, a video taped interview will be conducted with them; a social worker will be sent to see them to provide specialist counseling and 'on-going support' and then, and only then, will a 'trained analyst' investigate the interview to see whether there is a 'realistic prospect of conviction' and whether it is 'in the public interest' to proceed with such a prosecution. Since at least 10 of the individuals named are believed to be dead, there will be no prosecution regardless of how much specialist counseling has been involved in getting little Johnny to disclose that the nasty man shouted at him 40 years ago.
The last child abuse victim, and she was a true victim, that I visited in Wales, is still as fresh in my mind as though it was yesterday. She was a beautiful girl, but sadly with an only partly formed mind. Her Father had been paralysed and was bed ridden. Her Mother walked into her house one day to find her brother-in-law laughing hysterically as he fornicated with the girl on the floor of the Father's bedroom. He thought it was hilarious that his brother could do nothing to protect his vulnerable daughter. When the Mother reported this to the police, her house was mysteriously burnt down. Fortuitously whilst they were all on a hospital visit. I will leave it to your imagination as to whom she blamed. There was no prosecution, the Mother deciding that protecting her daughter by moving away from that village was more important. When I met them at their secret address, they were living in a poky, moldy, miserable flat on an estate that had once been a mining village, now filled with drug addicts. They had had no counseling, no advice, no support. The girl had received £13,000 from the criminal injuries board – and No! There wasn't anything that the mother could think of to buy that would improve matters for them. Nothing at all.
If you want to tell me that the taxpayers are spending £573,058 helping families like that – then I'm your girl, right behind you! But they are not. They are spending it reinvestigating the lies and kerfuffle caused by the likes of Steven Messham and his followers. Politically motivated, providing fodder for the media, an almighty pantomime.
It will get a lot more expensive yet.
'How could we let this happen' tweeted Tom Watson MP yesterday! For once I agree with him, though I'm not convinced we would be agreeing on the same thing…
Here's another definition for you: Palliation. n. easing the severity of a pain or a disease without removing the cause.
May 2, 2013 at 14:32




May 2, 2013 at 14:04







May 2, 2013 at 13:59




May 1, 2013 at 12:19










May 1, 2013 at 09:58







May 1, 2013 at 08:46




May 1, 2013 at 00:46




April 30, 2013 at 22:34









May 1, 2013 at 09:27




April 30, 2013 at 20:35







April 30, 2013 at 18:12







April 30, 2013 at 16:14










April 30, 2013 at 14:21







May 1, 2013 at 18:22







April 30, 2013 at 13:23







April 30, 2013 at 13:39




April 30, 2013 at 13:14










April 30, 2013 at 12:20




April 30, 2013 at 12:05







April 30, 2013 at 11:32







April 30, 2013 at 11:27










April 30, 2013 at 11:33







April 30, 2013 at 15:44




April 30, 2013 at 11:22




April 30, 2013 at 10:58