Who's telling this story? Whose story is it anyway?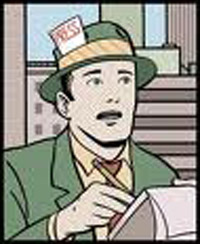 It's the age old argument at dinner tables twixt husband and wife – 'Who's telling this story?' – as husband (I'm biased, so?) interrupts wife halfway through the tale and manages to spoil the punch line…
It has set me thinking. Who actually 'owns' a story? The subject of the tale, or the person doing the retelling – for you can be sure of one thing, like a Chinese whisper, the tale will have subtly changed. It's a particularly pertinent point when applied to journalists and the media.
The art of the journalist is to appear as 'friend', prepared to listen, hanging onto a person's every word, particularly in the face of tragedy when family and friends will do anything to change the subject, too intimately involved to bear a retelling of the facts.
When the journalist says – 'Tell me how you felt when you discovered your husband had been eaten by a giant panda/raped your Mother/died after three months afloat on a raft in the South Pacific' – do we really imagine that this total stranger is imbued with powers of empathy, or care and consideration that is not present in our nearest and dearest? Or are we just grateful for the sympathetic ear, the free 'counseling and support', the sense enhanced by the presence of the tiny microphone (that he hopes we've forgotten) that our view of events is so important that he cannot afford to miss a single word?
The journalist is quick to claim ownership of the story, copyright on his version of the words that saw it into print, the story 'that every journalist would want'? In one sense, journalism is the art of patenting gossip – The 'I heard it first' syndrome. But shouldn't ownership of the story belong to the person who suffered those events?
I am particularly mindful of the large number of journalists who claim to have 'heard' stories regarding Savile over the years, first hand in some cases, from alleged victims. Should those stories really be 'theirs', to hang onto, clasped to their bosom, until they could make what they see as their 'rightful' income out of them? Or should those stories be seen in the same light as a lost wallet lying in the street, something that should be handed into a place of safety? If the journalist is not in a position to fulfill that clarion call of 'let me tell your story, let your voice be heard' for whatever reason, should there be a duty imposed on them to make sure that the story reaches a place of safety?
Can you see where I am going with this? It's beginning to seem to me that a large part of our present problem is the fact that journalists are given the 'right', that precious 'press pass', to swarm round every tragedy, and we then take it as a given that the tales they hear…belong to them! It is as though every bank was forced to open its vaults to the wind at regular intervals – and the money belongs to whoever scoops it up first. It is then their choice whether to hand it in, or hang onto it for future need. We would argue that it was never 'theirs' to hang onto.
Perhaps rather than regulating the media, we need to think what the media really means, what role it actually provides in our life. No journalist alive would sit down with a potential subject and say 'let me give you the chance to have every aspect of your life torn apart in forums', to become a byword for whatever derogatory slant the writer decides to put upon that story? There is a very subtle grooming process that goes on when a journalist sits down with a vulnerable person. 'Let me help you find your daughter'. 'Let me tell your side of the story'. 'Let me make you feel important'. They don't mean any of those words. They mean 'spill, baby, this could be the next step in my career'.
And the moment you speak to this person, this journalist person, the story is not yours any longer. It is theirs. To do with as they wish.
If we feel the need in time of tragedy or unresolved traumas , as it seems we do, to find a sympathetic ear, or to publicise some loss in the hope that others may know something – then maybe we, as a society, should be looking at ways in which we can fulfill those needs rather than accepting that the present media is all we have and seeking to rein in their excesses.
What is that ghastly American phrase? 'Blue Sky thinking' needed here?
Can anybody run with this idea? Let us take the McCann's as a prime example of betrayal by the media – What could we invent for society that would have fulfilled their myriad needs at the time that Madeleine disappeared, that wouldn't have involved the media taking 'ownership' of their story? Or Karin Ward, if you like, another person who was sadly abused and betrayed by the media?
Could something more positive be dreamt up for society than merely regulating the media? (Try not to come up with the parish priest, we've tried that one already).
It might even be as simple as transferring copyright to the subject of the story…
Show me what you're made of in the comments. I'm counting on you.
May 5, 2013 at 14:52







May 3, 2013 at 22:32










May 3, 2013 at 22:33




May 3, 2013 at 22:01




May 3, 2013 at 21:27




May 3, 2013 at 17:25












May 3, 2013 at 18:11




May 3, 2013 at 15:00







May 2, 2013 at 18:07







May 2, 2013 at 10:27







May 2, 2013 at 09:52




May 2, 2013 at 00:45




May 1, 2013 at 23:51







May 1, 2013 at 23:09




May 1, 2013 at 22:52







May 1, 2013 at 20:18







May 1, 2013 at 16:30










May 1, 2013 at 13:58







May 1, 2013 at 13:40







May 1, 2013 at 20:36




May 1, 2013 at 13:23











May 1, 2013 at 10:20







May 1, 2013 at 10:18