The Secret Court and the Media.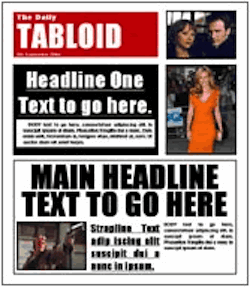 The 'news' has to be massaged and imbued with emotive content to interest the Media.
That which most of us would consider 'news' – citizens jailed without trial or representation; pension funds raided; savings devalued; citizens starved to death; citizens arrested on the basis of anonymous information; politicians defrauding public funds, is not 'news' to the Media. They know all about it. They gather in their drinking holes at the end of day and gossip about it. They meet on the golf course on their days off and laugh at the more salacious details. They pass each other in the corridors of power and say 'Oy, did you hear…'
It is only when they are presented with someone prepared to be photographed, and give them some personal emotive details, that events become 'newsworthy' and they consider it their 'sacred duty', one which 'must not be interfered with', that it becomes fodder to fill the pages between the adverts for walk-in baths and hearing aids. The scandal of MPs expenses was known of for definitely months – witness the number of different papers that were offered the proof and declined on price grounds – and quite probably years, before the Daily Telegraph stumped up the money and fed us the story of duck moats and bath plugs that we are so familiar with. Until then – not a murmur.
The supposed 'scandal' of Jimmy Savile, we are now told, was known of years before his death. Were there any anonymous calls to child-line from concerned journalists unable to stand up the story, but worried that children might be at risk? Not a one. Meirion Jones tells us in the Pollard report that he had been concerned for ten years or more about Savile's activities at Duncroft – had he phoned Barnardos and told them that he was the nephew of the head mistress and had concerns that should be investigated? Do you seriously imagine that Duncroft would not have been investigated on the basis of information from such an apparently 'informed' source? Did he care that children were still at risk? Until Savile died and he could have his 'story', illustrated by talking heads and emotive 'facts' – not a murmur.
So it is with the latest Court of Protection scandal. Wanda Maddocks. Do you imagine that this happened last week, and not one scrap of information had escaped from the 'secret court'? Not a bit of it. The case had been reported many times. I will repeat that. Many times. Not by the media though.
What has happened this week is that Wanda Maddocks is now out of prison, and her Father has died, so his affairs are no longer under the Court of Protection, and thus the Media are free to publish a picture of her, and one of her Father, and include some emotive headlines. 'Wanda Maddocks was secretly jailed for trying to save her Father'. Wanda Maddocks was jailed in 2012.
The case was published in Bailii in August 2012. but the media did not consider it was news fit for our ears that a woman had been jailed for contempt of a court order that she should not remove her father from his care home and care for him herself.
The case was published on 39 Essex Street's web site in August 2012 but the media did not consider it was news fit for our ears then.
The case was published in Mental Health Law On-line in November 2012 but the media did not consider it was news fit for our ears then.
The case was published in Local Government News in November 2012 but the media did not consider it was news fit for our ears then.
The case was published in Brunswick Healthcare Review in November 2012 but the media did not consider it was news fit for our ears then.
It only became 'news' when the media were able to take pictures of Wanda Maddocks and name her Father. Not when she was jailed, not when her Father was forcibly taken back to the nursing home, not when she feared he was being starved. That isn't news.
And not because there was any injunction on publishing the fact that a woman had been jailed for disobeying a court order not to care for her Father – the story was already in the public domain, freely available. You just couldn't name her – but you could report the facts. Now which do you consider is newsworthy – the woman's name – or the facts?
'News' isn't important things happening in our society. 'News' is salacious details illustrated with photographs that sell newspaper advertising. Remember that when they start crying about how important the main stream media are to democracy. 'They' are only important to themselves. 'Facts' are what pay wages.
The more I think about it, the more I feel that journalists are just modern day coal miners. A redundant industry trying to force us to continue consuming the product of their inky fingers.
Abused children, jailed daughters, profligate politicians – they are mere pawns to be put on a high shelf until they can be turned into stories to further careers.



May 2, 2013 at 11:28







April 29, 2013 at 22:56




April 29, 2013 at 22:44







April 29, 2013 at 23:00







April 29, 2013 at 20:15




April 29, 2013 at 20:14




April 29, 2013 at 18:53










April 29, 2013 at 21:51




April 29, 2013 at 17:46









April 29, 2013 at 14:55







April 29, 2013 at 14:36










April 29, 2013 at 14:42




April 29, 2013 at 21:41







April 29, 2013 at 13:09







April 29, 2013 at 11:43