The Grand National Dilemma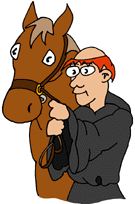 Early yesterday morning I pottered off on my usual round of shopping for my eclectic diet (eggs, figs, prune juice, sesame seeds, jelly, dark Choco Leibniz biscuits, coffee, and loo roll) but I took a detour back to the Abbey, and wondered into what is known as "A Betting Shop" or simply "The Bookies". I do not generally gamble other than the occasional couple of pounds frittered away on the Euro Lottery, but it was Grand National day and I had decided to have a flutter. I selected two horses on a highly scientific basis. One was the favourite and thus, I reasoned, likely to be in the mix at the end, and one had a name that reminded me of a rather exciting ex girlfriend (Viking Blond, since you ask – say no more). I was also instructed to place a bet on behalf of my present special friend Sister Eva Longoria, who had selected a horse called Treacle because, she said, she liked treacle and its rider had the best colours. I had to place my bet with the aid of the patient staff who were clearly prepared for a whole day of amateur punters placing 50p each way. In fact I had to be reminded what "each way" meant, and anyway handed over my total bet of £20, and thus condemned all three horses to doom. With this interesting diversion over, I retired to have a coffee and half a packet of my latest addiction, dark Choco Leibniz biscuits. And to play on "Twitter".
The Twitter hive mind seems not just to be the source of all news these days but the home of all moral debate. The big issues this week seem to have been the loathsome Philpott man who happily sacrificed six of his brood in some mindless and moronic plot to regain possession of them from what is rather extravagantly called his "mistress", and a programme on Channel 4 about something called "dogging", which, as I understand it, involves going to a car park and having sex with strangers. I am afraid I wouldn't really know. What a sordid world. Be that as it may, I immediately noticed a tweet from a person I follow with great pleasure and delight whom I shall call "Nim". What I know about Nim is he gave up a high-powered job in the City and the rat race, and has taken up a job in the country which involves long hours and hard work in all weathers, and caring for horses. Nim, by the way, is a happy and fulfilled man.
His tweet, however, struck me like a slap in the face. Today he would not be placing any bets. He tweeted. He would be caring for horses, not seeing them injured and even killed for his own sport and pleasure. Ouch. Indeed there were many similar observations.
Of course I had placed my bets without any great thought for what is a genuine issue. The casualty rate amongst horses has necessitated changes to the fences in terms, as I understand it, of both height and layout of the ditches. And this year the core of the fences has been changed from wood to the more forgiving wood. Nevertheless, although the race yesterday passed off without any fatalities, two horses would not be returning to their paddocks after the Aintree meeting. And so I began to ponder what might loosely be called "the morality" of this sport.
I have to freely confess I don't have much expert inside knowledge, and thus I am not sure I can set out a coherent position, and I would be happy to be further and better informed. I have some credentials as a rider. Some years ago I rode reasonably regularly, and through a series of coincidences I had the pleasure of "walking out" a hunter called Basil. That is to say, taking him out for regular exercise walks to keep him loose and in condition. Basil was a bit of a beast. He was indeed a true "Hunter", a chocolate coloured gelding who stood at nearly 17 hands (big) with a powerful build. His owner, a wealthy woman in the "gin and jag" belt, was a good amateur rider and used to compete with him in jumping, and occasionally, as his description would imply, hunting.
Basil was on the whole a placid soul, who willingly put up with this clumsy human sitting on him. However, he frightened me once. One afternoon – I think it was autumn – I was out on my own with Basil, and had taken him for a walk through a copse when I heard a very distant sound. I couldn't quite place it at once, but Basil did. It was the sound of distant horns, because the local hunt was on. Basil's ears pricked up like antennae and his whole demeanor changed. He wanted to "go", and he blooming' well started to. I am hardly a weed, but I suddenly realised this three-quarters of a ton of animal beneath me had a mind of his own and wanted to join in the fun, and was also immensely strong. In fact I wasn't sure I could stop him galloping off and joining his mates careering all over the countryside in pursuit of Mr. Foxy. I only regained proper control when the noise of the hunt faded.
Which I suppose made me realise that horses have their own predilections. I stopped riding because I got to the point when I needed to have my own to progress, but I could not afford the investment in time and money. However, I recently visited my friend Dr Firenza Pesta in the USA. As well as – or perhaps partly because of – being a hugely accomplished veterinary surgeon, Dr Pesta also has a deep love of animals. Animals seem to sense this about her, and place their trust in her. She is also an accomplished and brave rider. One of her horses she found ill-treated and malnourished and deprived of water. She took him in and slowly restored him, treating not just his body but his mental scars with patience and kindness, and turning him into an excellent and accomplished jumper, although he still has occasional "panics" which can make him a rather dangerous horse on occasions.
On my visit I became reacquainted with horses, and what struck me was their big expressive eyes, and placid demeanour. What then of the morality of a race like the Grand National. Should the course be shortened, or the number and six of the fences be reduced. Should it even be run at all?
I am not sure I have answers for any of this. With Libertarian leaning sensibilities, I am on the whole against banning anything. What is more I can see that these horses are bred and born to race. Genetically that is true, and from what little I understand the best horses seem to get a real kick out of it. But whereas a jockey has a choice as to whether to risk life and limb, the horses on the whole don't. I seem to remember last year one horse just refused to race. It simply would not line up. Maybe it had some equine premonition. I hope its owners didn't send it off to be turned into burgers.
On balance, I am in favour of the race. Life without risk, without danger is a tepid affair. But please help me form my views more coherently, and with greater rigour. All I would say is that from a Christian ethical point of view, man has by virtue of many faculties dominion over the animal world. So be it. But with that dominion comes responsibility to care for and display kindness. So, where is this balance to be struck when it comes to racing?
Philpott? Balls!
I can't let the week go by without having at least one swipe at this. I am not sure the case tells us much more than this. We have in our society some individuals who are uniquely unfit to be part of civilisation and indeed whose very values, even existence are anathema to it. With his wholly irresponsible attitude, bouts of irrational anger, fecklessness, controlling and malevolent self-serving behaviour and reckless disregard for the lives of others, this is a man who played the grief card, but in reality he was the man responsible, the perpetrator who cared not a jot for those who he sacrificed in pursuit of his self-serving plans that created such terrible damage. He is clearly insane, but that does not mean we should not lock him up and throw away the key.
Ed Balls, that is.
Oh, and Mick Philpott isn't very nice either.
Gildas the Monk



April 9, 2013 at 19:32







April 8, 2013 at 11:08




April 8, 2013 at 08:57




April 7, 2013 at 20:41







April 7, 2013 at 23:48







April 7, 2013 at 15:59










April 7, 2013 at 16:09







April 7, 2013 at 15:46







April 7, 2013 at 15:45







April 7, 2013 at 23:46




April 7, 2013 at 14:29







April 7, 2013 at 13:25




April 7, 2013 at 12:50










April 7, 2013 at 12:52







April 7, 2013 at 11:14







April 7, 2013 at 23:24