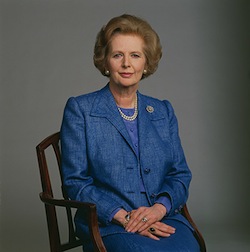 When Margaret Thatcher is returned to the dust whence she came from and where she shall return like all of us, a little bit of a bygone age will go with her. She will be eulogised — but, I fear, her age will not. She will receive the usual accolades: the victor of the Falklands, the Iron Lady, the winner of the great welfare battle of the 1980s. Yet those ring hollow from the mouths of postmodervatives like Cameron, to whom Thatcher was more a figure to be occasionally visited and nodded to, but never taken seriously, never mind respected. The affectedly-courteous respect for a deceased great one will ring as forced as it ever does from the mouth of the petulant, childlike Miliband, knowing the core constituency of his party has been dreaming of this day and cannot hope to get to dance on Thatcher's grave soon enough. And they ring forced from today's media establishment, forced praise without profundity from a clique of despicable characters that just as soon would have fuelled a fake media outrage for every little thing Baroness Thatcher did. If there is a heaven, and she is in it, she must be grateful she only had to put up with Scargill in her time.
With Thatcher, one of the few remaining heroes of an era goes in which you still had earnest political discussions. Today, you have snark. Fake witticisms from the witless and 140-character quips of genius are the level of modern political conversation. Anything beyond that is tl;dr (that's 'too long, didn't read' for those who haven't been told so yet). Anything disagreeable is 'trolling', or, if you're unlucky, harassment. Anything suggesting a value system that places a premium on hard work and perseverance is 'vile'. Or 'evil' (we are waiting with bated breath for the left to roll a 6 and be allowed to pick another vowel).
In Thatcher's era, the belief still existed that somehow, somewhere, sometimes people act out of honest motives – up to and including people in power. After a government that cynically denied the impact of mass immigration (which, as an immigrant myself, I will never stop resenting), that systematically denied the British people the slightest of say in Britain's involvement in the EU in favour of Monnet's 'elite-led gradualism and that systematically turned the rule of law upside down to garner the love of the influential human rights bar, it is hard to sustain that belief. It is hard to have anything but what we have — a political elite that is suspected without proof to be filled with crooks, and having no other choice, lives up to that.
In Thatcher's days, you could count on genuine debate. Scargill, boorish and dull as he was, lived in the land of reality. He may have been a vocal opponent of Thatcher's policies that sought to limit the stranglehold of trade unions on the British industry, but he did so disagreeing with Thatcher's priorities and policies, not the reality they were based upon. Today, reality is the political equivalent of contraband, and anyone in the Westminster bubble would sooner wish to be caught with syphilis than disagreeing with someone's 'creative, original, idiosynchratic definition of reality' (formerly known as a 'delusion'), whether on their side or the other.
What we do have is a generation drunk on positive reaffirmations of its own oh-so-specialness. What we have is a generation so drunk on its own worth, it has produced the Kim Kardashian of British policing, Paris Brown, whose meteoric rise to power (and £15,000 p.a. of taxpayers' money — as well as, I presume, expenses) has only been temporarily overshadowed, rather than duly turned into an equally meteoric fall, by the utter absence of her grasp of social etiquette, common sense and awareness that hash brownies doth no police youth commissioner (whatever one does) make. I quite presume her 'youth outreach' — which one only hopes will not take place over hash brownies and will not be live-tweeted — will be a great comfort to residents suffering property damage from the freshly outreached and empowered youth's occasional rampages through the Essex countryside. What we have is a generation so drunk on its sense of entitlement, it knows it deserves a free home, and will get it — and if it's not big enough, they quickly confabulate a tale of a dead man's ghost haunting their poor council abode (I am sure it's an ordeal to live in a free home when some old taxed-to-death Tory's poltergeist is making the 72″ plasma screen flicker), or just burn the whole place down (the latter option, I'm told, comes with funeral donations in Argos vouchers). What we have is a generation so drunk on its visceral impulses of hatred and revenge, it has dispatched serial MP and Parliament addict George Galloway, formerly of Glasgow, Bethnal Green and currently of Wherever-They'll-Still-Elect-Me West, into the hallowed halls that once shook with the tenor of Disraeli and Churchill, just so that he can cheer the death of Baroness Thatcher and wish for her to "burn in hellfire" over a nice taxpayer-subsidised meal.
What we no longer have is the realism of Thatcher's era — that government does not exist to provide a safety blanket for people, that it is not government's job to maintain a fixed level of welfare to everyone regardless their wish to be gainfully employed or not, and that no government has yet successfully spent its way out of a recession. Rather than tackling poverty, the big societal bogeyman to fight is 'inequality': we are no longer interested in beneficence, but revenge, envy and class warfare. Rather than tackling the complex dynamics of a multicultural and multi-ethnic society, we are in earnest arguing about whether we can in earnest argue about arguing in earnest about it (lest we be deemed racists by the 'right-thinking members of society'). And rather than focusing on Britain's economic future, Britain's despicable political caste, most of whom I wouldn't trust with a rusty shilling, is obsessed with regulating everything vaguely profitable into oblivion, then tax it for good measure.
The streets of Brixton and Islington have been filled with Thatcher parties since midday (clearly, I have no doubt that everyone there was severely disabled or strenuously trying to find work, rather than unemployed, unemployable and sponging off a state all too willing to shed a tear for every sob story). This is the reward this age pays for courage, conscience and steadfastness as Baroness Thatcher showed. By no means do I wish to subscribe to what I sometimes feel is akin to idol-worship on the right for Mrs Thatcher: while she did have a profound and quite personal impact on my life, she, too, was fallible in her own particular way. History, however, is made by the right person doing the right thing at the right time. Baroness Thatcher was the product of an age that created people like her: and it was that age that created the nation that under her leadership beat communism. This is Mrs Thatcher's unforgivable sin — this is why people are getting drunk on cheap cider tonight — this is why people whose thinness of their human veneer does not usually show parade their animal impulses of hatred and spite tonight. Mrs Thatcher destroyed their golden idol. What is truly unbearable for those that celebrate her death has nothing to do with the Welsh miners or Bobby Sands, but everything with the fact that this shopkeeper's daughter beat the ever-living hell out of a regime that did not merely promise to bury the West and its decadent bourgeois way of life, but was also believed — and hoped for — by the bohemian-bourgeoisie of useful idiots that it will prevail. Mrs Thatcher killed what to many of the then fashionable and 'right-thinking' folks was the wave of the future.
Baroness Thatcher may be gone, and so has her age. What we are left with is a new Britain of self-obsession, greed and envy, and a world that grows ever more unstable by the minute. History will judge Mrs Thatcher, no doubt producing the usual collection of hagiographies on one side and hatchet jobs on the other that the lives of great characters evoke. Her legacy will be much assessed and re-assessed. What does not, however, stand to be doubted is that the forces of envy, greed and hatred that fuelled world communism met their match in a shopkeeper's daughter from Grantham, Lincolnshire — and lost. No Brixton street party, nor Islington Guardianistas' sneering over their Chianti, can take that away. Where, O death, is thy sting? Where, O grave, is thy victory?
Chris



April 10, 2013 at 10:13







April 10, 2013 at 09:47




April 10, 2013 at 09:24







April 10, 2013 at 03:57










April 10, 2013 at 00:22











April 9, 2013 at 20:02







April 9, 2013 at 21:06




April 9, 2013 at 21:03




April 9, 2013 at 18:36







April 9, 2013 at 14:16







April 9, 2013 at 12:22












April 9, 2013 at 18:25




April 9, 2013 at 10:51







April 9, 2013 at 10:38







April 9, 2013 at 11:51







April 9, 2013 at 11:05







April 9, 2013 at 10:11









April 9, 2013 at 10:13




April 9, 2013 at 09:27







April 9, 2013 at 09:37







April 9, 2013 at 18:11







April 9, 2013 at 09:23




April 9, 2013 at 08:42










April 9, 2013 at 08:42




April 9, 2013 at 08:38




April 9, 2013 at 08:03




April 9, 2013 at 07:57







April 9, 2013 at 09:03







April 9, 2013 at 09:20







April 9, 2013 at 09:34










April 9, 2013 at 12:32










April 9, 2013 at 13:02




April 9, 2013 at 13:03




April 9, 2013 at 10:03







April 9, 2013 at 10:06










April 9, 2013 at 20:55










April 9, 2013 at 21:14







April 9, 2013 at 21:17







April 9, 2013 at 22:01










April 11, 2013 at 11:02




April 9, 2013 at 07:23







April 9, 2013 at 06:56










April 9, 2013 at 06:51




April 9, 2013 at 06:35




April 9, 2013 at 01:19







April 9, 2013 at 01:14







April 9, 2013 at 00:26