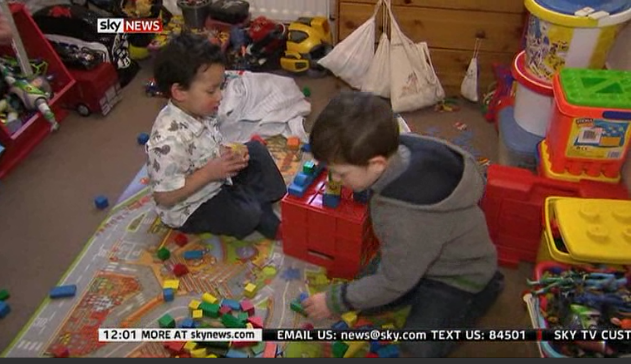 Emma Kingsbury's children are being driven into 'child poverty' by heartless Tory policies. From tomorrow, her housing benefit will be reduced by £15 a week – the so called 'bedroom tax'.
Emma tells us that 'she never needed or wanted' a three bedroom flat, and has not been offered a two bedroom flat so feels it is unfair that 'her children' will be penalised by this new regulation.
Sky helpfully allowed us a tour of Emma's three bedroom flat to show us what life is like 'on the brink' of child poverty. I managed to snatch this shot of her two children enjoying their last day before being plunged into penury.
As you can see, the third bedroom appears to be an outpost of Hamley's Christmas toy display. I do wonder how many people in employment, paying a mortgage, can afford to stuff a spare bedroom with quite so many toys to amuse their little rug rats.
Emma was perhaps not the wisest choice for Sky to use as an example of the hardships faced by those on benefits…
I do commend anyone reading this to ALSO read Billy Bowden's excellent post on the same subject. Seems that Labour were never opposed to a 'bedroom tax' when it involved private tenants…



April 2, 2013 at 11:38




April 1, 2013 at 13:27










April 1, 2013 at 20:45




April 1, 2013 at 11:55




April 1, 2013 at 10:53







April 1, 2013 at 10:48







April 1, 2013 at 10:57







April 1, 2013 at 00:01







April 1, 2013 at 00:28







April 1, 2013 at 09:17




March 31, 2013 at 23:42







March 31, 2013 at 23:14










March 31, 2013 at 22:54




March 31, 2013 at 20:25







March 31, 2013 at 20:07




March 31, 2013 at 19:58







March 31, 2013 at 19:40




March 31, 2013 at 18:09







March 31, 2013 at 20:02







March 31, 2013 at 18:01







March 31, 2013 at 17:32




March 31, 2013 at 17:22







March 31, 2013 at 16:25







March 31, 2013 at 16:51







March 31, 2013 at 17:02







March 31, 2013 at 22:17










April 1, 2013 at 16:56




March 31, 2013 at 16:19




March 31, 2013 at 15:35




March 31, 2013 at 13:29










March 31, 2013 at 13:50




March 31, 2013 at 16:44







March 31, 2013 at 12:51







March 31, 2013 at 12:48