Immigration and the Mind-the-Logic-Gap.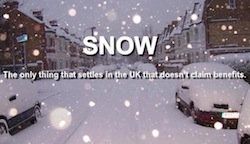 Pan-European immigration to the UK currently runs at around 50,000 a year. A third of the net immigration – that is the number of migrants that arrive in the UK minus the number of British citizens who take advantage of the 'free movement of peoples' to go and live elsewhere in Europe, and indeed the world. There are fears that this number could rise to 100,000 when (and if) Bulgarian and Romanian workers are able to access the UK employment market.
Nicholas Soames and Frank Field, both ex-ministers, are concerned that these 100,000 people, so keen to obtain employment that they are prepared to travel across the continent, learn a foreign language, and live away from their family and friends, have an unfair advantage against the estimated 1,000,000 young people in the UK who do not have jobs. They say:
Most migrants who come to the UK to work take low-skilled jobs, as we saw following the earlier wave of Eastern European migrants.
Indeed they do. They clean the toilets at Stanstead airport. They queue for mini-buses in the grim early morning British weather for the chance to pull carrots out of the East Anglian soil. They stand for hours gutting bloody chickens in Herefordshire warehouses. They collect together in windswept sidings in Swindon, anxious to be one of the chosen few given the chance to throw the occasional bucket of water at a British Rail train. Some of them stand at traffic lights, keen to earn a few bob by scraping the dead flies off your windscreen. They swab the floor after the Billingsgate fishmarket has finished for the day.
They go home to shared rented rooms, sometimes 'hot-bunking' with other Eastern Europeans who have just left their warm bed to work a different shift. They pool their money and cook mass nutritious meals together – aye – sometimes they do take advantage of the fact that our population is so far removed from their lifestyle that we keep ponds full of their favourite food, Carp, just for the fun of catching it and then putting it back for someone else to catch….
Those (currently 50,000 a year) individuals are apparently solely responsible for preventing a tenth of our unemployed youth from being gainfully employed cleaning toilets, digging carrots, gutting chickens, and swilling fish guts. They magically 'get' these jobs before our youngsters have had the chance…
In order to prevent them doing so, Mssrs Soames and Field wish to reverse the free movement of goods and people in the UK sector of the European Union.
Quite apart from the retaliatory action that is likely to be taken by other European Countries regarding the free movement of European citizens to their shores, I wonder whether Mssrs Soamees and Field can point to even one unemployed British youngster who wishes to take up any of these soon-to-be-available jobs?
The only outcome of their desire to control European migration that I can foresee, is a nationwide shortage of those neatly washed and lined-up-like-sardines carrots, toilets at Stanstead airport being awash with the vomit of returning inebriated hen parties, a nation forced to return to the days when chickens were sold still feathered and staring at you from the hangman's noose, and an increase in road traffic accidents created by a million brand new Volkswagen Golf's (on hire purchase) with their windscreens encrusted by deceased Tipulidae.
Your thoughts on the logical outcome of this proposed policy?



March 31, 2013 at 20:22







March 31, 2013 at 11:22




March 31, 2013 at 00:44




March 30, 2013 at 23:20







March 30, 2013 at 23:09




March 30, 2013 at 20:51




March 30, 2013 at 19:56







March 30, 2013 at 20:02










March 30, 2013 at 21:25







March 31, 2013 at 09:43




March 30, 2013 at 19:33




March 30, 2013 at 17:27












March 30, 2013 at 18:00







March 30, 2013 at 18:58




March 30, 2013 at 15:16







March 30, 2013 at 16:40







March 30, 2013 at 18:49




March 30, 2013 at 14:43










March 30, 2013 at 14:37




March 30, 2013 at 14:39




March 30, 2013 at 14:42










March 30, 2013 at 16:14




March 30, 2013 at 13:51










March 30, 2013 at 13:25




March 30, 2013 at 12:27







March 30, 2013 at 12:10







March 30, 2013 at 12:29










March 30, 2013 at 14:12




March 30, 2013 at 11:48




March 30, 2013 at 11:18










March 30, 2013 at 12:17







March 30, 2013 at 15:47







March 31, 2013 at 03:36




March 30, 2013 at 11:13







March 30, 2013 at 14:09







March 31, 2013 at 05:23




March 30, 2013 at 10:57










March 30, 2013 at 11:55




March 30, 2013 at 12:01










March 30, 2013 at 10:40







March 30, 2013 at 14:05







March 30, 2013 at 18:53