Wilfred De'Ath – One Hypocritical Old Goat.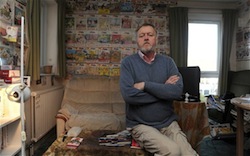 So the first of the Yewtree branches has crashed to the ground, a sound virtually unheard in the forest of bad news today.
The 'famous actress' (I had to look her up such a household name was she…) (we are not allowed to mention her name – her publicist must be devastated) who alleged that Wilfred De'Ath (I definitely had to look him up) might have fondled her when she might have been a teenager in it might have been a cinema, has decided to withdraw her allegation. She still maintains it is true, but feels that she will be lonely in court, since no one else has come forward with similar allegations about the same man. She only came forward to Yewtree, she says, in the hope that it might give others the courage to come forward.
She is of course, an employee of ITV, the company which paid Mark Williams-Thomas to make the 'Exposure' programme, on which Wilfred De'Ath was such a willing witness against the 'disgusting behaviour' of Jimmy Savile.
De'Ath can now be heard complaining bitterly about the hardship that is felt by the man 'dragged from his home at 7am' by seven policeman on the strength of 'spurious allegations' – an event that was naturally leaked to the press. Why it was Remembrance Sunday, and he was on his way to take the collection at Church….how could anybody think such a thing about such a charitable individual?
Probably in the same way that he could cheerfully report – when prompted by being dragged from the unknown to appear as star witness in the 'Exposure' programme, that one 'knew for a fact' that Savile had spent the night in a flat with a girl who was no more than 12 'or probably 10′. Apparently one can tell the age of a girl that one has only seen for a few moments with remarkable accuracy, for De'Ath, who has in the past cheerfully described himself as a 'sexual predator' – that is himself, not Savile! – is equally sure that the 'hundreds of girls' that he has slept with over the years were all over 16. Did they have their date of birth tattooed on their forehead Wilfred?
He now claims that he was 'so frightened of Savile' – 'He was a very intimidating physical presence. He had been a boxer and a wrestler … and he was in with some very, very rough people' – that even though he was a father of a young daughter himself, he couldn't possibly have reported this event to the Police. So frightened, that he chose to tackle Savile in person the next morning?
He says that the Police 'failed miserably' when they 'could have' got Savile, by failing to act on the very same sort of spurious allegations that he now complains he is the victim of.
In fact, he believes that Operation Yewtree ' has gone too far', and agrees with Jim Davidson that 'it is getting silly now'.
Coming from the man who was only too ready to take an appearance fee and walk the corridors of ITV one last time (such a refreshing change from his lonely bed sit in Cambridge) and see Savile's reputation trashed by 'spurious allegations' that will never be tested, he should count himself lucky that nobody had ever heard of him until this – a more famous name would certainly have tempted a few other ladies from the wood work – his outburst is the most unmitigated piece of rank hypocrisy I have heard this year.
The daft old goat would have served himself better by keeping his mouth shut.
When I saw the Exposure programme, I formed the opinion that De'Ath was a bitter and jealous man. Now I'm convinced. It must be quite galling to find yourself the centre of all this publicity and no one, but no one, wants to claim that you ever groped them….
Back to your seedy bed-sit Wilfred. You've served your purpose.
Edited by Anna: Since posting this, I have seen two further posts by Moor Larkin and Chris Barratt, that are perfect examples of the art of blogging. Beautifully researched and written, they are essential reading for anyone following the trail of disingenuous 'witnesses' to the Savile saga.
Moor Larkin: http://jimcannotfixthis.blogspot.co.uk/2013/03/exposition-pt2.html
Chris Barratt: http://chrisbarratt.wordpress.com/2013/03/26/yew-turn-sudden-death/
Both fine examples of the sort of investigative work that the main stream media should be doing – but are failing to do so, for their own reasons. Do take the time to read them.
March 30, 2013 at 11:38







March 29, 2013 at 18:49




March 29, 2013 at 09:52







March 29, 2013 at 09:10










March 29, 2013 at 09:30







March 28, 2013 at 22:49







March 28, 2013 at 17:38




March 28, 2013 at 10:07












March 28, 2013 at 10:01




March 27, 2013 at 20:05










March 27, 2013 at 21:51




March 27, 2013 at 18:33




March 27, 2013 at 12:22










March 27, 2013 at 10:08




March 26, 2013 at 21:11










March 26, 2013 at 23:02










March 26, 2013 at 23:54




March 26, 2013 at 20:02










March 26, 2013 at 20:06




March 26, 2013 at 19:51







March 26, 2013 at 18:34







March 26, 2013 at 18:23







March 26, 2013 at 18:17




March 26, 2013 at 16:40




March 26, 2013 at 16:38




March 26, 2013 at 16:21




March 26, 2013 at 16:07







March 26, 2013 at 15:57







March 26, 2013 at 15:53







March 26, 2013 at 15:46







March 26, 2013 at 15:43