Jessica, Rabbit and the Media.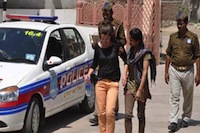 Donkey's years ago, or should that be hace años de burro, Ms Raccoon was hitchhiking along the Spanish coast, heading for Algeciras and the Tangier ferry. The coast road wasn't a solid line of hotels in those days, it was barren scrub land, the setting for many a Western Cowboys and Indians film. The occasional cut out black bull could be sighted on a distant hillside, iconic trademark of a Spanish sherry company. Apart from that – zilch. Especially cars. So I was grateful when a filthy old spanish lorry slowed to a stop and offered me a lift. The mono-toothed driver grinned at me and babbled away in Spanish. 'Melones woppa' seemed to crop up frequently in the conversation, I hadn't a clue what he meant – apart from the hand gestures that accompanied this phrase, which looked alarmingly like the universal hand diagram of a woman's breasts.
I wasn't a complete idiot – I would never have hitchhiked in shorts, nor given any indication that I might be willing to engage in the 'free love' that was very much a part of every hopeful continental male's vocabulary in those heady days of 60s sexual freedom. I didn't like the turn this conversation was taking, so adopted a prim and proper deportment and stared resolutely out of the window, hoping to make plain that there was no hope of any hanky-panky with me.
Yet still, 'Melones woppa' seemed to be in every sentence, and he was growing more agitated by the minute, gesturing from me to himself and back again, nodding enthusiastically. I looked as stern and unwelcoming as I could. We hadn't passed another car for half an hour or more, nor sight of a house. Tricky. Suddenly he swung onto a dusty lay-by. One of those 'Oh shit' moments in life. I swung my ruck-sack in front of me and contemplated my options. Non existent.
He swung himself down from his driver's seat and walked to the back of the lorry. After an interminable few minutes, he reappeared beside the passenger door carrying a large piece of tarpaulin which he laid on the dusty verge and motioned to me to get out of the cab pointing at the tarpaulin. 'Thoughtful Pal, but no dice' I said to myself, and hugged the rucksack tighter. He shrugged and disappeared again, this time returning with a length of rope and waving a foot long knife that glinted in the sun. Still motioning me to step down onto the tarpaulin. The 'Oh shit' moment was turning into 'Oh my Godfathers'.
'Melones woppa' he said over and over again with a pleading gesture. He looked quite desperate. I was sure that any moment he would tug open the passenger door, and that would be it. The only thing I could think of was trying to hit him over the head with my rucksack. The minutes ticked away, with me hoping against hope that another car would appear on the road and I could make a run for it – when he tapped on the window yet again – with the knife…and gestured…
Toward the tarpaulin, where he had laid out a picnic of the biggest water melons I have ever seen. That was the load that had been secured under the tarpaulin, and the poor man had been trying to explain to me for an hour or more that I was welcome to join him for a refreshing lunch on our long journey. He was totally harmless!
I was reminded of this prime example of the dangers of making assumptions about intentions when I read of the tale of Jessica Davies. Jessica has been heavily featured in the Sky news for the past 24 hours, held up to all who only listen with half an ear as an example of the dangers facing young women from – men. Specifically Indian men, since that is a key word that the media are very fond of at the moment.
Jessica apparently 'jumped' from a 'second floor balcony' to escape certain 'rape and murder' at the hands of an Indian male, who everybody knows these days, is just a rapist waiting to offend. We are treated to the sight of Jessica being comprehensively assisted to hobble her way along the road, still suffering from the injuries she incurred in this heroic fashion. She is walking with considerably more difficulty than the earlier footage of her being helped across a road by an Indian police officer. I guess the bruising got more painful as the days went by? Jessica tells her story to 'save other young women' from a similar fate.
Except there are some odd features about this story. According to Sky, (and Jessica on Sky) she 'jumped from a second floor window' – around 25′ on average – no wonder the poor girl needs so much help to walk, she is lucky she didn't break her back or worse.
"I knew there was no other choice at that point, apart from to jump from the balcony, which I did," said Ms Davies, who injured her leg as she leapt from the second to the ground floor.
By the time this tale reached Australia, Jessica had jumped from a third floor balcony. Obviously Australians need a bit of extra oomph in their stories.
But according to the Agra police, that might be a slight leap of imagination.
"Supt Dubey said the woman climbed out on to her balcony on the second floor, climbed down a drain pipe to the first floor and then jumped to the ground."
You might wonder why she jumped, since the substantial drain pipe had conveyed her so well from second to first floor, and obviously continues its journey to the ground….Still a remarkably agile feat, but not quite as dramatic. She did this because:
She then realised her balcony door was not secure and that the manager, who was later joined by a second man, could access her room that way.
So were her two potential rapists planning to jump the two floors to arrive at the balcony door?
The men did have some remarkable properties, for Jessica had already locked (and bolted and barricaded the door with furniture), yet:
"I held my key in the lock and I could feel them turning it from the other side," she told BBC in an interview.
Now was this some sort of double ended key, or perhaps he was turning the other end of the key with mole grips? We should be told.
Jessica had earlier enlisted the assistance of the man concerned to book a taxi and a train journey to Jaipur for early the next morning. She was expecting to leave at 5am. The 'attack' (or rather the persistent knocking on the door offering a free Indian head massage) happened at 3.45. It lasted for 45 minutes according to Jessica's account of her 'dramatic escape'. Yet it was 5am, half an hour after the 'attack' ceased, that Jessica took her mad dash out of the window?
"He knocked on the door and said it was her wake up call and he had a free hair massage service," Supt Dubey said.
"He consistently knocked and she took fright and bolted."
"She told us he was molesting her by offering this free service," Supt Dubey said.
No wonder Sky haven't chosen to interview Supt. Dubey, you couldn't make a world news item out of a man persistently offering an Indian head massage…… But a pretty English girl with a dramatic tale of jumping 25′ to escape certain death and desecration, now that is a different matter. Especially when we have the very real and gory tale of an Indian girl raped and disemboweled to remind us of what absolute animals Indian men are…cor, just look at the picture of him, enough to give any fair maiden nightmares for a week. Just when you have got old enough not to have to worry about paedophiles any longer, along comes another folk-devil to make you shiver in your stilettos. The bleary eyed Indian rapist!
Sachin Johan, the hotel manager, and Laxman, the hapless security guard who had come along to find out what all the shouting was about, will be held in prison for at least six months before trail. A trial at which they risk up to seven years in jail for 'sexual harassment'. who knows, who cares, what will happen to their family whilst they wait to hear their fate. We do know that Jessica is 'being supported' after her terrible ordeal, now that she is safely back in a decent country that keeps its men in fear of their lives…..
In the present hysterical climate of violence against women, I don't fancy their chances of a fair trial. Wot with half a days growth of beard and blood-shot eyes? Good God no. Especially not with Jessica rabbiting away.
He even 'smelt of beer'. Well, that's him done for. No 'stale cigarettes'?



March 25, 2013 at 23:17







March 25, 2013 at 22:21




March 25, 2013 at 21:39







March 25, 2013 at 21:02







March 25, 2013 at 19:03










March 25, 2013 at 19:40




March 25, 2013 at 18:48




March 25, 2013 at 18:44




March 25, 2013 at 18:41




March 25, 2013 at 18:15







March 25, 2013 at 19:57




March 25, 2013 at 18:13




March 25, 2013 at 17:24




March 25, 2013 at 17:23




March 25, 2013 at 14:03







March 25, 2013 at 11:27










March 25, 2013 at 14:58